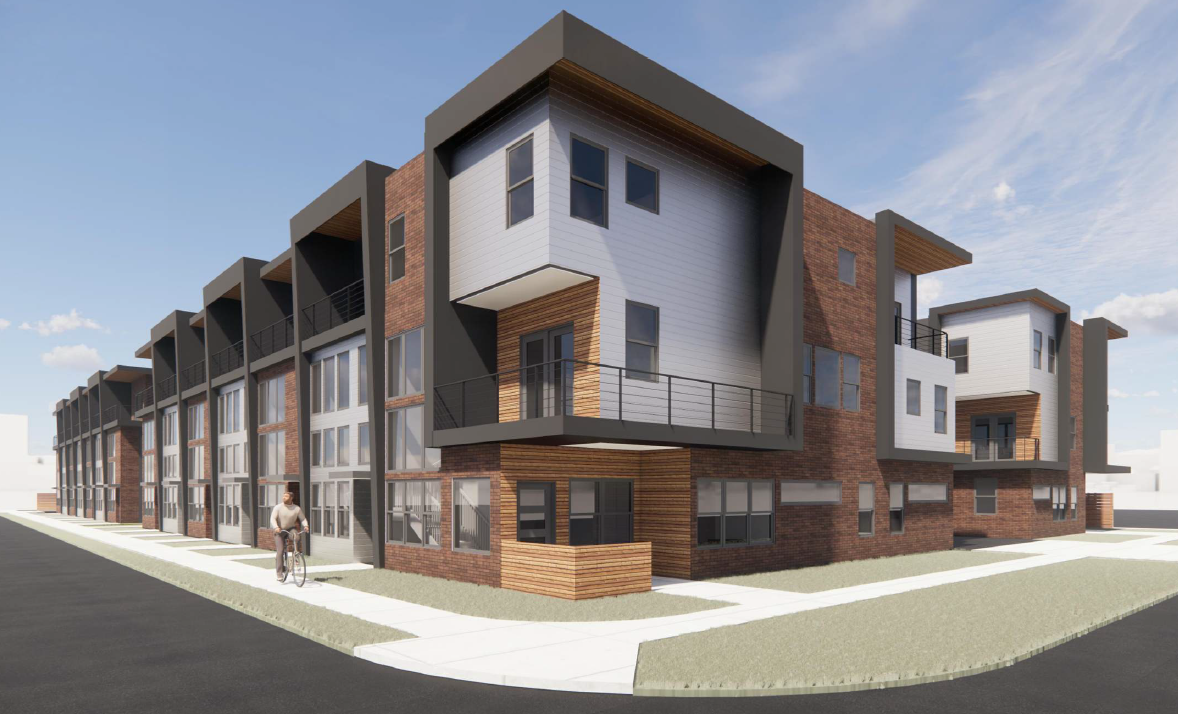 Design Review, Planned Development, and Preliminary Subdivision
Chicago Street Townhomes
Petition Number:
PLNPCM2021-00824 (Design Review)
PLNPCM2021-00825 (Planned Development)
PLNSUB2021-00826 (Preliminary Subdivision)
Existing Zoning: TSA-UN-T
Council District: District 2, Represented by Dennis Faris
Jarod Hall, representing the property owners, is requesting approval for a new townhome development at 928 & 938 W South Temple and 18, 28, 30, and 36 N Chicago Street. The development includes 30 townhomes in four separate buildings. The townhomes are approximately 32′ in height and are three stories tall.
The development involves three different applications:
PLNPCM2021-00824 Design Review: The applicant is requesting Design Review approval as the development would not receive enough points through the TSA development review process for administrative (staff level) approval, modifications are requested for an additional 6% of stucco is requested (16% total), and modification to the requirement for building entrances every 40 feet (48 feet proposed for the southwest building).
PLNPCM2021-00825 Planned Development: The applicant is requesting Planned Development approval as 15 of the individual townhome lots will not have street frontage and one of the buildings does not have street frontage.
PLNSUB2021-00826 Preliminary Subdivision: The development also involves a preliminary plat to create the individual new townhome lots.
Project Location
Located at approximately 928 & 938 W South Temple and 18, 28, 30, and 36 N Chicago Street.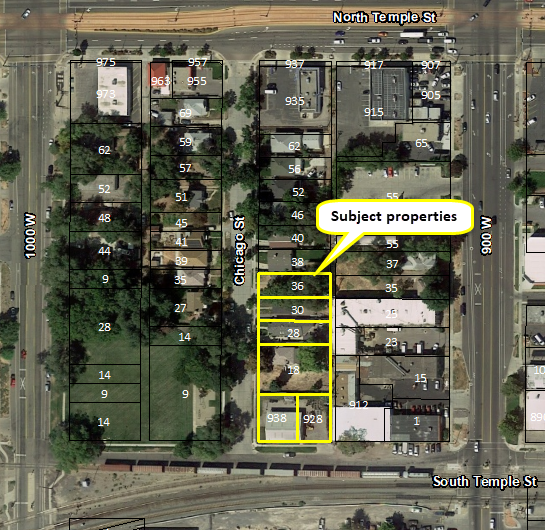 Additional Information
Next Steps
This type of proposal is decided on by the Planning Commission. The Planning Commission will hold a public hearing and make a decision on the proposal based on the approval criteria. Notice has been sent to the Chairs of the Poplar Grove and Fairpark Community Councils. The public hearing date has not yet been scheduled. Mailed notices for the hearing will be sent approximately two weeks in advance to property owners and residents within 300 feet of the development.
Public Comments and Questions
We want to hear from you! To submit a comment or question please contact the staff planner via email or leave a voicemail, your questions will be answered within a week after the comment period has ended.
Start of Public Comment Period: September 20, 2021
End of the Public Comment Period: November 4, 2021
Sara Javoronok // sara.javoronok@slcgov.com // 385-226-4448
During and following this comment period, the Planning Division will evaluate the proposal against the applicable zoning standards, taking into consideration public comments as they relate to the standards, and develop a recommendation for the Planning Commission.