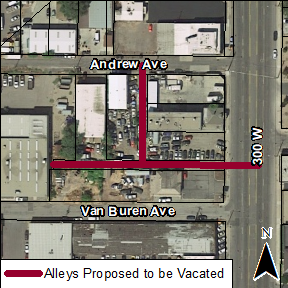 Alley Vacation
1515 – 1550 S 300 W Alley Vacation
Petition Number: PLNPCM2023-00408
Salt Lake City has received a request from Jonah Hornsby, representing the owner of the properties abutting two public alleys, requesting approval for an alley vacation, located to the west of 1515-1550 S 300 W, between Andrew and Van Buren Avenues, to vacate (or to give up public ownership of) the entirety of the two public alleys. If approved, the alleys would be divided and given to the property owners abutting the alley. In this case, all the abutting property is under the same ownership.
Project Location
Approximately west of 1515-1550 S 300 W, between Andrew and Van Buren Avenues.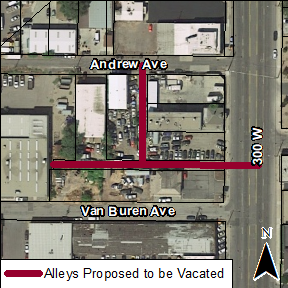 Additional Information
Next Steps
This type of application requires a recommendation from the Planning Commission to the City Council who will make the final decision.
Staff will review the application before scheduling a hearing before the Planning Commission.
The Planning Commission will forward a recommendation to the City Council, who will schedule a hearing and make the final decision.
Additional information including the date, agenda, and staff report will be posted as they are available.
Public Comments and Questions
We want to hear from you! To submit a comment or question please contact the staff planner via email or leave a voicemail, your questions will be answered within a week after the comment period has ended.
Start of Public Comment Period: June 14, 2023
End of the Public Comment Period: July 31, 2023
During and following this comment period, the Planning Division will evaluate the proposal against the applicable zoning standards, taking into consideration public comments as they relate to the standards, and develop a recommendation for the Planning Commission.
Michael McNamee, Principal Planner // michael.mcnamee@slcgov.com // 801.535.7226