---
Update: Allen Park Closed to Dogs
At the Salt Lake City Council Meeting on July 20th, Council voted in favor of adopting an ordinance to include Allen Park as an open space area closed to dogs. This was done to mitigate conflicts with wildlife, protect site amenities, and ensure public safety (service dogs are exempt).
Allen Park is home to wildlife that could be harmed by dogs, including peafowl, turkey, deer, and other wildlife species that roam freely around the property. Since the park opened to the public, there have been numerous incidents where leashed and unleashed dogs have attacked and injured the iconic peacocks, as well as people who have intervened.
Prior to being adopted by City Council, this ordinance was presented to the Parks, Natural Lands, Urban Forestry & Trails Advisory (PNUT) Board. The PNUT board expressed their support.
Public Lands appreciates how important it is for many residents to have access to neighborhood parks they can enjoy with their four-legged companions, and the vast majority of public spaces remain accessible to dogs and their owners, including designated off-leash areas in most SLC neighborhoods. Allen Park, being a new City amenity with unique wildlife, fragile resources and historic artifacts, requires extra effort from City staff and park visitors to ensure adequate stewardship of the property.
Other Salt Lake City open spaces that are closed to dogs include portions of the Wasatch Hollow Preserve, the I Street Bike Park and 900 South Bike Park, the Fred & Ila Rose Fife Wetlands Preserve, and portions of Parleys Historic Nature Park. Public Lands thanks visitors for understanding the need for restricting dog access in some public spaces, and for helping to protect Allen Park.
---
History of Allen Park
Allen Park's history first begins with its namesake- Dr. George Allen. As a doctor, he was known to have a kind heart; he took great care of the working class during the Great Depression, never turning down a financially constrained patient. Dr. Allen was also known for his eclectic interests-ranging from creating mosaic poetry to collecting and caring for exotic birds. It is important to note that he also helped launch Salt Lake City's Hogle Zoo and Tracy Aviary.
In 1931, George and Ruth Allen purchased the property, known as Allen Park, which stretches for nearly two city blocks on 1300 East along Emigration Creek. The former farmland began to take form as a charming sanctuary for both birds and people with trees, shrubs, nooks, benches, poetic mosaics, fountains, and nesting boxes. At one point, you could find an elephant, chimp, reindeer, raccoon, coyote, and a sandhill crane named Sandy.
During the 1940s, Dr. Allen added 15 little hodgepodge duplexes to sustain the park financially. Over the years, students, professors, hippies, loners, and artists lived in the wonderment of Allen Park. Once the park became neglected and overgrown, the peculiar homes led to the long-standing myth that Allen Park was a "hobbitville."
For decades Allen Park has been loved and bemused by Salt Lake City. It is a cultural icon, between its lore, artwork, and preservation of nearly 8 acres of a unique ecosystem. Through tremendous effort between the community, grassroots organizations, and public entities, Allen Park will be preserved as one-of-a-kind public open space in Salt Lake City.
---
April 29, 2020
Public Input Wanted
Salt Lake City is under contract to purchase Allen Park using park-designated impact fees.
The City welcomes your feedback on what will be the City's newest – and one of its most unique – open spaces. If you would like to share your comments or ideas for the property, provide information, or even send us your reminiscences about personal experiences with Allen Park, please share them via this survey.
We know many of you are curious about the property and wondering when Allen Park will be open to public access. Once SLC owns the property, we will be working quickly to ensure the property is safe for visitation and to complete preliminary inventories of historical and artistic elements. We will be working to provide a virtual property tour, as well as free, pre-registration guided tours of the property, in the near future. Please check back on this site periodically to look for updates. SLC Public Lands goal is to be provide open public visiting hours at Allen Park by early summer. In the interim, we thank you for your patience in respecting the site closure. Your cooperation is critical to allow the City to adequately survey and protect sensitive / fragile infrastructure on this unique property.
---
April 7, 2020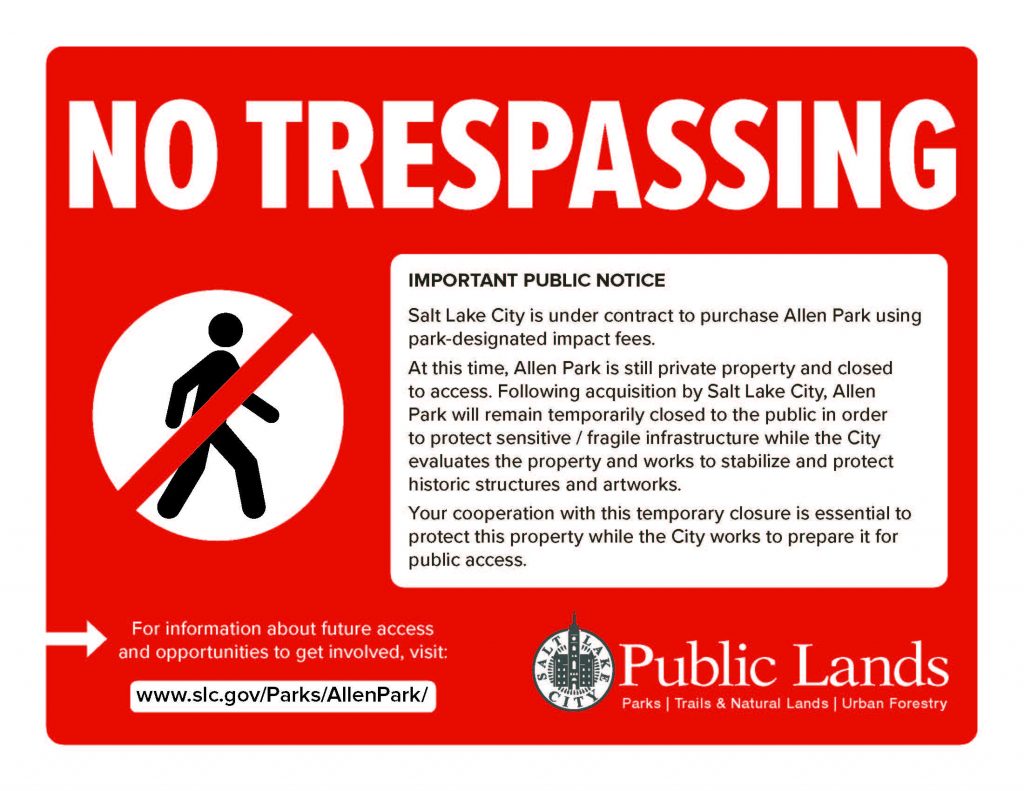 Important Public Notice
Salt Lake City is under contract to purchase Allen Park using park-designated impact fees.
At this time, Allen Park is still private property and closed to access. Following acquisition by Salt Lake City, Allen Park will remain temporarily closed to the public in order to protect sensitive / fragile infrastructure while the City evaluates the property and works to stabilize and protect historic structures and artworks.
Your cooperation with this temporary closure is essential to protect this property while the City works to prepare it for public access.
Thanks for your understanding.
---
March 31, 2020
Salt Lake City Under Contract to Purchase Allen Park Using Impact Fees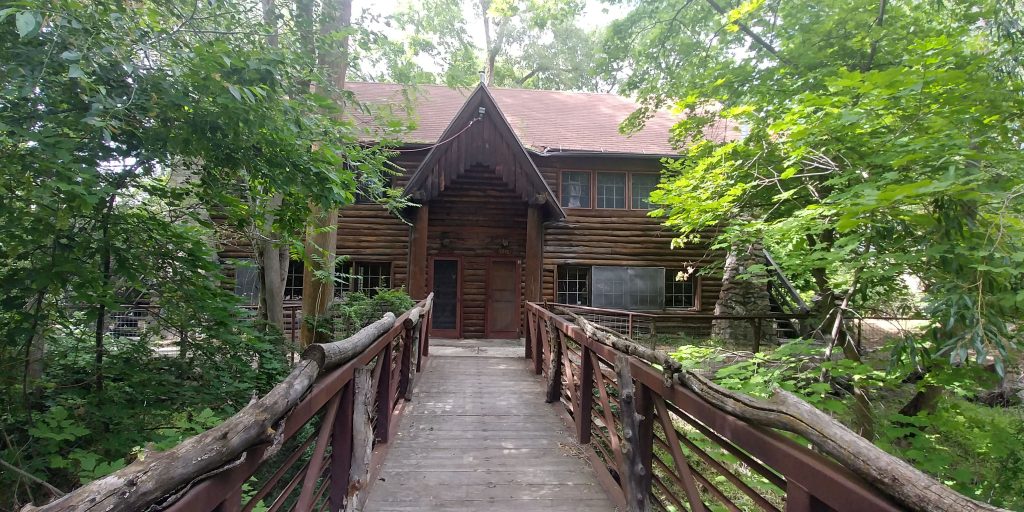 SALT LAKE CITY – Salt Lake City Mayor Erin Mendenhall today announced that Salt Lake City is under contract to purchase Allen Park using park-designated impact fees, which must be spent on new park space or new park uses. The park was previously facing potential development by a former buyer.
"Allen Park is a rare opportunity to preserve almost seven acres of unique ecosystem in a historic area that would otherwise be developed by private entities," Mayor Mendenhall said. "We have heard the request from many members of our community to use parks impact fees to purchase this land, and are grateful for an opportunity to be able to do so."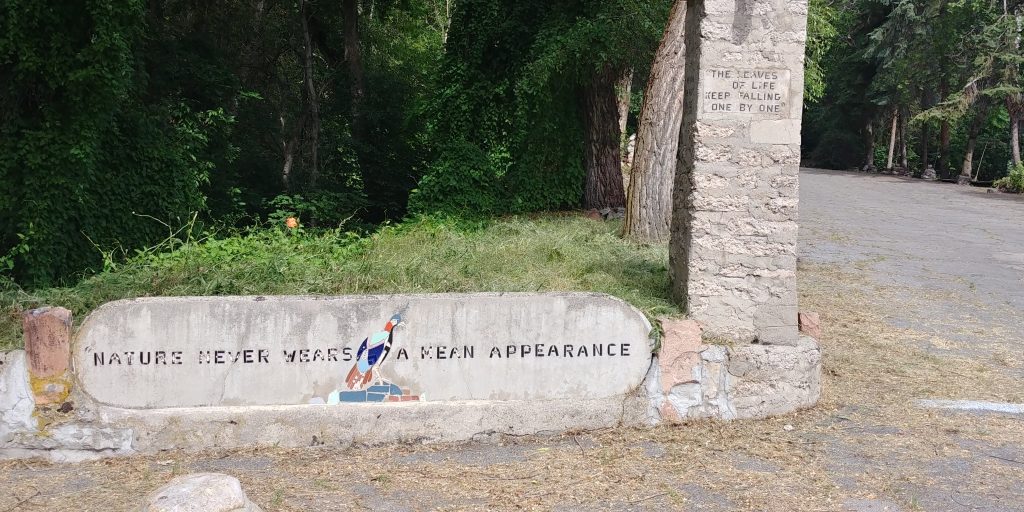 "This is an iconic parcel in a City that needs more open space," said Chris Wharton, City Council Chair. "We hope we will have partners to help make it an important public park soon."
Impact fees are used to ensure that new development pays for new services, instead of residents shouldering the entire burden through taxation. As its population continues to grow, open space is at a premium as the City is already largely built out.
Allen Park was purchased in 1931 by Dr. George Allen, an Illinois-trained physician, and his wife Ruth, an artist and fashion illustrator. The couple lived in a lodge on the property with their children and an exotic bird collection. Old homes were put on new foundations and rented out over the decades. Allen Park will remain closed to the public while the City evaluates its potential uses and gathers community input.