Helping our youth enjoy the natural wonders around them is what Salt Lake City Children's Outdoor Bill of Rights (COBR) is all about. We believe that every child has the right to the great outdoors regardless of access, background or ability.
Why is the Children's Outdoor Bill of Rights Important?
Research has shown that consistent engagement with the outdoors benefits the physical, mental and social health of children. From these studies, we know that engaging kids in their public lands through outdoor recreation enhances their creativity, critical thinking, and problem-solving abilities. Learning in nature can support improved relationship skills and reduce stress, anger, and aggression. Creating these types of connections to natural places with our youngest residents instills the importance of being good stewards at an early age. By getting out and conserving wildlands and wildlife, maintaining our parks, trails and natural lands, our young stewards can grow up with a strong value of spending time in nature and help continue to take part in caring for our public lands in the future.
What is the Children's Outdoor Bill of Rights?
The COBR is the result of collective concerns and efforts from SLC's Trails & Natural Lands, SLC's Division of Youth & Family, and other diverse youth service providers about the importance of the sustainability of our community and the health of our children growing up in Salt Lake City. The following  13 Rights  were thus born, identifying thirteen free to low-cost local opportunities accessible to all children growing up in SLC for the sake of their physical, mental, social and ecological health. Presented conveniently as activities in a small booklet, these 13 Rights can be pocketed on hikes or sight-seeing adventures. Each page features one of the Rights and provides space where a child can sketch details about what they saw and take creative field notes!
The mission of these rights are to help engage kids in our public lands, experience the awe of our local wildlife, and foster connections to our natural places.
Every child growing up in Salt Lake City has the Right to: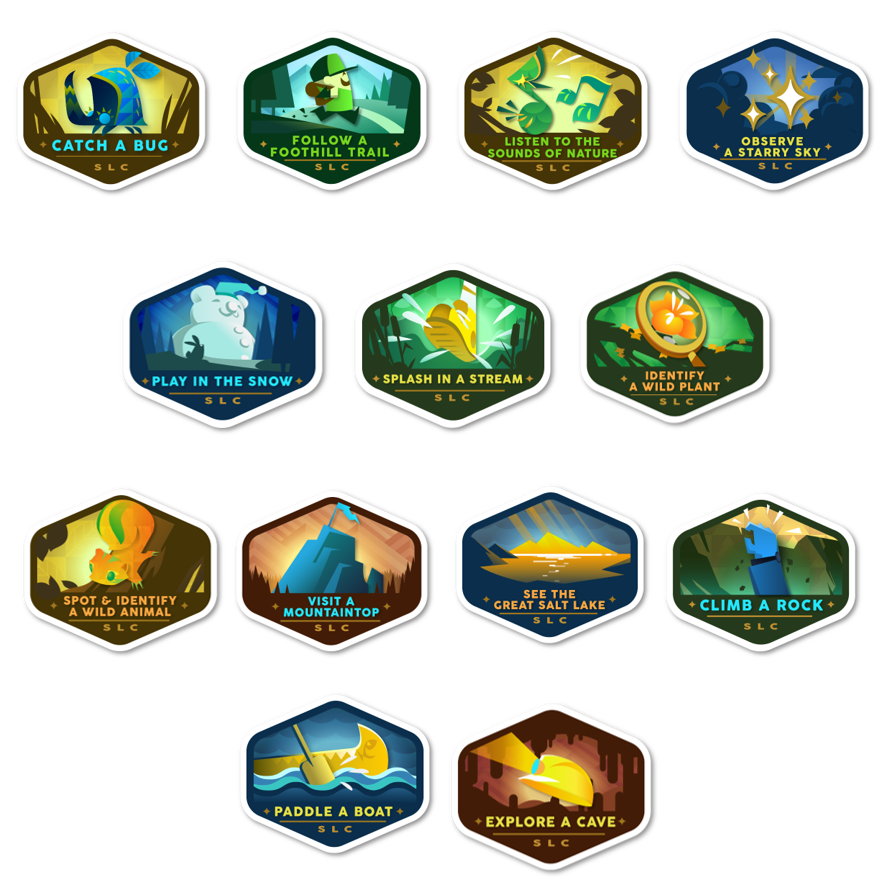 Collect Prizes as You Collect Memories!
As your child embarks on their journey through nature, they can also win prizes along the way! Go out with family, friends, Scout troops or youth groups, and start collecting all thirteen stickers for each Right you complete. Take a photo of whoever is completing their Bill of Rights and bring it to either SLC Public Library (Main) at the Children's Desk at 210 E 400 S or SLC Public Lands front desk at 1965 W 500 S, or email it in with your name and home address at openspacecomments@slcgov.com for your gift!  Stay tuned for more prizes like butterfly kits, DIY bird houses, fishing rods and more!
Make sure to stop by SLC's Public Lands office (1965 W 500 S) to grab your journal or request a journal by mail with your name and home address to openspacecomments@slcgov.com to start recording your fun adventures! We can't wait to see what you find and how you're enjoying your outdoor experiences. Tag us on social media at @SLCPPL or use #SLCTrails and #SLCCOBR!