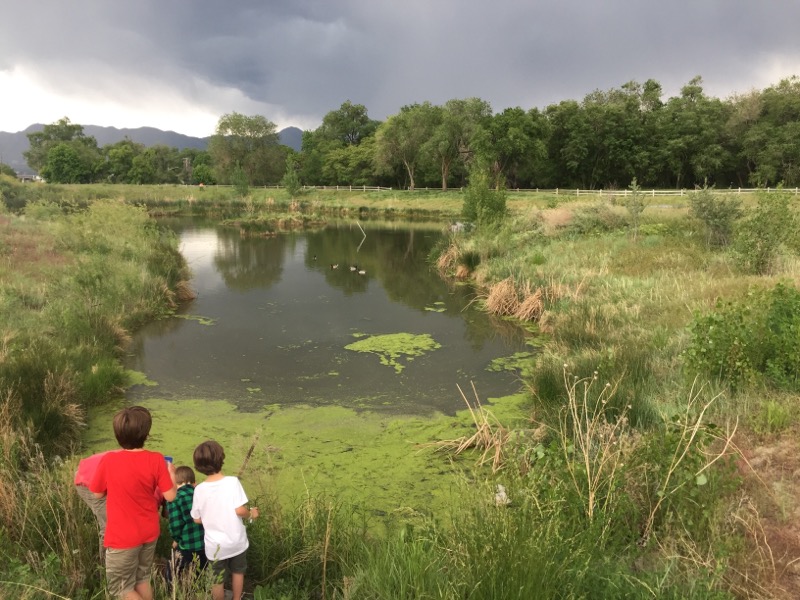 House Continuing Resolution 4, adopted by the Utah House and Senate in February, begins with an unpleasant warning: "Scientific research shows that children … are increasingly distanced from nature…" The trend of children's disconnect from the natural world, often referred to as "nature deficit disorder" after the phrase was coined by author Richard Louv in 2005, is hard to argue with. Most adults today recall fondly many childhood hours spent climbing trees, building forts, or finding frogs at the local pond. These simple pastimes have, for our current generation of kids, been replaced by a proliferation of attention-grabbing media on smart phones, video games, and other devices. The outdoor play of yesteryear may seem like a nostalgic fancy, but its disappearance is having a very real, and very dangerous, impact on our children's physical, mental and emotional health.
An increasing body of scientific evidence documents a clear link between "nature deficit" and prevalence of ADHD, depression, low self-esteem, poor academic performance, health problems, and a host of other difficulties that often last into adulthood. As more children grow up disconnected with the natural world and adverse to spending time outdoors, family traditions that encouraged nature connection fade, making nature deficit more prevalent. This in turn creates a dangerous cycle that threatens to alienate large percentages of our population from outdoor experiences that were once considered inseparable from the experience of childhood itself.
To combat this trend, our Trails & Natural Lands Division's Outdoor Activities Coordinator, Kendal Scott, began working to develop a "Children's Outdoor Bill of Rights" for Salt Lake City kids. The idea was to identify those fundamental experiences with the natural world that every kid growing up in Salt Lake City should have an opportunity to experience. Then, work to identify a coalition of partners who could empower local kids to experience things like splashing in a stream, playing in the snow, or catching a bug. It seems simple, but in today's world, there are a surprising number of children who will grow up without ever having these simple experiences with nature.
In 2017, Kendal's work caught the attention of the Governor's Office, and by 2018 Governor Herbert's team was laying the groundwork to support a statewide effort to reconnect Utah children with nature. This February, the Utah House of Representatives introduced House Continuing Resolution 4, the "Utah Kid Outdoors Initiative," which establishes ten outdoor experiences that every child in Utah should have an opportunity to enjoy.
For her part, Kendal is not waiting for the state to take action. Her calendar is already full of programs she coordinates with her colleagues on the Trails & Natural Lands Outreach Team, including "Family Nature Night," "Out of School, Into Nature," and "Fishing at Fairmont". She is also collaborating with the City's Youth & Family Division to kick off a Children Outdoors Initiative in Salt Lake City in Summer 2019, and is fully committed to making a lasting impact on the lives of local kids. We hope that you'll join Kendal in combating "Nature Deficit Disorder" by encouraging all the kids in your life to spend more time outside, in your local parks and green spaces where they can connect with nature. If you'd like help finding a natural area near you, or want to find out what nature activities are happening around the city, give us a call at (801) 972-7809 – we'd love to hear from you!