Salt Lake City Public Lands is pleased to present the community-informed Vision Plan for Glendale Regional Park, the redevelopment of the former Raging Waters/Twin Peaks water park site. View the interactive Vision Plan online here or the full Vision Plan document here.
Highlights of the plan are centered in the public feedback received and include:
Community Gathering and Event Spaces – a promenade/community plaza spanning the north central gateway, an event stage and lawn, smaller pavilions and picnic lawns, and a riverside beach and boardwalk.
Play Spaces for Everyone – hiking, walking, and paved trails, an all-ages and abilities playground, climbing features, multi-use sports courts, a dog park, and a sledding hill.
Places to Enjoy the Water – a splash pad, kayak rental, boat dock and ramp, and an outdoor pool.
Places to Wheel Around – an ice/roller skating ribbon, skateboarding area, and bike trails.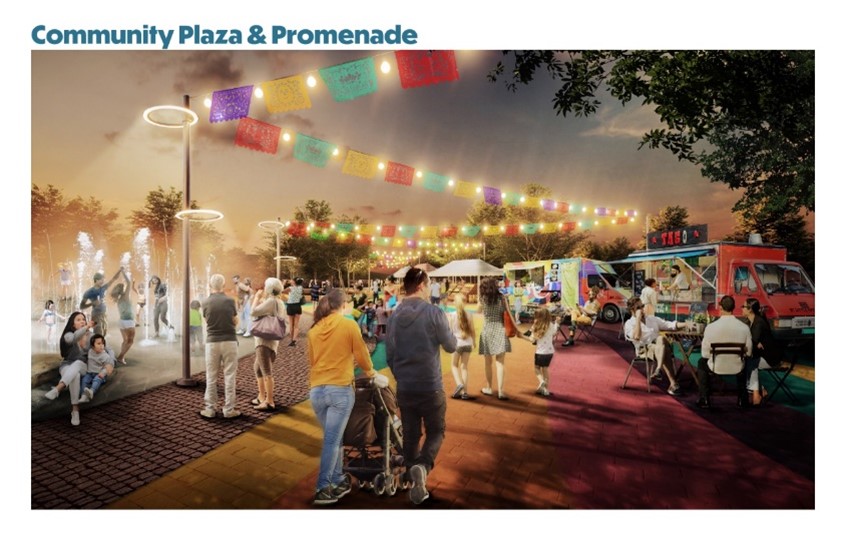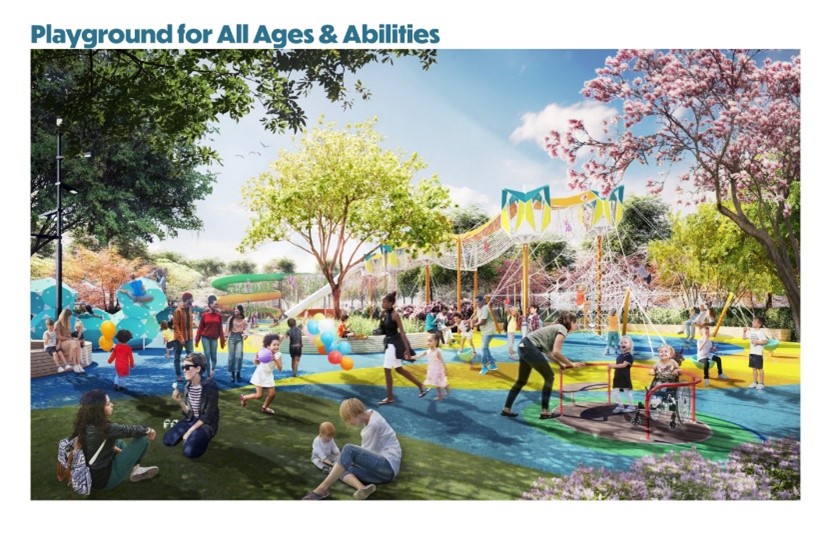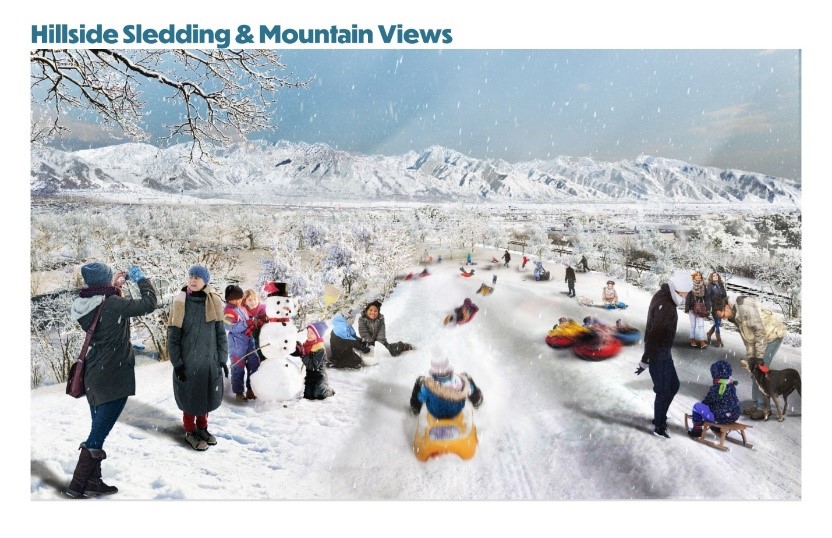 On March 7, the City Council held a briefing and public hearing for the Glendale Regional Park Plan.
The discussion centered on potential amenities, budget estimates, future park programming, and potential partnerships with the County and other organizations. During the public hearing, several residents expressed their support for specific park amenities to balance the different needs of park users and in general voiced their support for the Park Plan.
The City Council voted on this plan at its Tuesday, March 21 meeting. View ways to watch, listen, and participate in Council meetings if you missed the meeting. During this meeting, City Council approved the Glendale Regional Park Plan which will provide the guiding vision and design for the future park at the former Raging Waters/Seven Peaks water park site.
Project Next Steps:
Funded by $3.2 million in development impact fees, construction plan development is now underway with Phase 1 construction complete and new amenities open to the public in Spring 2024. Phase 1 of the plan will add amenities closest to the existing Glendale Park and aim to include part of the community plaza/promenade, the playground, sports courts, picnic lawn, and some parking lot improvements.
The City is also coordinating with Salt Lake County on how to best provide the proposed features that would require staffing and management oversight like the outdoor pool, ice skating ribbon, kayak rental station, and others. Glendale Regional Park was identified as a near-term priority in the City's Reimagine Nature SLC Public Lands Master Plan, which specifically called for near-term investments in existing parks to add amenities that serve the needs of the community. The Glendale neighborhood was also identified in Salt Lake County plans as a place where additional features were needed. The public can stay informed about Phase 1 development, future phases, and confirmation of these Salt Lake City/County coordinated amenities by signing up for email updates here.
Project History:
The planning team worked closely with project stakeholders, neighborhood residents, and partners to create a community-supported vision that reflects the Glendale neighborhood's diversity and rich cultural heritage. We would very much like to thank the Glendale Neighborhood Council, Glendale-Mountain View Community Learning Center, Salt Lake City School District, Community Advisory Committee Members, and all the people who participated in public engagement opportunities for your help in guiding this process!
Since the project began in the summer of 2021, the team met with students at Glendale Middle School and Mountain View Elementary School, participated in several community events, co-hosted an in-person Open House at the Community Learning Center with the Glendale Neighborhood Council, published a city-wide survey and met with the Glendale Community Advisory Committee to learn more about the types of activities, features, and amenities that are needed in the community and would be important to include at the new park. Over 1700 people participated in the survey and engagement process and provided input and feedback that was incorporated into the vision plan. You can see the results of the survey and input we received in person, as well as who participated by clicking here.
Results Overview:
Through these community engagement efforts, the team has learned that an outdoor pool is a priority amenity. The Public Lands Department and Salt Lake County are working together to determine the feasibility of building, operating, and maintaining a pool at this site.
Other priority elements include community gathering space, water play, skate, and bike features, and sports courts. The unique character of the Glendale Neighborhood should be represented, new attractions like infrastructure to facilitate food trucks, community events, and gatherings would be welcome and site features like the old slide hill should be maximized and opportunities to enjoy the park should be year-round.

Haga clic aquí para leer esta información en español.