Overview:
In 2021-2022, Salt Lake City Public Lands worked closely with Glendale community members and other Salt Lake City residents to develop a community-informed Vision Plan for Glendale Regional Park, the redevelopment of the former Raging Waters/Seven Peaks water park site. View the interactive Vision Plan online here or the full Vision Plan document here.
Highlights of the plan are rooted in public feedback and include:
Community Gathering and Event Spaces – a promenade/community plaza spanning the north central gateway, an event stage and lawn, smaller pavilions and picnic lawns, and a riverside beach and boardwalk.
Play Spaces for Everyone – hiking, walking, and paved trails, an all-ages and abilities playground, climbing features, multi-use sports courts, a dog park, and a sledding hill.
Places to Enjoy the Water – a splash pad, kayak rental, boat dock and ramp, and an outdoor pool.
Places to Wheel Around – an ice/roller skating ribbon, skateboarding area, and bike trails.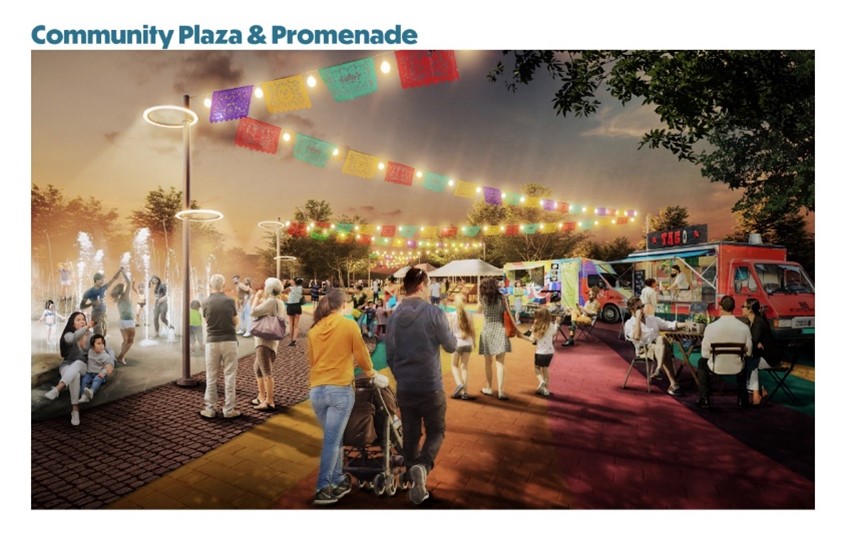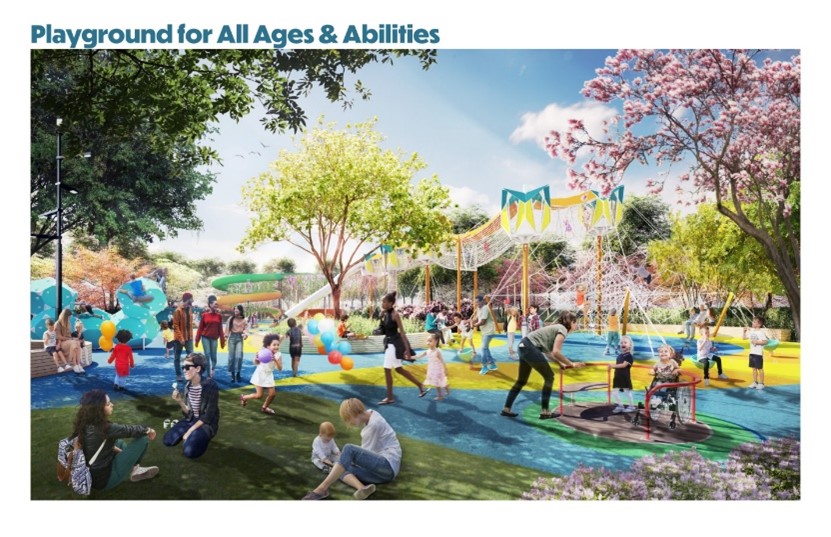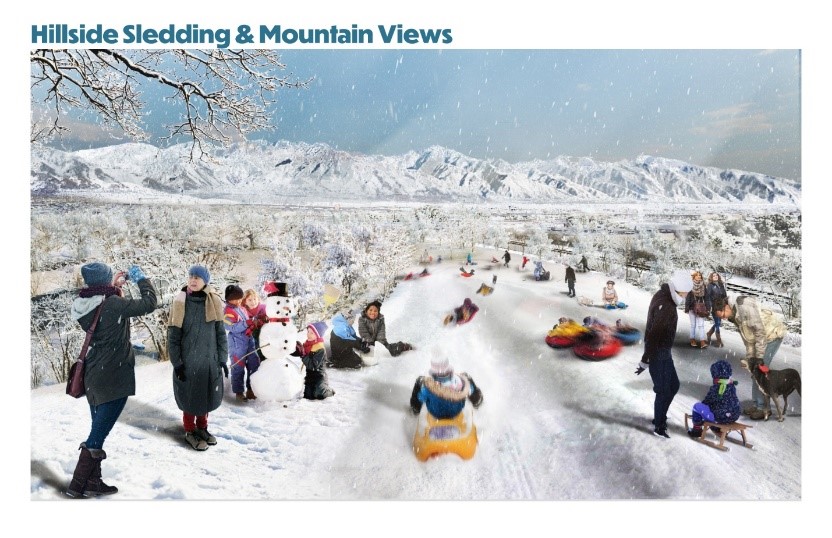 Engagement Findings: Pickleball vs. Tennis
Salt Lake City adopted the Glendale Regional Park Plan in 2023. Public engagement conducted throughout the process demonstrated a need for pickleball on the site. Originally, the plan aimed to introduce four new pickleball courts while maintaining the existing eight tennis courts. However, due to recent increased interest in the activity and its more immediate implementation, SLC Public Lands Department performed additional public engagement in 2023 to determine how the community's desire for more pickleball could be best incorporated into the new park's second phase.
Based on the public engagement, Public Lands found that there's strong community support for repurposing the tennis courts into pickleball courts, along with suggestions for additional amenities. As a result, the City will move forward with the option to repurpose four of the existing tennis courts into at least six pickleball courts.
Design for the courts is anticipated to begin in the Winter of 2023/24 and continue through Spring 2024, with construction to follow. The design will be completed with the first round (or "tranche") of Parks, Trails, and Open Space GO Bond funding, available as soon as late Fall 2023.
To read the full findings of the engagement, click the link below.
Project Next Steps:
Originally funded by $3.2 million in development impact fees, Phase 1a of the plan will add improvements on the west side of the site, closest to the existing Glendale Park, and include the playground, basketball court, picnic lawn, and connecting pathways. Phase 1a construction plan development is underway through summer 2023 with new amenities anticipated to open to the public in spring 2024.
Phase 1b, will start construction later this year and will be complete in late 2024, includes the western half of the community plaza/promenade and parking lot improvements.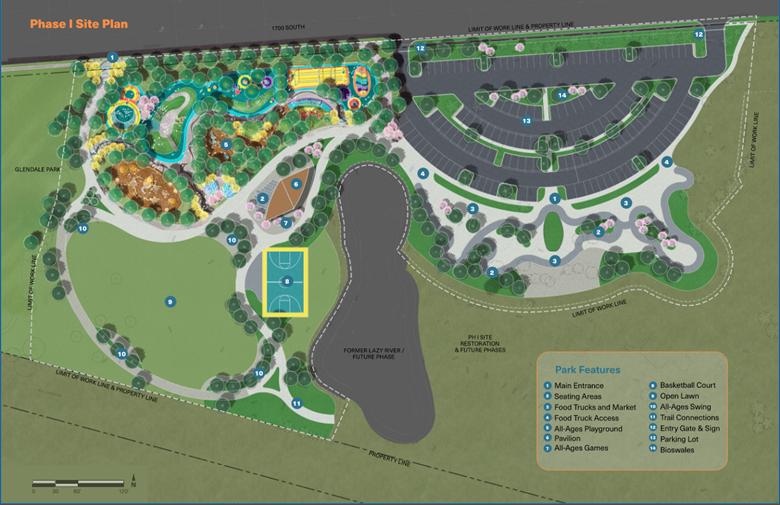 Community input has directly influenced the components to be included in the playground which will include accessible play areas for kids of all ages and offer a variety of play choices.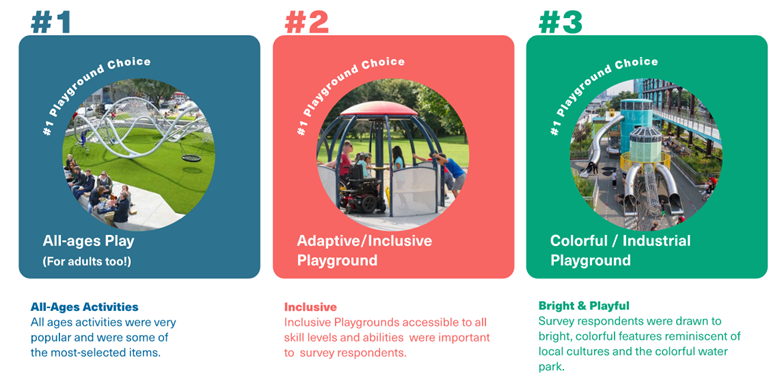 Landscape, plantings, trees, shade, and storm water management are also important components of the design that are currently under review.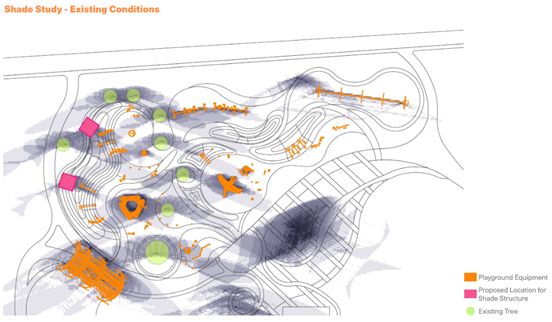 Setting a new standard for sustainability in our parks
Glendale Regional Park is setting a new sustainability standard for Salt Lake City by following the Sustainable Sites Initiative (SITES) pre-certification process. Similar to LEED standards for buildings, a SITES-certified project produces landscapes that reduce water demand, filters and reduces stormwater runoff, enhances biodiversity, provides pollinator and wildlife habitat, reduces energy consumption, protects critical ecosystems, improves air quality, and increases recreation opportunities.
Through the SITES process, performance measures are identified and the team designs to them, tailoring the design to the unique conditions of each site, inspiring project teams to be flexible and creative as they develop attractive, functional, and regenerative landscapes. Glendale Regional Park is a pilot project for implementing SITES across future Public Lands improvement projects and is an example of how Salt Lake City is incorporating the highest environmental standards into the design of the park.
Future Phases:
In November 2022, Salt Lake City voters approved an $85 million General Obligation Bond to provide funding for eight Public Lands projects, including $27 million for Glendale Regional Park. This funding will help to advance Phase II improvements, which could include improvements in the center of the site or adjacent to the Jordan River, as identified in the Vision Plan.
Design to confirm which amenities will advance in Phase II is expected to begin in Fall 2023. The City is also coordinating with Salt Lake County on how to best provide the proposed features that require staffing and management oversight like the outdoor pool, ice skating ribbon, kayak rental station, and others.
Stay informed about Phase 1 construction, future phases, and confirmation of these Salt Lake City/County coordinated amenities by signing up for email updates here.
Project History:
The planning team worked closely with project stakeholders, neighborhood residents, and partners to create a community-supported vision that reflects the Glendale neighborhood's diversity and rich cultural heritage. We would very much like to thank the Glendale Neighborhood Council, Glendale-Mountain View Community Learning Center, Salt Lake City School District, Community Advisory Committee Members, and all the people who participated in public engagement opportunities for your help in guiding this process!
Since the project began in the summer of 2021, the team met with students at Glendale Middle School and Mountain View Elementary School, participated in several community events, co-hosted an in-person Open House at the Community Learning Center with the Glendale Neighborhood Council, published a city-wide survey and met with the Glendale Community Advisory Committee to learn more about the types of activities, features, and amenities that are needed in the community and would be important to include at the new park. Over 1700 people participated in the survey and engagement process and provided input and feedback that was incorporated into the vision plan. You can see the results of the survey and input we received in person, as well as who participated by clicking here.

Haga clic aquí para leer esta información en español.