Amenities
Drinking Fountain
Public Art
Walking Path
Historical Site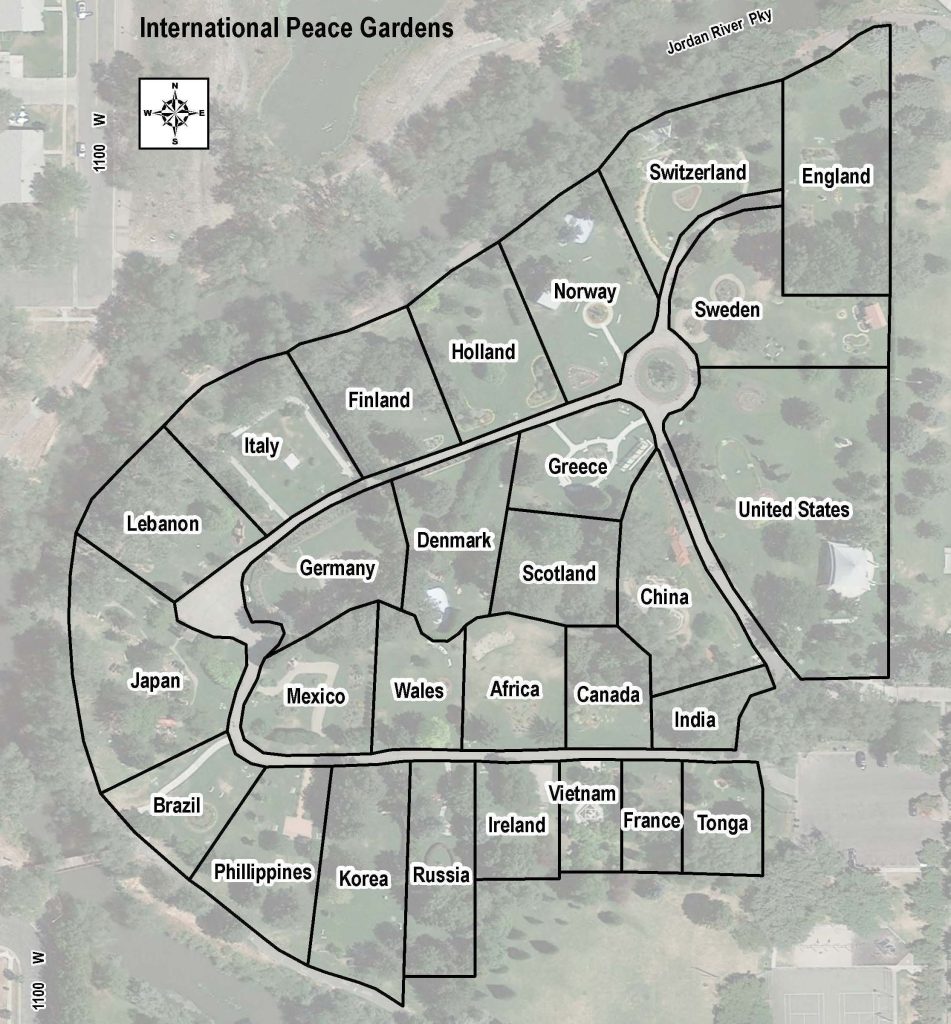 History of the International Peace Gardens
The International Peace Gardens, located along the Jordan River on 9th West and 10th South, is one of two peace gardens in the United States. It was founded in 1939 by Mrs. Otto Wiesley, Citizen Chair of the Salt Lake Council of Women, as a lesson in peace and understanding between nations. Its dedication was planned to coincide with the Centennial Celebration of 1947, but World War II ironically interrupted progress, delaying its opening to 1952.
Each participating Utah-based nation group has a section to beautify at their expense, maintained by the Salt Lake City Parks Division. So far, twenty-eight countries from the Americas, Europe, Africa, and Asia are represented, symbolizing the true spirit of democracy and world peace, history, literature, and many lands' cultural heritage.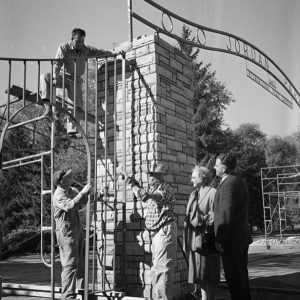 Represented Countries
American Garden – Dedicated July 1, 1947, this garden is known for its beautiful spread-eagle flower bed. This statue of Peace was designed by Avard Fairbanks and is complimented by the flowering crab trees. The many trees in this garden honor the council of women past presidents. The large boulder is dedicated to Ms. Otto Wiesley, founder of the garden.
Swedish Garden – Dedicated June 21, 1955, this garden is known for its dainty farm cottage feature. This garden has a pagoda tree, hazelnut, and large variety of lilacs, and a rose garden.
English Garden – Dedicated August 14, 1963, this garden allows patrons to enter through the archway. Visitors view a typical English Garden, with rose beds, native trees, and shrubs, also a bust of Margaret Thatcher, the first woman Prime Minister of England.
Swiss Garden – Dedicated August 14, 1965, within the Swiss Garden you will find a 50 ft. replication of the Matterhorn, a Swiss Chalet, and an Alpine Lake.
Norwegian Garden – Dedicated in 1972, this garden contains the Bautastein monument which symbolizes Norwegian heritage with a Norwegian quote meaning "We love the land." In 2016 a Norwegian Stabbur was constructed in the garden that is traditionally used as a storehouse on Norwegian farmsteads.
Dutch Gardens – Dedicated June 5, 1955, this garden has two lovely weeping Birch trees and large junipers at its entrance.
Greek Garden – After a new design was completed this garden was rededicated in September 2015. A map at the entrance explains the garden's origin. Each column in the garden symbolizes one of the sages of Greek culture. Surrounded by granite benches is a statue of Hebe, the goddess of youth and daughter of Zeus.
Scottish Garden – The newest garden at the International Peace Gardens. Plans are still being developed to create additions to the garden that symbolizes Scottish heritage. A flag pole sits in the garden adding visual interest to the lovely flower beds below.
Danish Garden – Dedicated June 5, 1955, this garden houses a replication of a Viking burial mound used in 2000 BC in Denmark. The mermaid statue is intended to replicate the original which can be found in Copenhagen Harbor. This is one of four such statues in the world today. This garden has an amazing European Beech tree in front of the Viking mound.
Finnish Garden – Dedicated in 1961, this garden is now planted with lovely flowers and trees resembling the native land of the Finnish People.
Italian Garden – Dedicated in 1965, this garden features a tiled map of Italy. The garden is lined with large Junipers – known to be an Italian tradition.
Lebanese Garden – This garden features a cedar of Lebanon, along with a scene of biblical ruins. The stones in the gateway traveled from an old landmark in our City, the "Cullen Hotel."
German Garden – Dedicated in 1951, this garden is a typical Teutonic style. It features beautiful stonework, massive gates, and a fountain. The garden is themed after the poem "Under the Linden Tree" which is inscribed in English and German on the garden wall.
Japanese Garden – Dedicated July 11, 1950, this garden resembles Japan. It contains three stone lanterns that were shipped here with the aid of General MacArthur from the Emperor's Palace Garden. The Japanese garden was the first to be completed and dedicated. A new gateway was completed and dedicated in 1971.
Mexican Garden – This garden features a replication of the Olmec Head, an Aztec calendar, the God of the Maya, and the flower God of Mexican culture.
Brazilian Garden – Dedicated September 7, 1977, this date matches the Holiday for which Brazil celebrates their independence.
Philippine Garden – The garden was dedicated on September 15, 1979, with the addition of a flagpole. Over the past 15 years, many improvements have taken place including; tree plantings, the construction of a brick pathway & plaza with a flower-lined entrance, and the addition of four benches and a stone plaque.
Welsh Garden – Dedicated September 8, 1971, this garden features a Welsh Harp. The flagpole flies the traditional flag of the red dragon. Its motto means, "Leads the way."
African Garden – Dedicated June 19, 1976, this garden is known for flying the Ethiopian flag. Resembling a desert landscape this garden also includes a large flower bed to add visual interest.
Korean Garden – Dedicated July 27, 1985, this garden is designed to reflect the philosophy of the Korean people. It conveys their attitude of harmony and co-existence with nature. Korean arts are unique in their sympathetic response to human scale and human activity in relationship to nature and other natural forces.
Russian Garden – Dedicated in September 1987, this garden was a welcoming sight to the official Russian visitors who came in October 1987, for which two trees were planted in their honor. January 1991 a beautiful statue "Cradle of Peace" was erected in memory of Mr. Lowell Turner who improved American-Soviet relations.
Canadian Garden – Dedicated July 1, 1971, this garden is built around the emblem of Canada – a Maple Leaf. The Holladay Rotary Club built the garden as an international peace project.
Chinese Garden –  Dedicated in 1953, this garden's entrance houses the "Plum Blossom Pavilion" and two stone lions symbolizing the guardians of peace; dedicated in 1979. This garden has a traditional arch bridge over the pond and a waterfall; commemorating unity and peace. A major renovation to the pond and waterfall was completed in 2013.
Indian Garden – Dedicated April 22, 1966, this garden is represented by a bronze "Preaching Buddha" which was a gift from the Indian Government. The bronze bust of Mahatma Gandhi was added on May 10, 1997. His name is synonymous with peace and non-violence.
Irish Garden – Dedicated September 30, 1989, this garden features a twelve-foot Celtic cross symbolizing eternity, everlasting power, and glory. The original ancient crosses in Ireland stood as a memorial honoring the events or individuals who hold historical significance. A Mountain Ash, and two Chokecherry with an Oak tree grace the garden.
Vietnamese Garden – Dedicated in July 1989, this garden features a beautiful entry with Lions, Magnolia Trees, Alberta Spruce, and Barberry's. A map of the country is displayed on a stone planter, surrounded by Maple Spruce and redbud trees.
French Garden – Dedicated June 12, 1999, this garden features a miniature reproduction of the Eiffel Tower by sculptor Richard Prazen is the centerpiece of this classic formal garden.
Tongan Garden – Dedicated on September 4, 1997, this garden will require funding and design for future development.