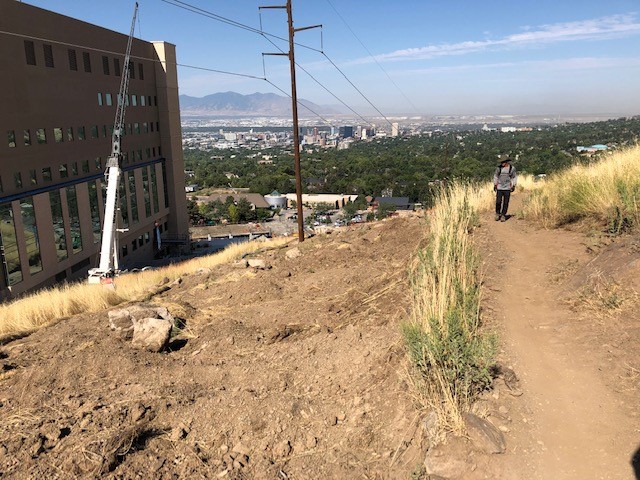 Rocky Mountain Power
Wildfire Mitigation Project
Status
In Progress
Project Summary
In April 2022, SLC Public Lands was made aware of the Rocky Mountain Power (RMP) Wildfire Mitigation Project, with Segment 1 on the University of Utah and US Forest Service property between lower Dry Creek Canyon east of the JCC, and Red Butte Canyon Road occurring in May – June 2022 (See Phase I specifics in the dropdown below). As the other three segments are primarily on SLC property, SLC Public Lands, Public Utilities, legal, and real estate easement teams are currently in planning conversations with Rocky Mountain Power to create a construction plan that minimizes environmental disturbance on City open space parcels so no to repeat the damage and disruption that occurred in Segment 1.
Phase 1 Restoration: Dry Creek Canyon to Red Butte Canyon (August – December 2022)
From August through October, Public Lands initiated the coordination of a full rehabilitation and revegetation plan with the University and RMP, including the creation of temporary signage for trail wayfinding around areas closed for vegetation regrowth. The RMP subcontractor completed the rehabilitation and revegetation efforts in November 2022 to maximize regrowth efforts timed with winter snowfall and will be installing the wayfinding signage in early December.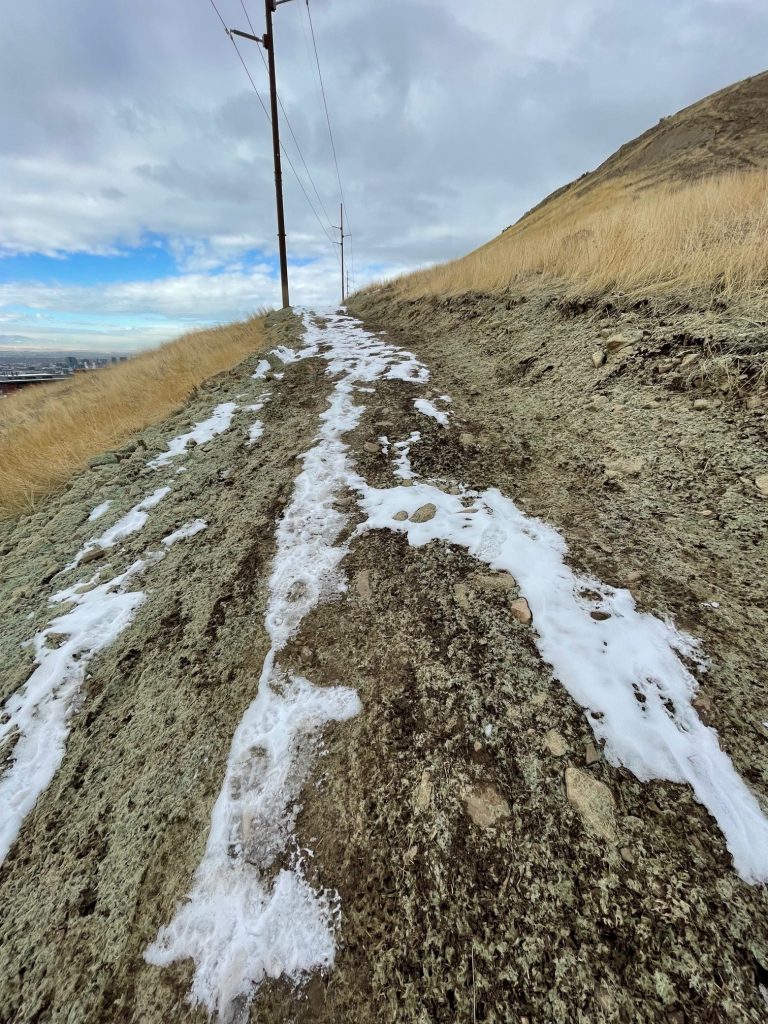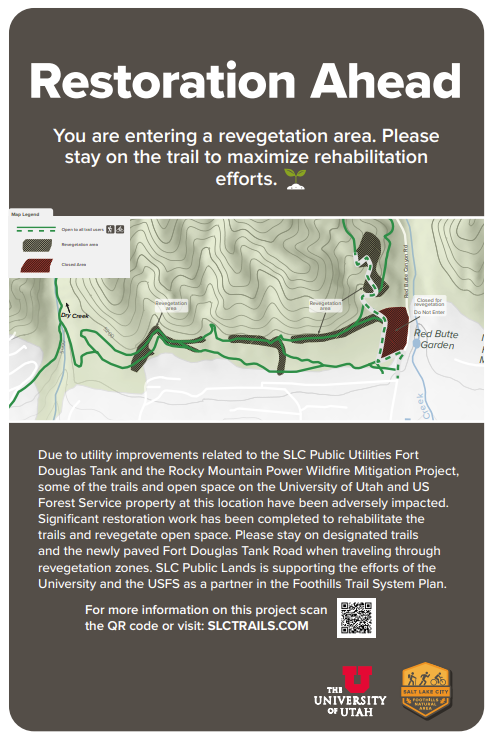 Phase 1: Dry Creek Canyon to Red Butte Canyon (July 2022)
In July, SLC Public Lands and Public Utilities conducted a post-construction site visit to prepare for conversations with RMP for Phases 2, 3, and 4 on SLC property.
Phase 1: Dry Creek Canyon to Red Butte Canyon (May 23- June 17, 2022)
On May 19, RMP contacted SLC Public Lands to inform them of trail closures the following week as the construction equipment would be using the BST and other legacy trails to access the poles. Public Lands posted on social media on May 20:
Rocky Mountain Power and its subcontractor Wasatch Electric will be replacing their wooden power line poles with metal ones for wildfire mitigation as part of their public safety efforts between Red Butte Canyon and Dry Creek Canyon from May 23 – June 10. The BST, Medical Campus Trail, and various other user trails will be subject to detours during this time period. There will be 1-2 days there may be trail closures for public safety as well. Exact dates of trail closures will be announced on these channels.
The construction ran through June 17 and created extensive damage to the trails and to the adjacent open space, widening trails and cuttings access roads up to 30'-40' wide in some areas. Construction debris left trails impassable in certain areas. The construction and access plan was not provided to the City (as this is not SLC property), but SLC Public Lands was brought in to consult with the University on the rehabilitation efforts. RMP's subcontractor returned in late June to make the trails safe and usable.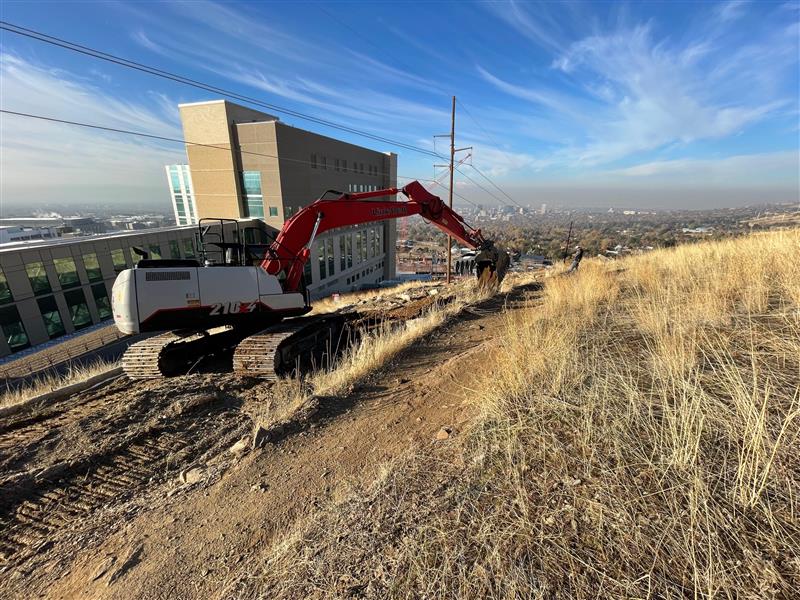 Locations
Power Pole Replacement Project Map
1) Medical to Research Project:
Dry Creek to Red Butte Canyon Road
Work began in summer 2022 and trail maintenance and landscape rehabilitation and reseeding finished in November 2022.
2) North Bench to Northeast Project:
14th Ave & G to 1200 – 11th Ave)
Scheduled for 2023
3) Capitol to North Bench:
Warm Springs Park to 14th Ave & G
Scheduled for 2023
4) Northeast to Medical:
1200 – 11th Ave to Dry Creek
Scheduled for 2024
Contact
SLC Public Lands Recreational Trails Manager