Public Lands is excited to announce that Artesian Well Park is now open. Benches and signage still need to be installed before the project is complete.
Amenities
Artesian Well Water Quality
The Artesian Well is not part of the Salt Lake City Department of Public Utilities (SLCDPU) drinking water system, though the well is monitored by SLCDPU water quality staff. This natural water source meets federal and state requirements for drinking water. However, low levels of perchlorate, a compound that may be naturally occurring or related to explosives manufacturing, has been found in the well. The levels found are below what the EPA considers a concern and the compound is not regulated in Utah. The most recent sampling results for chemistry and organics are listed here. For more information on perchlorate, please visit the EPA Perchlorate in Drinking Water link.
For more information about the water quality data and monitoring updates, please contact Salt Lake City Department of Public Utilities Water Quality Division at 801.483.6900.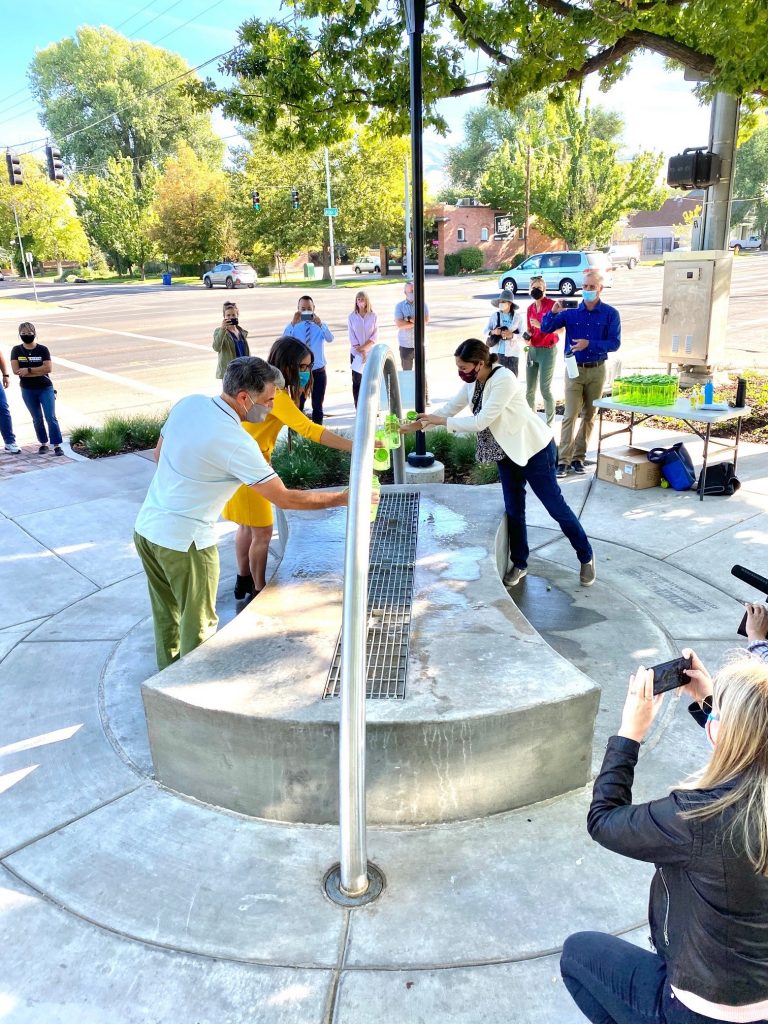 History of Artesian Well Park
The Artesian Well Park, on 500 East and 800 South, is not historic itself, though the use of the Artesian Well dates back to the settlement of the Salt Lake Valley. During the LDS Salt Lake Temple construction, the Artesian Well was a watering hole for oxen to hydrate and relax between traveling from Little Cottonwood Canyon's granite quarry to the construction site.
The aquifer sourced to the Artesian Well comes from a large recharge area that extends from Red Butte Creek underneath the University of Utah. Records as to who drilled the well and when are unknown. In 1936 the City filed an underwater ground claim for the well for domestic and culinary purposes. The legislation further defined water from the well found on the "surface, underground and above land property" as publicly owned by Utah's people. However, the land surrounding it was privately-owned. Wet slippery sidewalks, parking congestion, and maintenance concerns prompted the City to invest in the Artesian Well Park beginning in the mid-to-late 70's. The Artesian Well continues to provide water to the people of the Salt Lake Valley to this day. It's water, which is high in minerals, attracts thousands of visitors each year from across the Wasatch Front. This Central City gem recently received renovations to enhance the community's experience. These renovations includes 360-degree access to the well with more spigots, which can fill five-gallon jugs. The park is now more visible and welcoming, with a garden-like feel with regionally appropriate vegetation and permeable pavement.​