Amenities
Playground
Restroom
Baseball: 3 Fields (reservation required (801)972-7865)
Drinking Fountain: 2
Pavilion (reservations)

Seating Capacity: 100 max (6 tables 14×3 ft.)

Off-Leash Area (located at the south end of the park)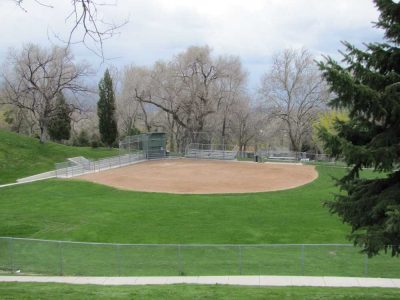 History of Lindsey Gardens Park
Lindsey Gardens officially became a neighborhood city park in 1928, but its origin began about 60 years previously with handcart pioneers, Mark and Birthian Lindsey. In 1865 they homesteaded 160 acres, first building their simple home, garden, and playground, and eventually developing the territory's first amusement park complete with views of the Great Salt Lake.
Five cents for children or 10 cents for adults, gave guests access to many activities to enjoy. The "Pioneer Pleasure Gardens" included five large wings, a whirly gig, two giant slides, and greasy poles. It also had two croquet courses, a baseball diamond, a dance hall, rustic arbors for picnicking, two ice houses, a swimming pool (also served as an LDS baptismal font), and several bathhouses which were fed by a natural spring above. There was even a museum, filled with curiosities, petrifications, fossils, Native American remains, and minerals from most Utah mines. Refreshments were also available for purchase, including ice cream, cakes, cookies, sarsaparilla, cider, herb beer, and lemonade- all of this and more accessible by streetcar within a few minute's walk. 
Lindsey hoped his Amusement Park would encourage good morals of the young and restrict alcohol sale and use. The allowance of it at other competing places resulted in the declining use and loss of income, causing Lindsey to lose all but a parcel of land with his home. Residential development then began, dismantling the amusement park beginning in 1879. Since then, several groups have been responsible for the revitalization of Lindsey Gardens. In 1921, the Federation of Women's Clubs petitioned to obtain the property as a playground. Two years later, the North Bench Improvement League leased the land and constructed new recreational amenities, prompting 1,000 nearby residents to petition the City to purchase the 17.5-acre park in 1928.