Project Overview
Pioneer Park plays a central role in Salt Lake City's downtown community and the goal of the Pioneer Park; Your Downtown Park process is to make it an active and welcoming space for those who live, work, and visit the area. This summer, the Your Downtown Park team engaged with nearly 3,000 park visitors, neighbors, and other stakeholders in-person and through a digital survey to learn what they think should be priorities for improvements in the park. This fall, the Your Downtown Park team is reviewing public feedback and developing a refined concept plan. More opportunities for public engagement are planned in October/November 2021 and will help determine how to prioritize aspects of the design for construction in 2022.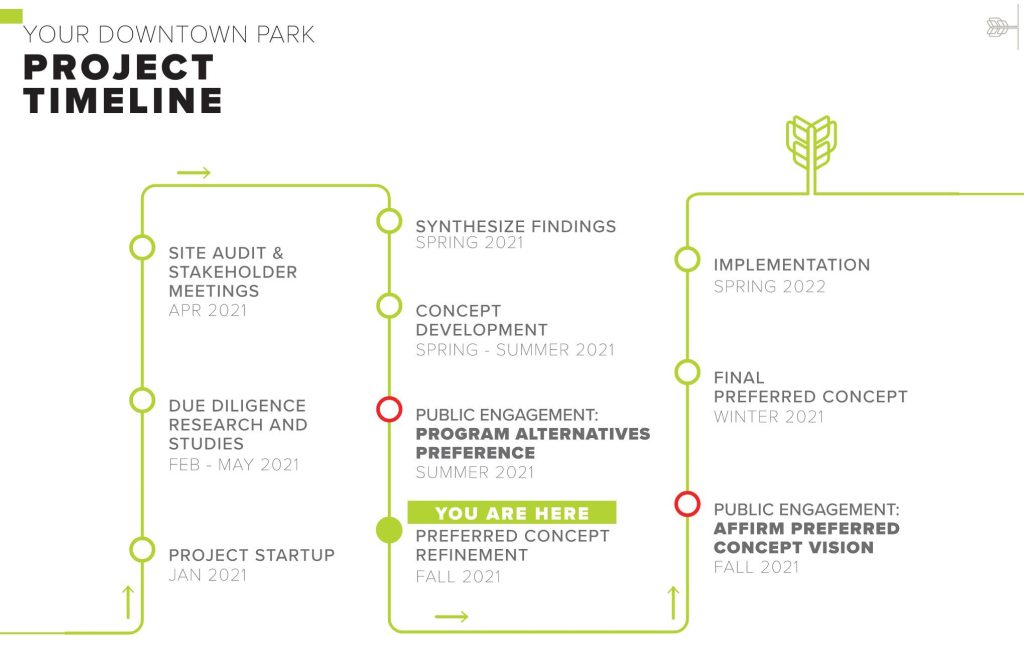 Summer Update
The Your Downtown Park team hosted a Field Day/Movie Night event in coordination with The Utah Film Center and U of U Women's Soccer. We also participated in existing park events like the Downtown's Farmer's Market and Food Truck Nights at the park. We enjoyed meeting a variety of park users from the neighborhood, around Salt Lake City and even visitors from other parts of the country. While people were encouraged to participate in person, we also promoted an online survey from June 25th-July 21st where we had good engagement from across the city.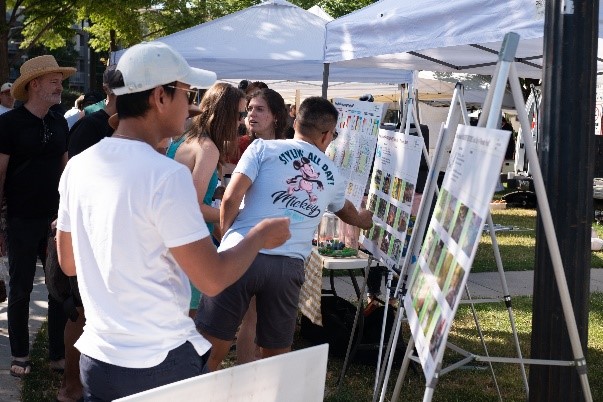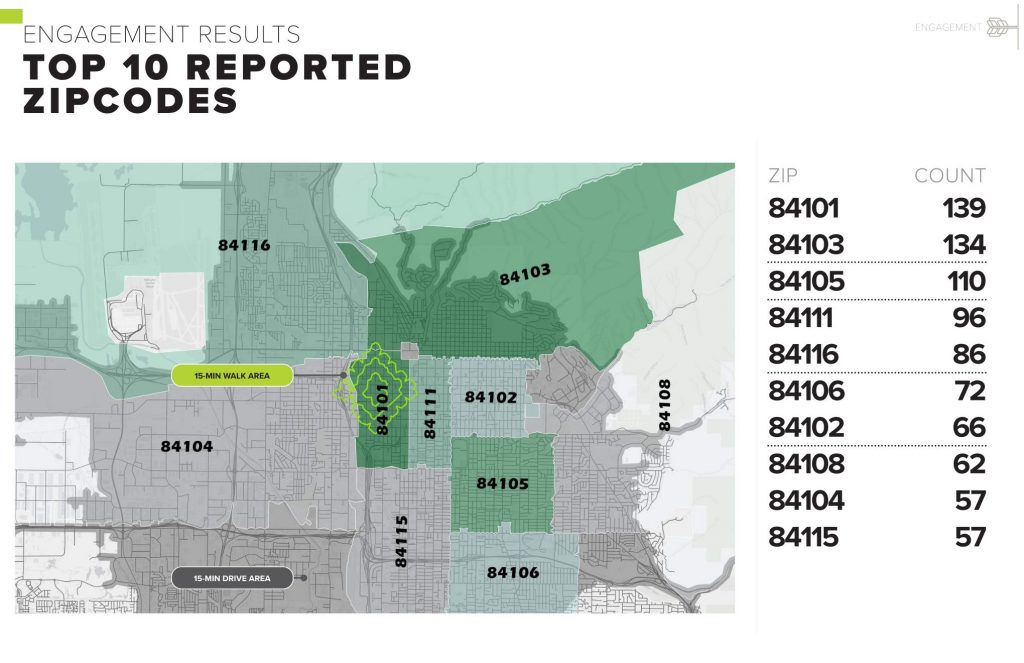 Top priorities for the public include cleanliness and maintenance, more natural features like trees, shade and plants or gardens, more comfort amenities like seating and restrooms, improved security along with active play spaces like an all-aged playground and enhanced dog park. The Your Downtown Park team also received a number of questions related to the park that were outside of or in addition to the items asked about at the in-person activities or the online survey. You can view the FAQ document here.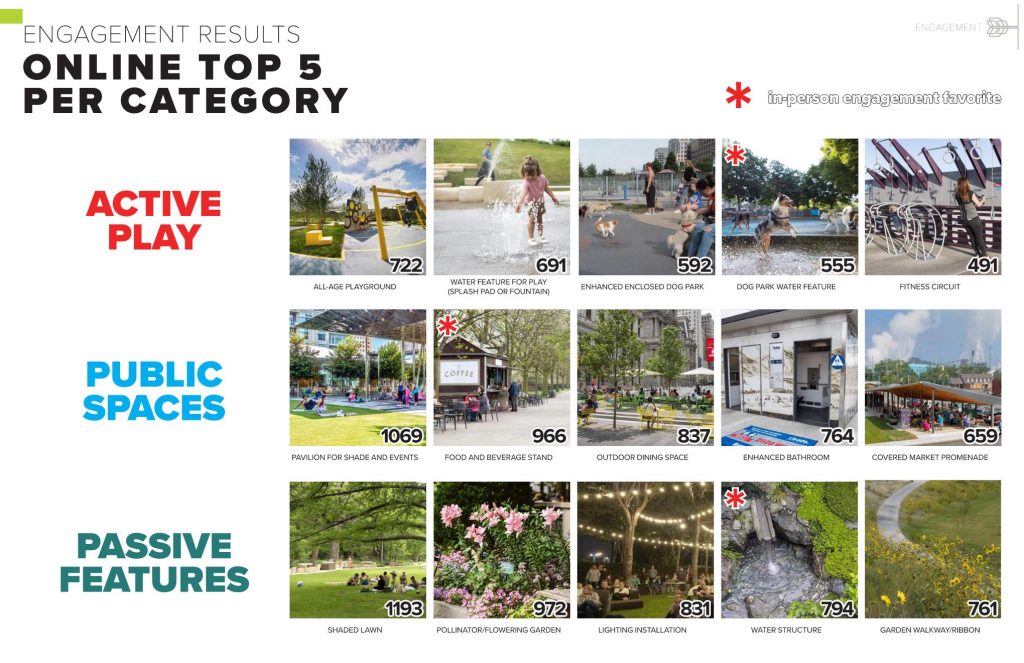 As the Your Downtown Park team reviews the input received, our team of expert public space planners at DesignWorkshop will be aligning public preference with funding specifications, infrastructure, and site limitations as well as current industry best practices with the goal of activating the park all day, all week and all year long.
Next Steps
The Your Downtown Park Team is refining the concept plan and will be meeting with the Downtown Alliance, Pioneer Park Coalition, area businesses, homeless services providers and other key stakeholders through October to gather feedback on the advancing park concept. Join us online as we present to the Downtown Community Council on October 20 at 6pm. Watch at https://www.facebook.com/downtownslccc.
A final design concept will be presented to the public at an Open House in late October-early November. More information to come as dates are confirmed.
Stay Informed
Email PioneerPark@slcgov.com or call 888-556-0232 to subscribe to the process e-newsletter and follow us on Twitter @SLCPublicLands.
---
Background Information
Salt Lake City believes that Pioneer Park should play an integral role in downtown Salt Lake City and the lives of the people who live, work and visit there by serving many functions that enhance the quality of urban life in our growing downtown communities.
In 2019, new funding for improvements to Pioneer Park was made available by the Salt Lake City Council by re-allocating impact fees. Impact fees are assessed on new housing developments so the City can build new amenities to meet the needs of our growing community. These funds may only be used for amenities that add new services to the park. The goal of this process is to develop a site plan for the park that facilitates positive activation throughout the day and week and creates a welcoming neighborhood and community public space.
Several potential improvements have been identified by the City and community organizations. The planning process includes community engagement that will help define the overarching program throughout 2021.
Potential improvements could include:
Comfort Station: Restrooms, Information Kiosk & Park Host Station, Historical Interpretation Signage, Concessions
Event Circulation, Power, Ground Level Platform & Portable Stage: Food truck access, improvements to access for Farmers Market, new opportunities for event programming including local music, yoga and fitness events, arts & cultural activities.
Neighborhood Activity Space: Multi-generational Fitness Activity zone. Components could include fitness stations, splash pad, pickleball, bike polo, traveling rings, slacklining, mileage signs to encourage use of the walking path, artwork and more.
Process Objectives and Design Principles
AN URBAN COMMONS
Create an inclusive park that honors the layered history of Pioneer Park and the vibrant and diverse community it serves today and will serve in the future.
THE HEART OF THE CITY
Establish Pioneer Park as a historically and geographically significant park that reinforces the identity of Salt Lake City.
A SAFE AND WELL-CONNECTED SPACE
Provide a safe and welcoming space for all ages and abilities.
AN ACTIVE AND FLEXIBLE ASSET
Design a neighborhood park for daily use and that has the flexibility to accommodate occasional regional events.
A MODEL OF URBAN ECOLOGY
Mitigate the effects of urban heat island and anticipate future climate change while embracing the Wasatch Front's native ecology.
A LEGACY FOR FUTURE GENERATIONS
Anticipate near-term and long-term needs of the Park, while ensuring financial and ecological sustainability through community stewardship.
Project Schedule
2021: Finalize concept, design and construction drawings, permitting
2022 – 2023: Construction