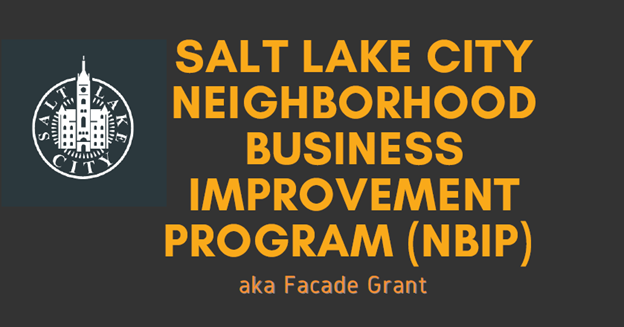 Program Introduction
The Neighborhood Business Improvement Program (NBIP) is one of the resources offered by Salt Lake City's Housing Stability Division to strengthen the City's neighborhoods. Housing Stability utilizes federal funding to support local for-profit businesses by offering up to $50,000 in grants to improve their façades. Increasing the street appeal of properties positively affects the surrounding neighborhoods and boosts the economy on a local level.
Eligibility requirements include, but are not limited to:
1) Applicants must have a for-profit commercial building with a facade visible from the street. Preference is given to applicants who are Minority, Woman, or Veteran-Owned, that are applying to make ADA accommodations, and to small and local businesses.
2) The building must be located within Salt Lake City's NBIP's Target Area. Projects on both sides of the street are eligible. Neighborhoods include Rose Park, Fairpark, Jordan Meadows, Poplar Grove, Downtown, Central 9th, Ballpark, Central City, Liberty Wells, and Glendale.
---
Program Year 2023-2024 NBIP
TO APPLY: The grant will be open for applications May 1, 2023, through May 31, 2023. Late applications will not be accepted.
GRANT APPLICATION TRAINING: Have questions about the program or the application? You can view a recording of the 2023 Grant Application training HERE.
QUESTION & ANSWER DEADLINE: All questions must be submitted by May 26, 2023 at 5:00 pm. Questions should be emailed to Taylee.foulger@slcgov.com.
TARGET AREA MAP: The NBIP Target Area Map has been updated for the program year 2023-2024. Please see the Target Area Map link below to view the new boundaries.
---
Success Stories
Check out the video below of how NBIP grantee RoHa Brewing utilized the grant funding.
---
---
---
---
Any Questions? Please Contact:
Taylee Foulger
taylee.foulger@slcgov.com
385-377-9275
To view our previous NBIP Recipients, please review the map below. Click on a business to see before and after pictures.
---