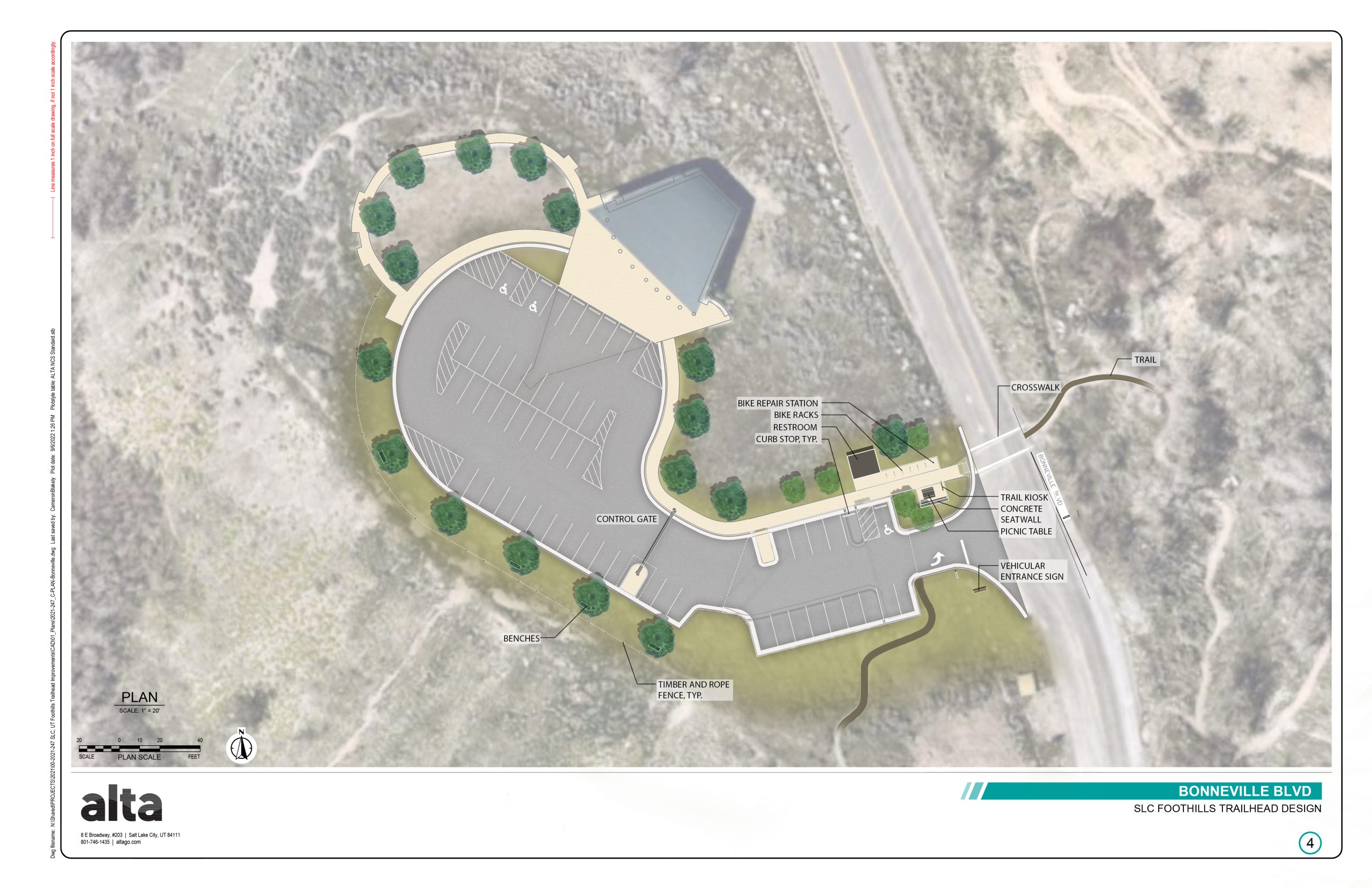 Bonneville Boulevard (Salt Dome)
The Bonneville Boulevard Trailhead is located at the existing "salt dome lot" above Memory Grove on the east side of the horseshoe Bonneville Blvd that traverses City Creek Canyon. This location represents a major confluence for the Foothills between North Foothills, Central Foothills, and City Creek Trails, as well as the urban interface with the western Avenues neighborhood, the Utah State Capitol, and downtown Salt Lake City. The existing footprint is a paved lot with a large pavilion primarily utilized in the winter months for road salt storage for the Streets Division. The Bonneville Boulevard Trailhead serves as a major access point for Lower City Creek Loop, the Bonneville Shoreline Trail, recreation in the City Creek watershed, and the East City Creek and Upper Avenues trails in the Foothills Trail System.
All new trailheads call for a paved parking lot with rope and timber fencing, landscaping, trash, and recycling receptacles, dog waste bags, and an entry plaza with a trailhead information kiosk. Current designs for Bonneville Boulevard Trailhead include:
marked parking for up to 50 designated spaces, including 2 ADA spaces, and 15 winter-time spaces
extensive wayfinding signage for North Foothills (Davis County to City Creek), Central Foothills (City Creek to Dry Creek), and City Creek Canyon
pit toilet restroom (no sewer connection at this location)
event space under and by pavilion
SLC Arts Council installation
site lighting
picnic tables and benches
bike racks
invasive weed cleaning station and bike repair station
security lighting
Note: The pavilion will continue to be used for wintertime road salt storage and the main lot will be closed to public vehicular traffic. The current gate will be moved further inward to increase wintertime parking from 4 to 15 parking spaces.
Existing Conditions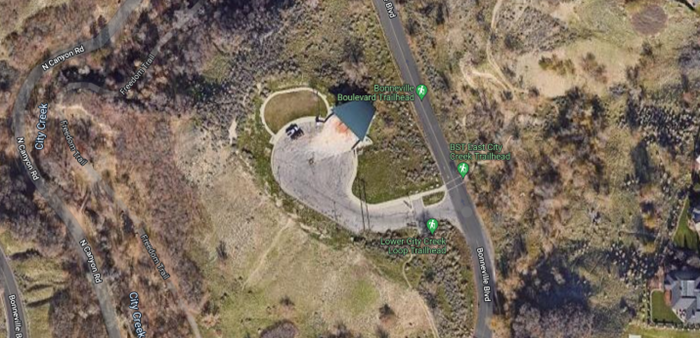 Conceptual Design