Welcome back to the Salt Lake City Public Lands Blog! We're thrilled to update you on the exciting news and events in our city. Today, we focus on the Regional Athletic Complex, also known as RAC, where many incredible projects have been underway. From sports events to playground updates, we'll share all the exciting developments with you.
Sports Events
The Regional Athletic Complex is a premier national destination for various sporting events and is located on Salt Lake City's Westside! Visit the RAC during warm months, and you'll surely see an exciting variety of sports, including Soccer, Rugby, Lacrosse, Ultimate Disc, Cross Country, and even Quidditch! Catch an exciting opportunity to see youth sports at all ages and levels. Many events provide food trucks and other vendors; you might even catch the championship game. See below for the remaining events at the RAC this season. The RAC is located at 2280 Rose Park Ln, Salt Lake City, UT 84116.
Playground Updates
The Regional Athletic Complex (RAC) plans to construct a new playground. This project will kick off with an engagement period to ask RAC users and the community what they want to see included in the playground design. Click here to stay updated on the project and take the survey! The survey will be open through the end of October.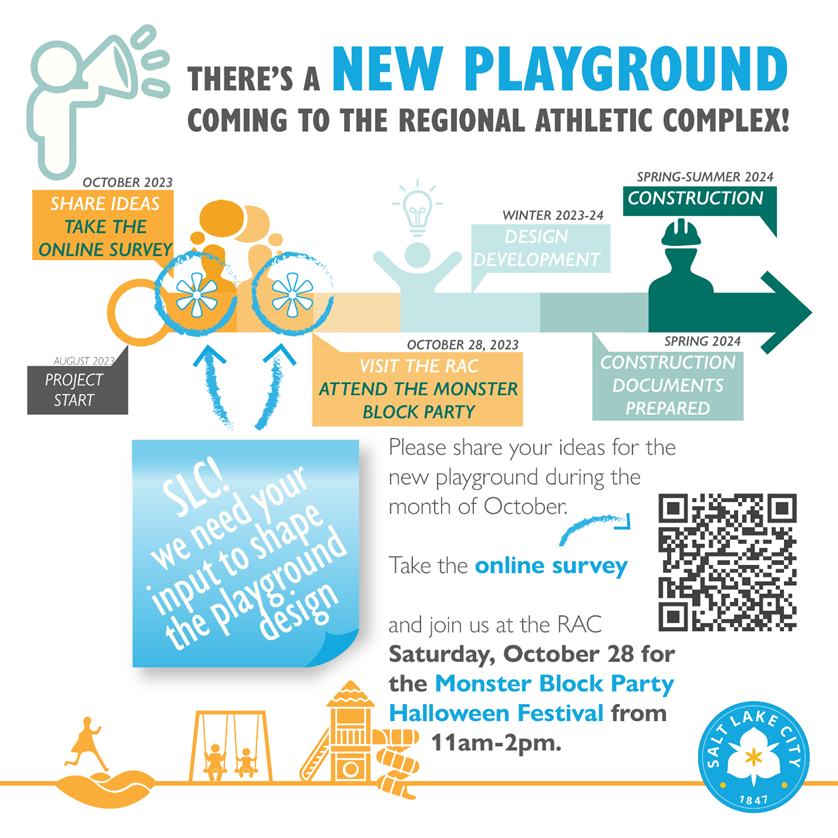 Monster Block Party
Spooky season is upon us! Mark your calendars for the Monster Block Party. October 28 from 11 am to 2 pm, visit us at the RAC for a free Halloween Festival for all ages. Enjoy trunk or treating, costumes, fun Halloween activities, spooky performances, and more! Find more information, including vendor and volunteer sign-up, here!

If you have any queries or concerns, please do not hesitate to contact our dedicated SLC Planner, Makaylah Maponga. You can find her contact details listed below.