Trail Updates in SLC's Foothills Natural Area
What to know before you go…
Welcome to your source for the latest trail updates you need to know before you don those boots or load up your bike and hit the front country hot spots for a day of play in Salt Lake City's Foothills and the Foothills Natural Area.

We'll update this post as frequently as there is pertinent information to know regarding public land use in our Foothills Trails System, including the 5 recreation areas known as Popperton Park, Upper Avenues, City Creek, Twin Peaks and North Foothills. We'll update this page regularly for the latest news on route changes, trail closings, new signage, events, weather conditions and more. See below for the latest communications organized by date.
March 30, 2021
Popperton Park Update
All Popperton Park Trails are open and ready for use for hikers and bikers. These new trails built in 2020 are easily accessible by car, bus, or bike and are very family friendly, so bring the kids! These trails are also pet friendly and great for a little dirt-path stroll with your furry friends. Note: this park is on-leash only.
For those who may not know, Popperton Park has several different trails areas all with their own emphasis for activity and use. West Popperton is for hiking only. Bikes are welcome in East and South Popperton. Come explore this little trails oasis tucked into the lower foothills of Salt Lake and find a nearby natural escape you'll want to return to again and again.
March 20, 2021
Important Trail Closures
Listed below are several key trail closures to know about before heading out and finding them inaccessible. Further down you can view a map of these closures as well.
Rehabbing 19th Ave Downhill Biking Trail
The new segment of 19th Ave (downhill bike trail) north of the I-Street Bike Park, west of the Meadow will not open until the rehabbed segment of existing BST below/west of the bike park in late April.
2-Day Closing of "Morris Meadows Trail"
The upper segment of BST – East City Creek (currently signed as "Morris Meadows Trail") will be closed Monday & Tuesday, March 22-23, during repairs and access to the Meadow will not be available.
Rehabbing Bonneville Shoreline Trail Segment
The existing segment of the BST below/west of the I-Street Bike Park will be closed for rehabilitation beginning on March 24. Hikers & uphill bikers may use East City Creek Trail. Downhill bikers can use city streets until the trail is reopened as 19th Ave trail. This closure should be 2-3 weeks.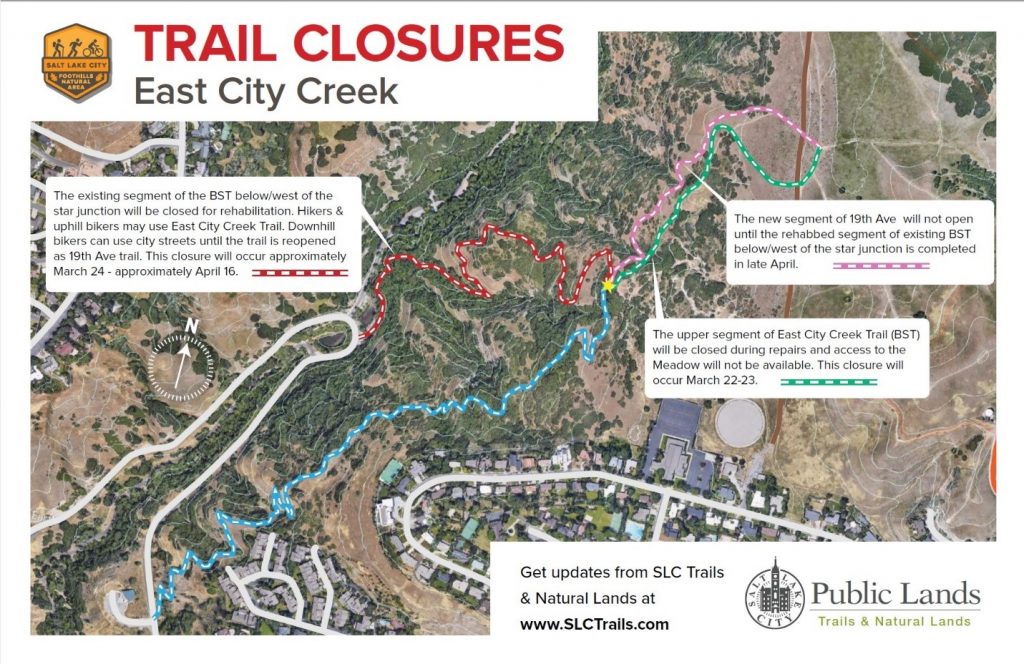 March 11, 2021
Upcoming New Enhancements, Routes, and Trails
Hello friends, neighbors, and fellow recreators – Through our dogged pursuit of enhancing and expanding our local trails, we are excited to announce that the completion of Foothills Trail System Phase I construction will be achieved this spring. Here are a few key milestones we anticipate this season that we can all look forward to. Happy trails.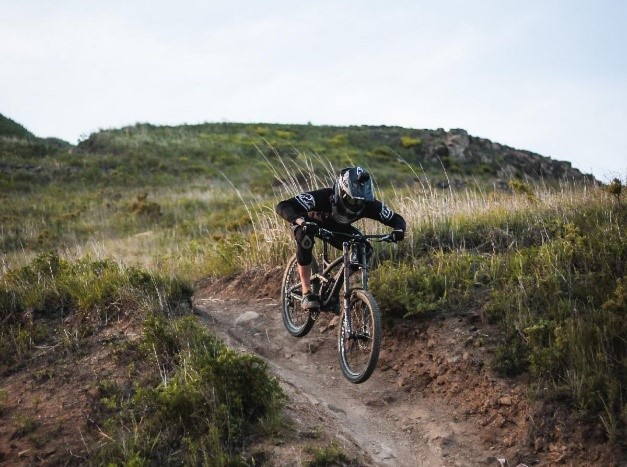 19th Ave Downhill Biking Trail Nearly Complete
The third and final segment of the 19th Ave downhill bike trail between the upper Avenues Meadow Trail and City Creek Canyon will be built along the pre-existing Bonneville Shoreline Trail. Be aware of trail closures at this location for a few weeks in April or May.
A More Sustainable Trail Route North of Terrace Hills
We will be realigning a 1/3-mile segment of the BST north of Terrace Hills Drive in order to create a more sustainable trail route and restore open space that has been degraded due to poor alignment of the original BST. The realigned trail will significantly improve physical sustainability, decrease erosion, and decrease the extent of vegetation trampling by trail users. The existing segment of the BST, along with various other eroding ridgeline trails in the vicinity of the BST, will be closed for re-vegetation.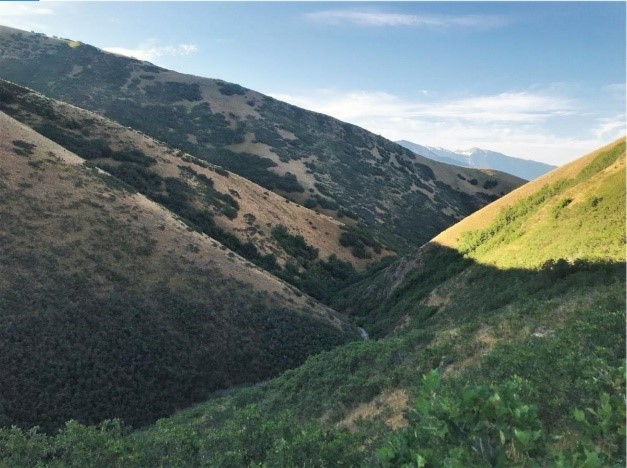 New Trail to Twin Peaks
A new trail from the BST saddle west of Dry Creek to the summit of Twin Peaks will start construction in April. No trail closures will occur but please be aware of active construction and practice caution along with your best trail etiquette. For more updates, maps and master plan information, click the button below.