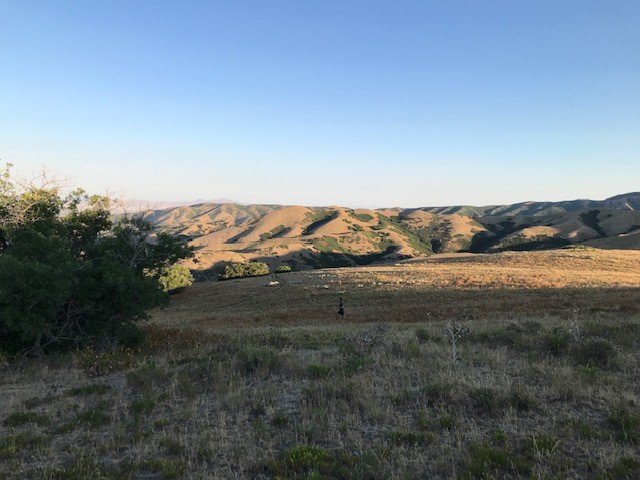 KNOW BEFORE YOU GO:
What's happening in the Foothills Natural Area
Welcome to your source for the latest updates you need to know before you hit the trails in the Foothills Natural Area. We'll update this page regularly for the latest Foothills Trails System news on route changes, trail closings, new signage, events, trail conditions, and more.
To read about trail maintenance projects and trail condition reports, read our Foothills Trail Report.
To learn more about updates for trail users and Foothills education, visit the Foothills Ranger Station.
Stay informed. Subscribe to the Foothills Newsletter by clicking here.
View past editions of Foothills Newsletters here
CURRENT CONDITIONS
PUBLIC SAFETY TRAIL CLOSURE – LOWER BOBSLED
The Trails & Natural Lands Division installed a property boundary fence along 11th Avenue to prohibit unauthorized motorized vehicle use in the open space and prevent bikes exiting the "lower Bobsled Trail" from entering the roadway without yielding to vehicular traffic. The fence was installed August 28 – 30.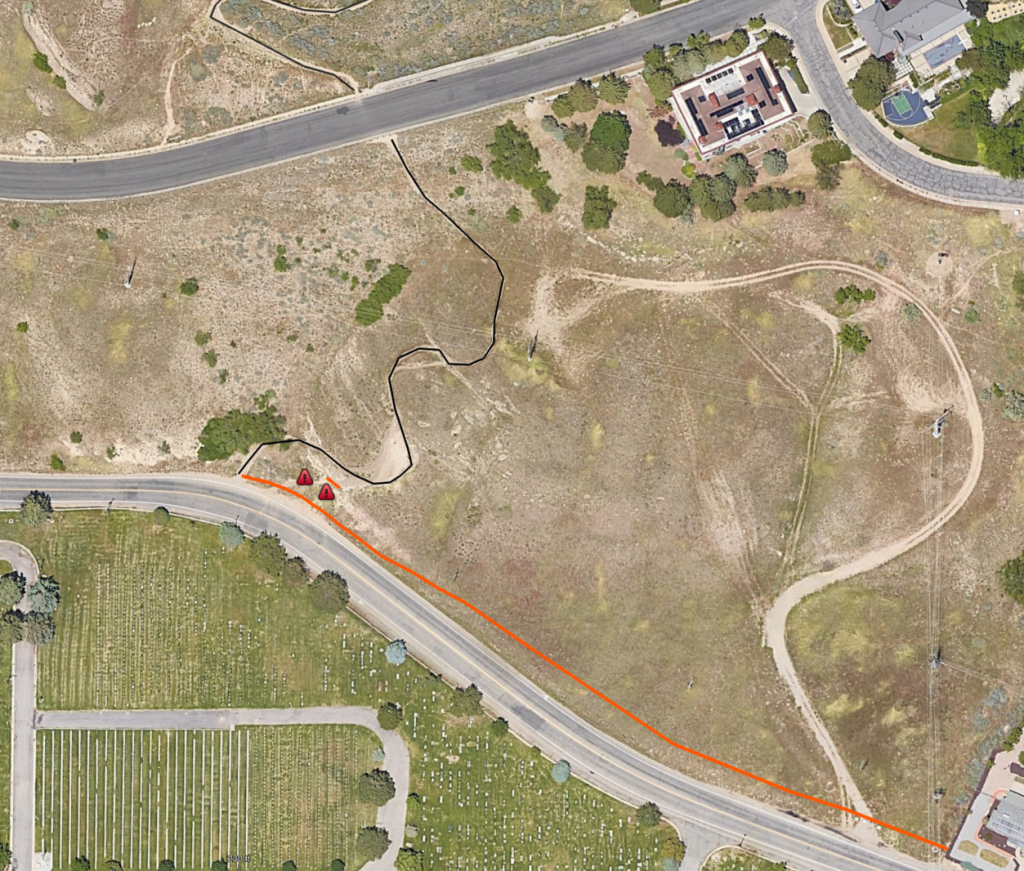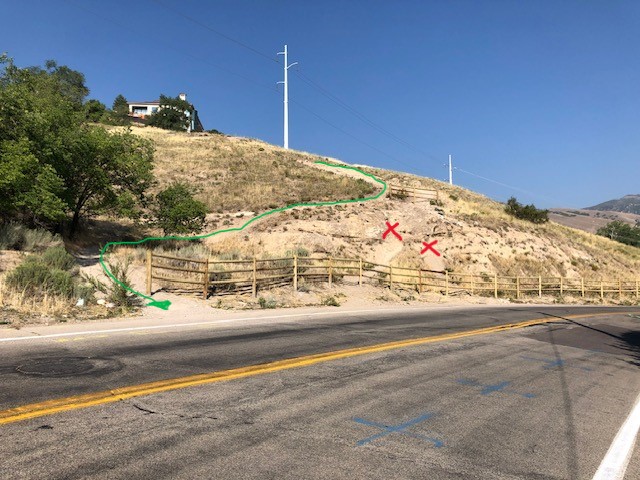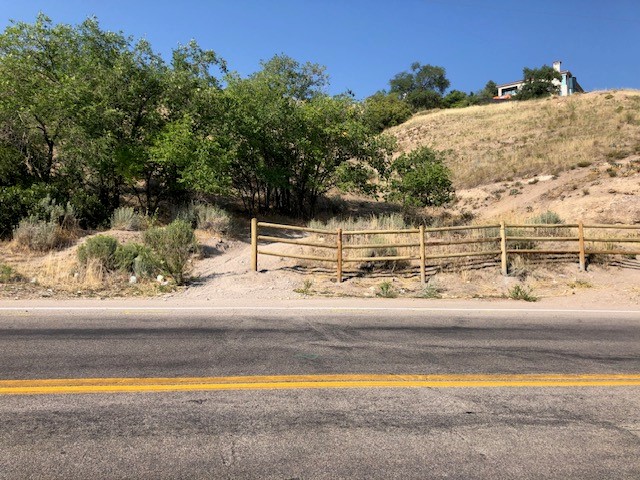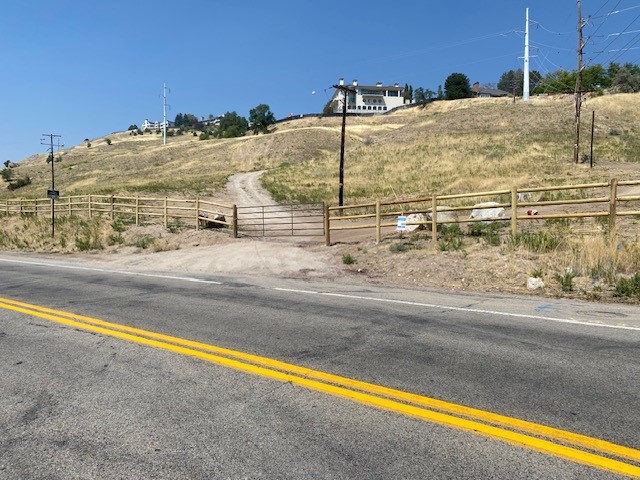 Rocky Mountain Power Wildfire Mitigation Project
Phase II (North Virginia & 11th Avenue to Dry Creek) of the RMP Wildfire Mitigation Project began on July 12. Trail closures occurred in South Popperton (bike loop and walking trail) as well as on the Popperton – Dry Creek Connector Trail at various times in July and August. The utilities replacement work has been completed as of the week of August 21. A final walkthrough with the electrical contractor and trail and land restoration contractor and the City is scheduled for August 31 to implement the restoration plan.
RMP Wildfire Project Work & Trail Closures (August 7 - 20)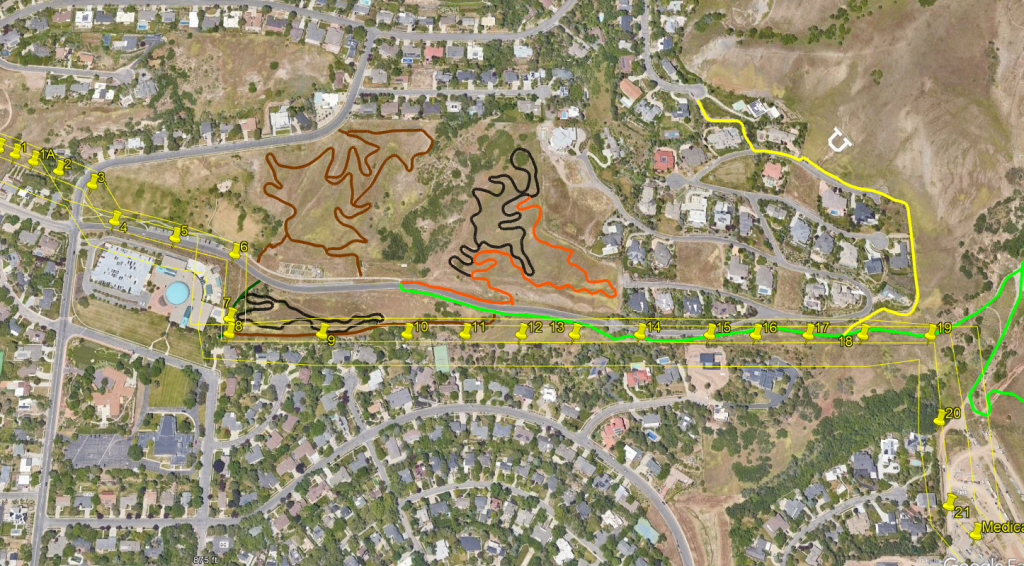 SOUTH POPPERTON TRAILS ARE SCHEDULED TO BE CLOSED WED – THU AUG 16-17 to remove and replace power pole 8 (in SW corner of South Popperton by Alta/Fairfax access).
ALL OTHER POPPERTON TRAILS AND TRAIL ACCESSES ARE OPEN.
Full completion of the Phase II (Popperton) project is expected for August 30.
RMP Wildfire Project Work & Trail Closures (July 31-August 6)
ALL POPPERTON TRAILS AND TRAIL ACCESSES ARE OPEN.
POSSIBLE DELAYS AND PERMISSION TO PASS ON BST DRY CREEK – POPPERTON CONNECTOR PATH as poles 16 and 19 below Federal Pointe are completed this week.
A crane is needed for pole 2 which will require a traffic control plan on Virginia Street above 11th Avenue.
Due to a design change, poles 6 – 8 (west fence of South Popperton along Shriner's Hospital) have been fire-wrapped and will be replaced in the winter or spring when materials are sourced.
RMP Wildfire Project Work & Trail Closures (July 24-30)
SOUTH POPPERTON TRAILS AND THE ALTA/FAIRFAX TRAIL ACCESS MAY BE OPEN THIS WEEK.
EXPECT DELAYS AND PERMISSION TO PASS ON BST DRY CREEK – POPPERTON CONNECTOR PATH
Poles 11 – 20 are scheduled to be serviced this week.
Temporary access road to Pole 19 to be constructed 7/28-7/29.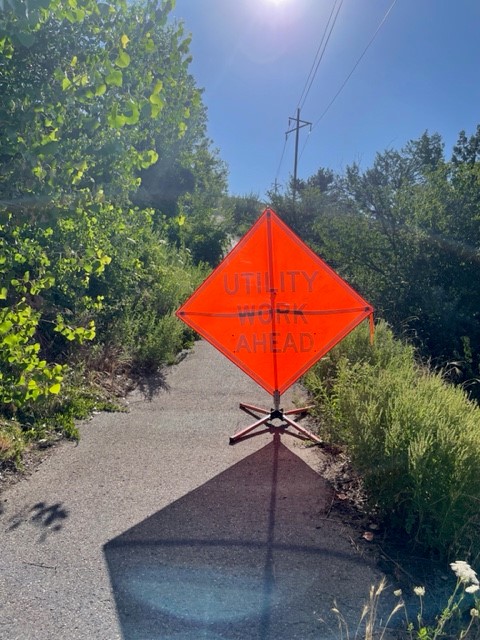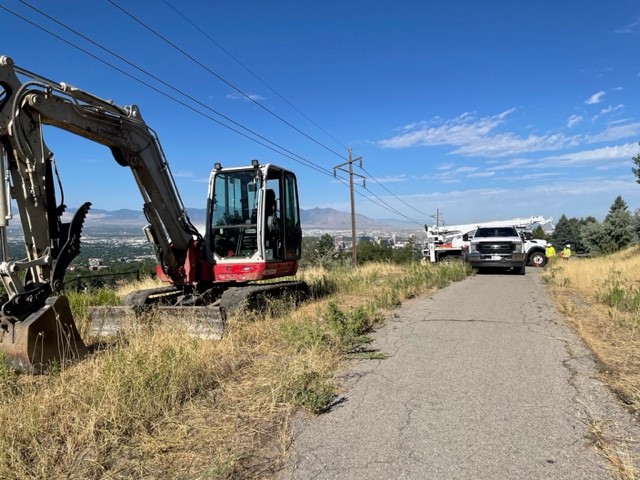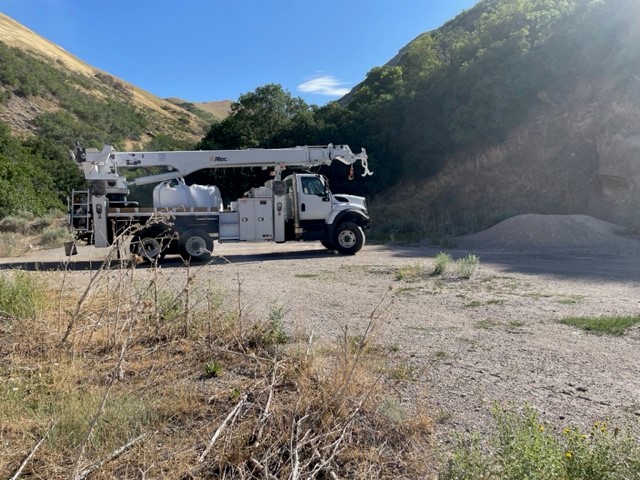 RMP Wildfire Project Work & Trail Closures (July 17-23)
SOUTH POPPERTON TRAILS AND THE ALTA/FAIRFAX TRAIL ACCESS ARE CLOSED
EXPECT DELAYS AND PERMISSION TO PASS ON BST DRY CREEK – POPPERTON CONNECTOR PATH
Poles 9, – 12 & 14 are scheduled to be serviced this week.
Trees at the eastern end of the South Popperton Bike Loop will be trimmed up to 14′ this week to allow for clearance of trucks on South Popperton Walking Path, between poles 9 and 10.
RMP Wildfire Project Work & Trail Closures (July 12-16)
Poles 5, 6, 7, and 15 are scheduled to be serviced. South Popperton Bike Loop, Walking Path, and Access Path are all subject to be closed. Vehicular delays could occur on Popperton Park Way.
Past Projects & Updates
BST West City Creek Trail Restoration (May 15-26)
The project was completed on Friday, May 26 and is fully open for Memorial Day weekend.
Grade reversals were installed to keep water off the trail and sediment on the trail.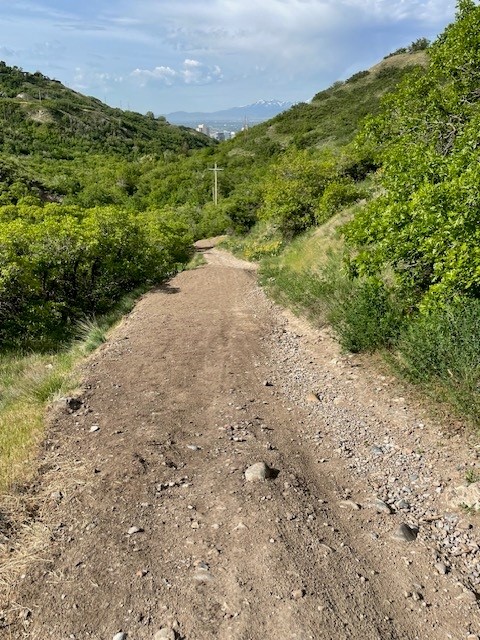 A lower culvert was rock armored to keep water flowing under the trail and not on it.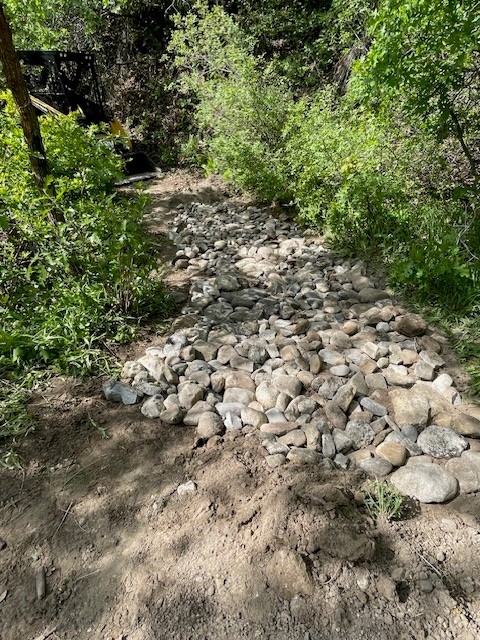 Organic and biotic material was strategically hand-placed on the trail edges to finish off the work.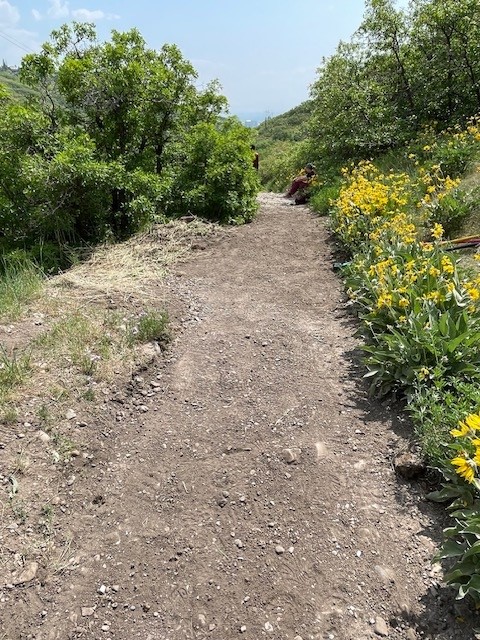 Rehabilitation work commenced on Wednesday, May 17 from the north (junction A) by creating a natural berm that will carry water off the trail from the steep descent.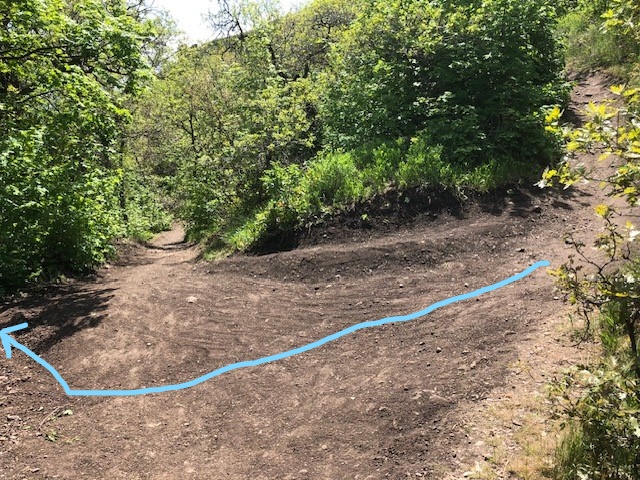 The culvert at the uppermost spring was rock-armored and widened to protect the spring and reinforce the trail crossing.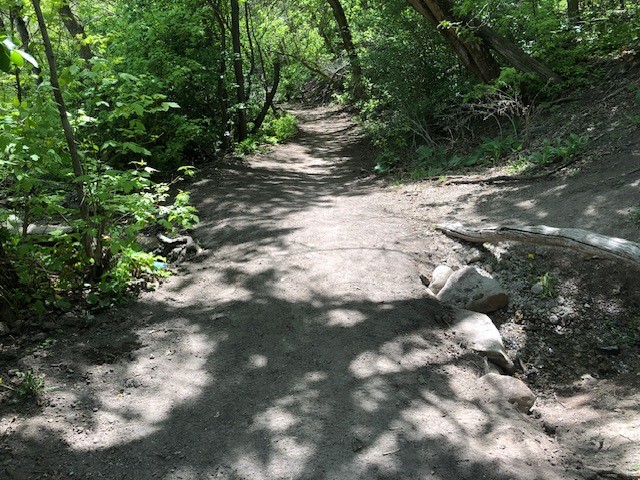 Added fan drains will for water to run off trail and minimize standing water and loosening of sediment.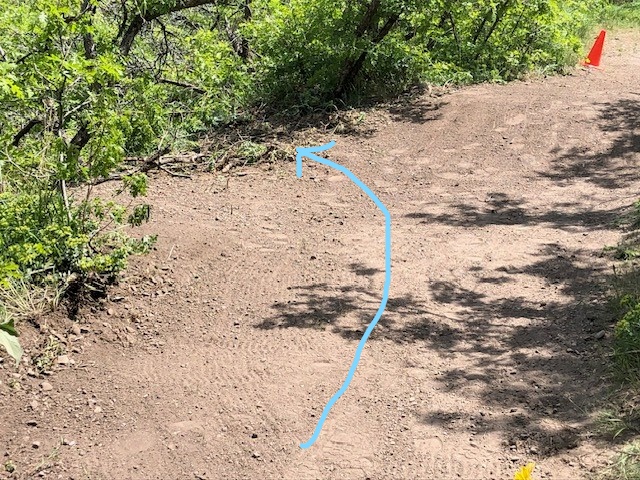 Temporary closures should only last through the week of May 29-June 2. Please allow the trail contractors to complete their work and use the detours along City Creek Canyon Road between junctions B, C, and D. (see map below).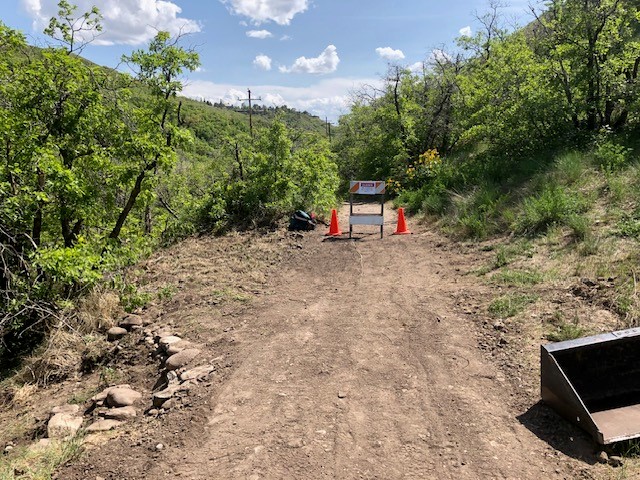 Some segments of the 25-year-old Bonneville Shoreline Trail (BST) will get a facelift this season starting with a 1-mile segment on the lower west bench of City Creek Canyon. As outlined in the 2020 Foothills Trail System Plan, restoration and maintenance of existing trails is a critical component of an adaptive recreation management plan. Given that trails deteriorate over time by soil displacement if they aren't designed to regularly displace water, the trail maintenance projects prioritized for this year include segments of the BST that will benefit from tread and cross-slope re-grading and the addition of low-grade features like grade reversals, dips, and fans to better shed water from the trail. These enhancements will reduce sediment displacement from erosion as well as minimize puddling on trails which causes widening and braiding of trails from users creating their own paths.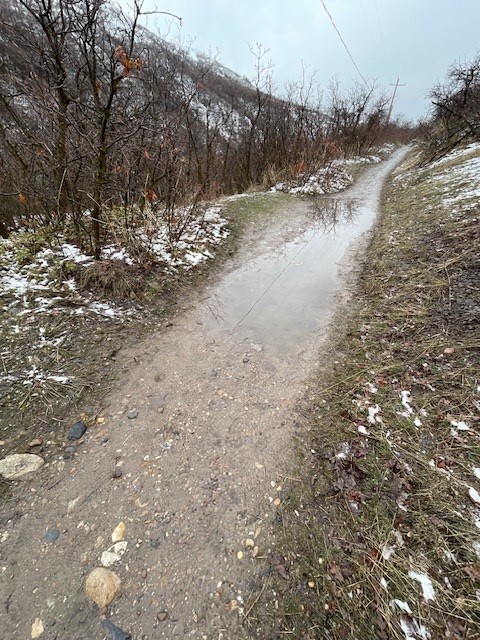 Depressions in the trail hold water without an outlet.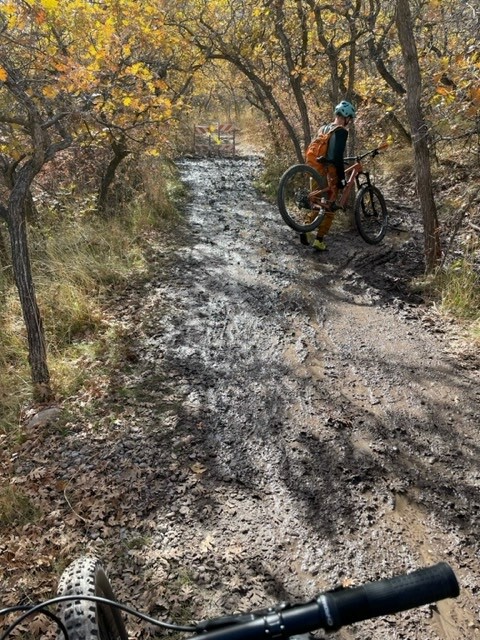 Trail users create wider or braided trails when trying to avoid mud or water.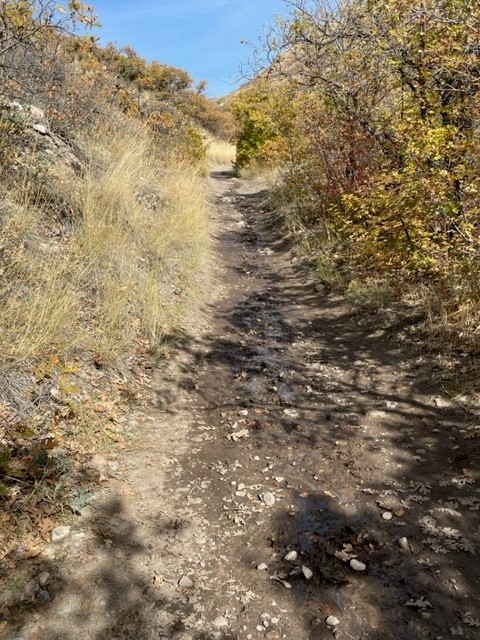 Trails built on fall lines can create a "cupped" trail that runs water like a river which increases sediment displacement.
The 1-mile segment of BST West City Creek between the junction just above the Bonneville Blvd hairpin turn and the junction with the City Creek Trail (right as it turns left to head up the hill), see map below from A to D, will be closed in sections to complete the requisite trail repairs. The project includes repairs to 4 trail junctions, 3-4 culverts, and a few dozen low-grade dips for water dispersal. All the restoration will be in the existing trail corridor without the need for any realignments.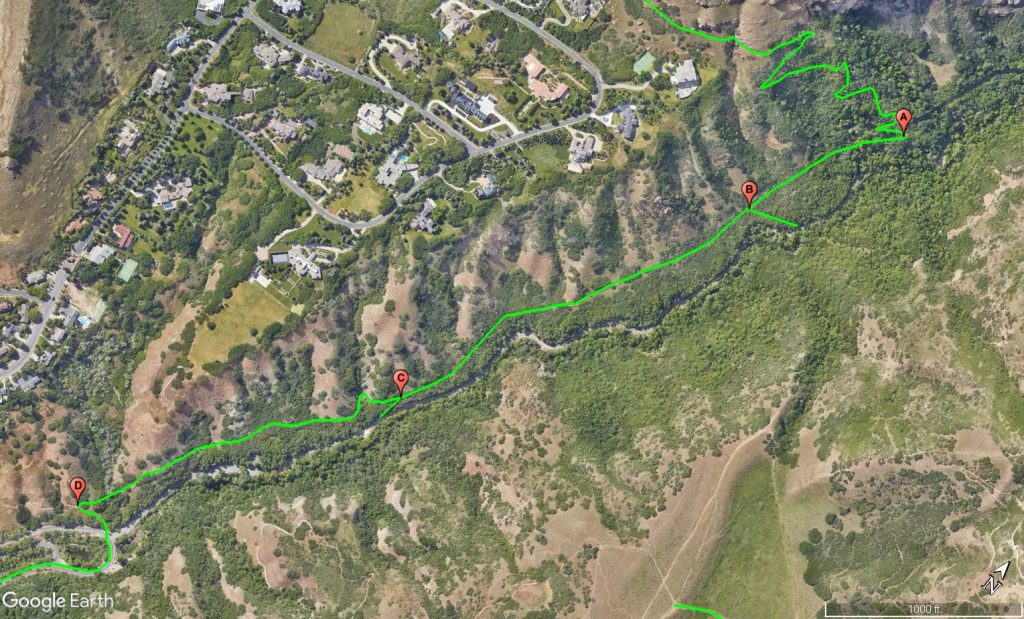 2021 Trails Blog Archive
---
September 14, 2021
Click here to watch a re[accordion title="BST West City Creek Trail Restoration (May 15-26)"]cording of Mayor Erin Mendenhall's September 14th Press Conference about the Foothills Trail System Plan.
---
September 3, 2021
Trail Signage Stolen From Foothills Natural Area
Have you seen any sign of our signs?
Unfortunately, 30 of our new wayfinding and trail designation signs have been stolen from the Foothills Natural Area. These signs are 6 feet tall and 4 inches wide and are driven 1-2 feet into the ground (see the example in the first photo below).
We are actively working with the Salt Lake City Police Department to investigate this theft. If you have any knowledge about who may have taken these signs, or if you happen to find any of the missing signs while you're out on a hike in the Foothills, please call 801-972-7800.
These signs are extremely important to help users navigate the trail system and protect the surrounding environment. They also inform users which trails are for hikers and/or bikers for a more enjoyable and safe trail experience. We are working on getting the signs replaced as soon as possible. In the meantime, please plan ahead for your next trip to the Foothills by researching the trail designations for your planned outing. Information is available on an interactive map on the homepage of slctrails.com.
We've also seen recent vandalism of wooden buck and rail fences in the Foothills (see second photo below). If you have any knowledge about who may have knocked over several hundred feet of fencing in the Foothills, please call the same number listed above to help us with the investigation of this crime.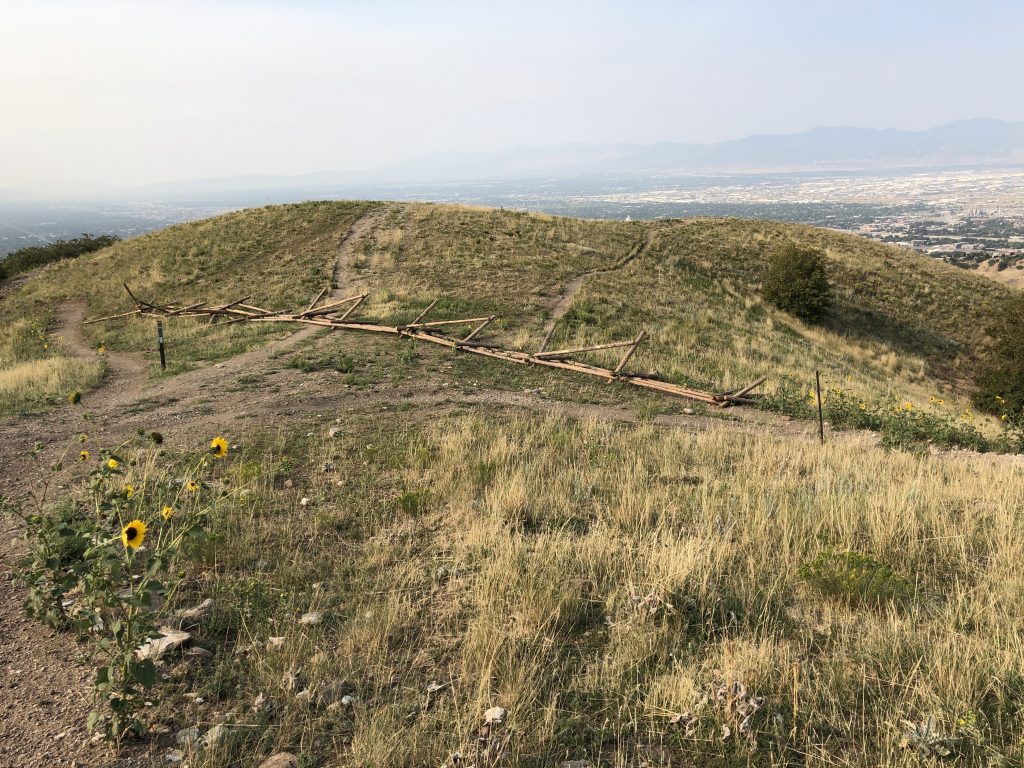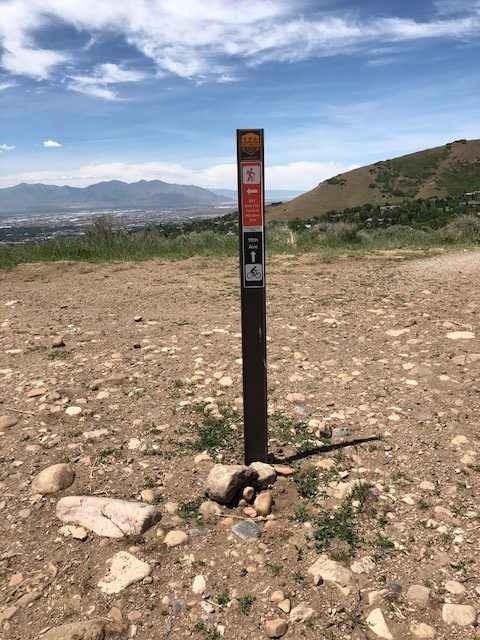 ---
May 24, 2021
Looking Back On What We've Achieved
It has been a busy spring with more trail users in the Foothills than ever before, and several new trails now open for hiking and biking. As the season continues to warm and more people head out to enjoy our public lands, we've created an overview of the progress that's been made to help you decide where to go on your next visit to the Foothills Natural Area.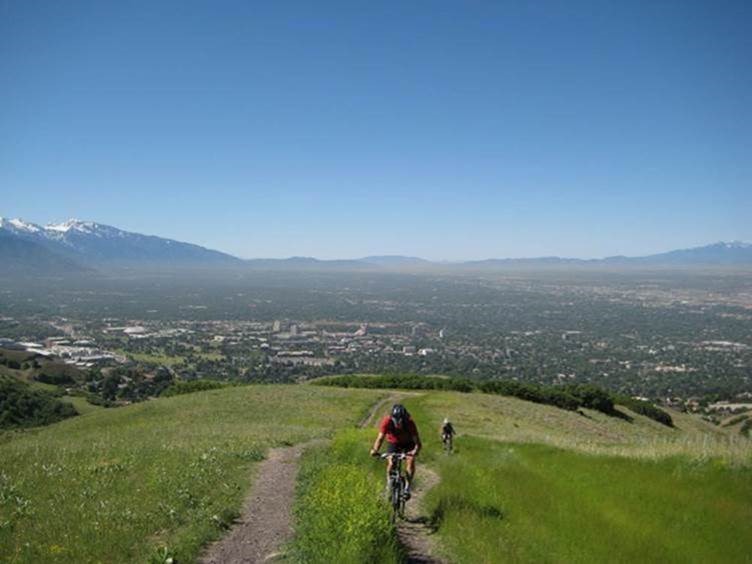 Here's a quick review of new trails that opened last fall, as well as new trails that have now opened for use this spring.
New hiking and biking trails at Popperton Park.
New hiking trails in Lower City Creek.
New Bonneville Shoreline Trail between City Creek and 18th Ave (open to hiking and uphill-only biking)
New Avenues Ridgeline hiking trail
New 19th Ave directional mountain biking trail
Not only have all of the trails in Lower City Creek, East City Creek, the Upper Avenues, and Popperton been completed, but new and improved wayfinding signage and trail management fencing has also been installed, making for a better trail experience for users both experienced and novice.
The Latest Update on Trails Development
As of right now, SLC is taking a break from the addition of new trails in the Central Foothills, while the City conducts a thorough review of how trail work conducted in 2020/2021 is meeting the objectives of the Foothills Trail System Plan and the needs of Salt Lake City residents. The construction of the Twin Peaks Trail and Dry Creek Alternate Trail specifically have been paused to further investigate cultural and environmental elements of the natural landscape, and to ensure the goals of the Plan can be met. Trail maintenance on the Lower City Creek Trail and a short re-route at the entrance to the Bonneville Shoreline Trail at the Bonneville Boulevard Trailhead will continue as scheduled this spring, along with installation of new trailhead kiosks and wayfinding signage.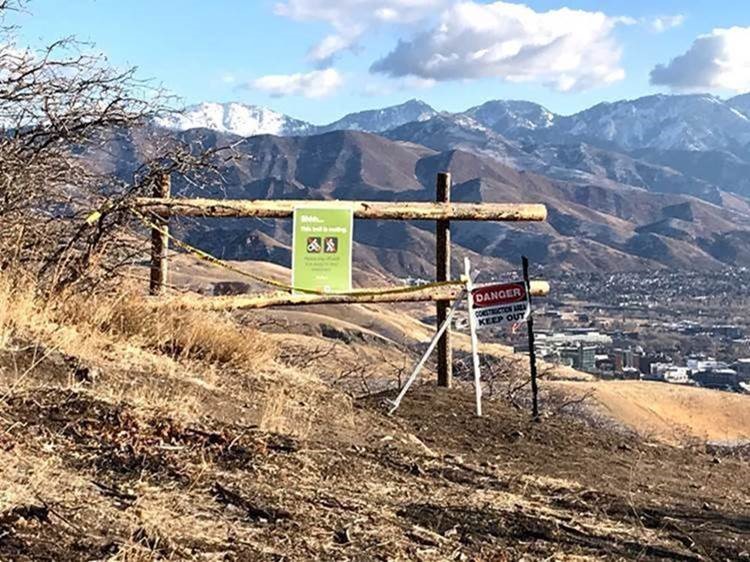 ---
Take a Hike!
If you haven't already experienced the new trails in the Foothills Natural Area, try them out! Take a hike (we mean this in the best and most literal way), go for a walk, a trail run or a bike ride on the trails listed above, then let us know what you think by taking the survey. The feedback we receive will inform present and future trail management decisions, and it will help us improve implementation of the Foothills Trail System Plan.
Why We Need Your Voice
To effectively analyze whether these new trails are meeting our planned objectives, it's absolutely critical that we hear from as many folks as possible who have used any of these trails. Hopefully that includes YOU! Will you take a brief survey to let us know your thoughts and feedback? You can click the button below to take it now or, while on a ride or a hike, you can also find QR codes that link to the survey posted along all of the new trails listed above.
Public Lands Are Inclusive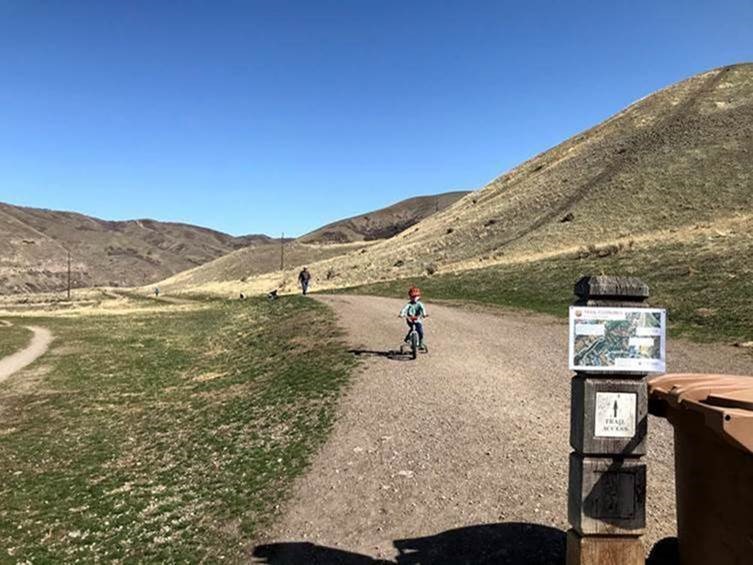 Please remember, as more of us turn to the wild to seek thrill and solace, we're all trying to enjoy this beautiful open space that is so accessible to where we live and work. Like we learned as children, everything's better when we share. Consider this our invitation to you to share the trails responsibly by being friendly, courteous, and saying hello! A smile and a friendly greeting goes a long way to making recreation on natural lands a positive experience for everyone.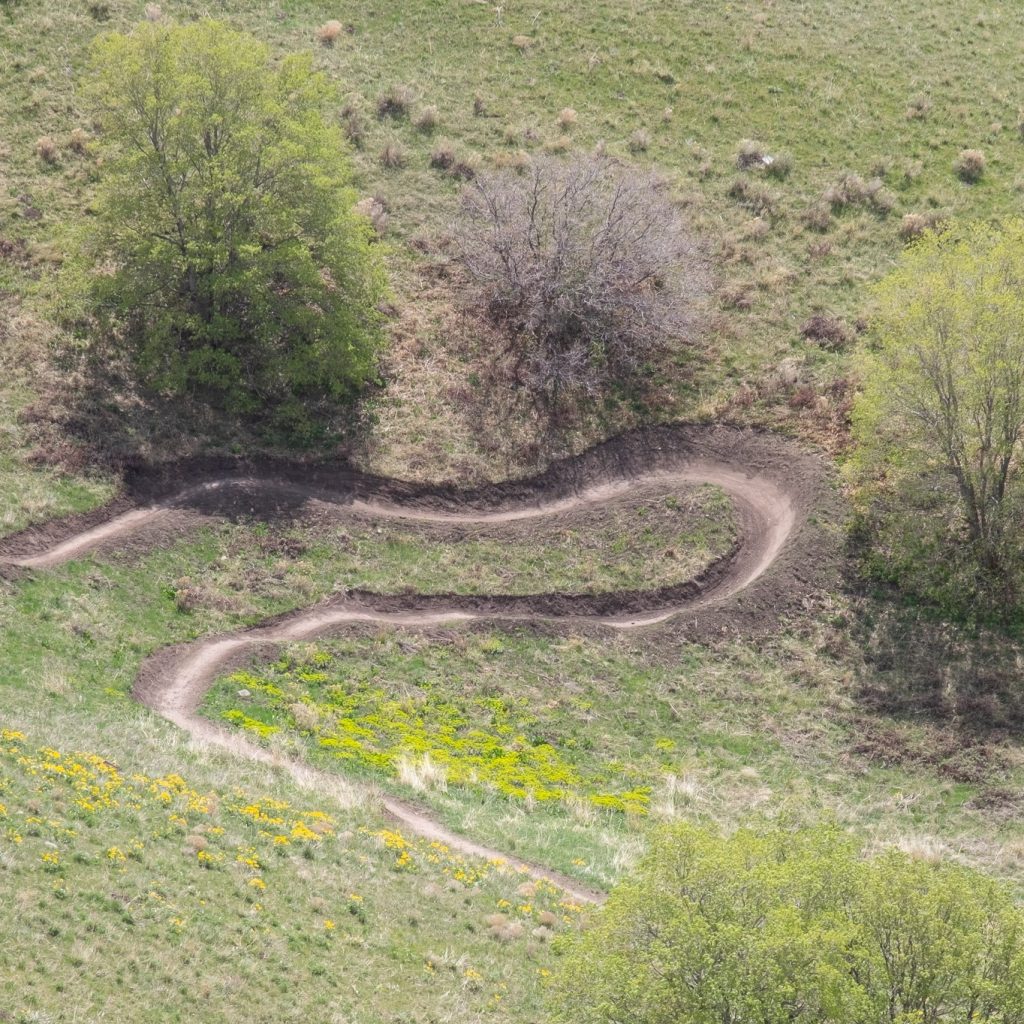 May 17, 2021
Happy Traaaaaails…To You…
Shout em', Scout em', Tell All About em'!
All of the new trails in the Central Foothills, between City Creek Canyon and Perry's Hollow, are now open! You heard that right! Once you're out there, be sure to get familiar with our wayfinding signs featuring trail names, management designations (hiking, biking, or both), and distances to next junctions and destinations. Visit www.SLCTrails.com to view an interactive map of all the new trails and invite your friends for new adventures! See you out on the trails!
Not so Fast, My Friend
As Marvel titan Stan Lee would say, "with great power there must also come great responsibility." Alongside building trails for everyone's enjoyment, we are also building a more inclusive trail culture. And we need YOUR help! With access to beautiful views and terrains comes our personal responsibility to our neighbors and lands. When accessing trails via the Upper Avenues neighborhoods, travel with caution as the speed limit is 25mph and keep in mind you are traveling through a residential area. Parking here can be extremely limited during peak times, so make sure you are parking sensibly, respectfully, and most importantly for you, legally.
While on the topic of trail culture and speed, our new trails are bursting at the seams with eager users! A friendly reminder to you bikers – please remember to ALWAYS yield to foot-traffic on shared-use trials. Slow down, yield, or even stop when exiting 19th Ave downhill bike segments, particularly when merging with the Meadow Trail. Our goal for building trail culture is to ensure each and everyone's stoke is high, but making sure one person's stoke doesn't get in the way of anyone else's. Striking that balance is just part of being a public lands recreator. We're in this together!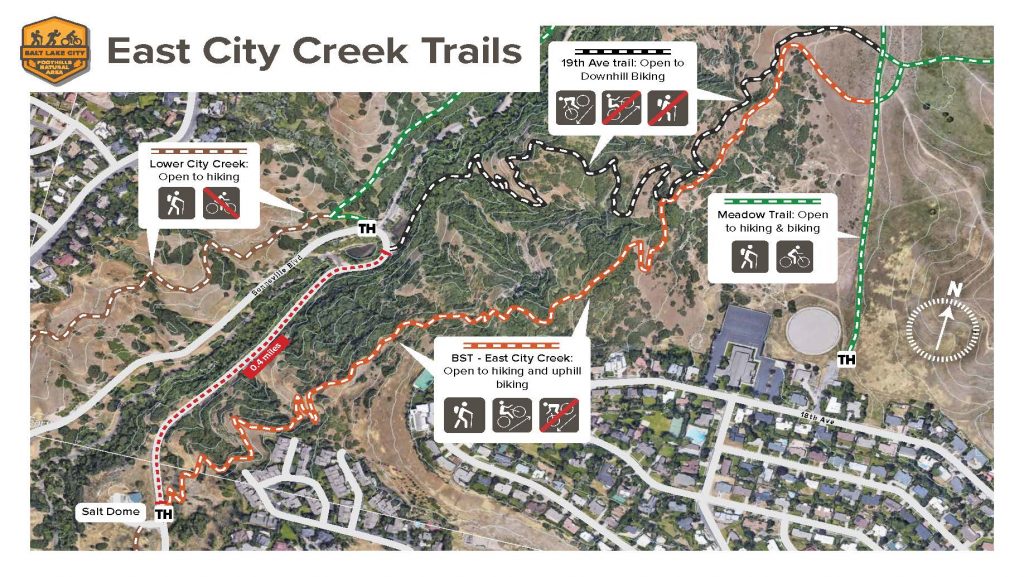 Cones, & Tools, & Construction, Oh My!
The completion date of the new hiking-only Twin Peaks Trail has been delayed. Please stay off this trail until further notice. In the meantime, embrace a change-up and head over to the Jordan River to check out the newly built boat ramps you can use to more easily embark on a paddle adventure in your floating vessel of choice. And when the completion of the Twin Peaks Trail is ready, you can read about it here!
Additionally, Dry Creek Alternate Trail construction has not yet begun. Final decisions on its alignment management designation are still under discussion and may be a few weeks out. More to come soon!
April 23, 2021
Uphill, Downhill, Red Hill, Blue Hill
It's Here! It's Here! It's Here!
It's a red-letter day in the Foothills Natural Area, friends. The day is here! The hour is at hand. The moment has arrived, and we are thrilled to announce that the 19th Ave downhill biking trail is complete and open for business. See the map for reference, particularly with regard to uphill biking trails to access the top of the 19th Ave trail.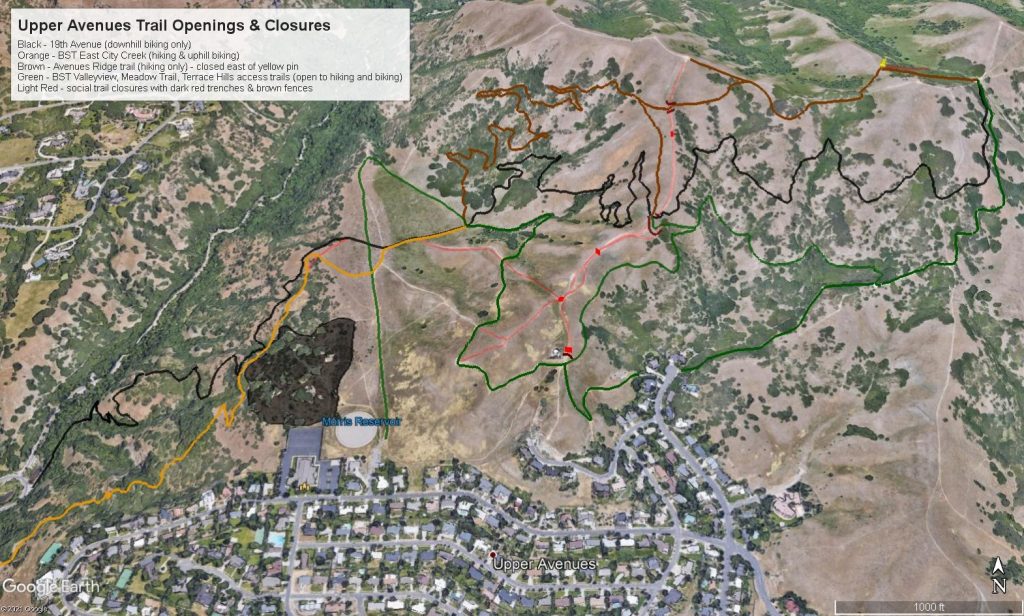 Oh, That Ol' Bonneville Shore…
Also now open: The BST – East City Creek trail from Bonneville Blvd (Salt Dome/Lower City Creek) up to Meadow Trail is now open for hikers and uphill biking. Note that says uphill biking. 😉
Out-and-Back on Avenues Ridge
The Avenues Ridge Trail is also now open for hiking from the Meadow Trail up to the summit for an out-and-back hike, or circling back for a loop hike on the BST. Construction should finish on the Avenues Ridge Trail on the east end at the City Creek Saddle between April 26 – May 7. But a word of caution: Trail users should avoid the unofficial, *social trail while the trail builders are working in that area. It is not safe for you or them so doing your part here is also prioritizing the safety of everyone in the area. Please reference the map for this area as well.
Permanent Closure of BST Segment
A new segment of the BST has been constructed above Terrace Hills creating a more sustainable trail at a more manageable grade. The segment of the BST on the ridgeline between the Meadow Trail and Terrace Hills, as well as the old jeep track trail that continues on that ridgeline up to the upper Avenues/South City Creek ridgeline IS NOW CLOSED. Multiple trenches have been dug across the old jeep track to prevent usage. Natural material fencing and signage will be installed soon. Additionally, all of the *social trails heading up to that ridge from the BST will be closing to maintain the integrity of the habitat, vegetation, and natural lands. We appreciate your willingness to adapt to these changes as we make a more vibrant trail system that benefits all of us.
*social trails are informal, unofficial trails that often negatively impact the environment. Here's a good definition from the Trails and Open Space Coalition: "A social trail is defined as an informal, non-designated trail between two locations. Social trails often result in trampling stresses to sensitive vegetation types. They may also be known as rogue trails. As the definition implies, creating and using a social trail increases the amount of vegetation that is trampled."
April 10, 2021
Checking in on Key Progress Milestones
Nearly There With 19th Ave Downhill Bike Trail
We know you're itching to get on this track, but all good things come to those who wait. The good news is, the waiting period is just about over. Most of the lower segment of the 19th Ave Downhill Bike Trail has been rehabbed or rerouted. We have our fingers crossed that the weather holds as we are scheduled to open ALL THREE SEGMENTS of this bike trail on Friday, April 23. Pump up those tires!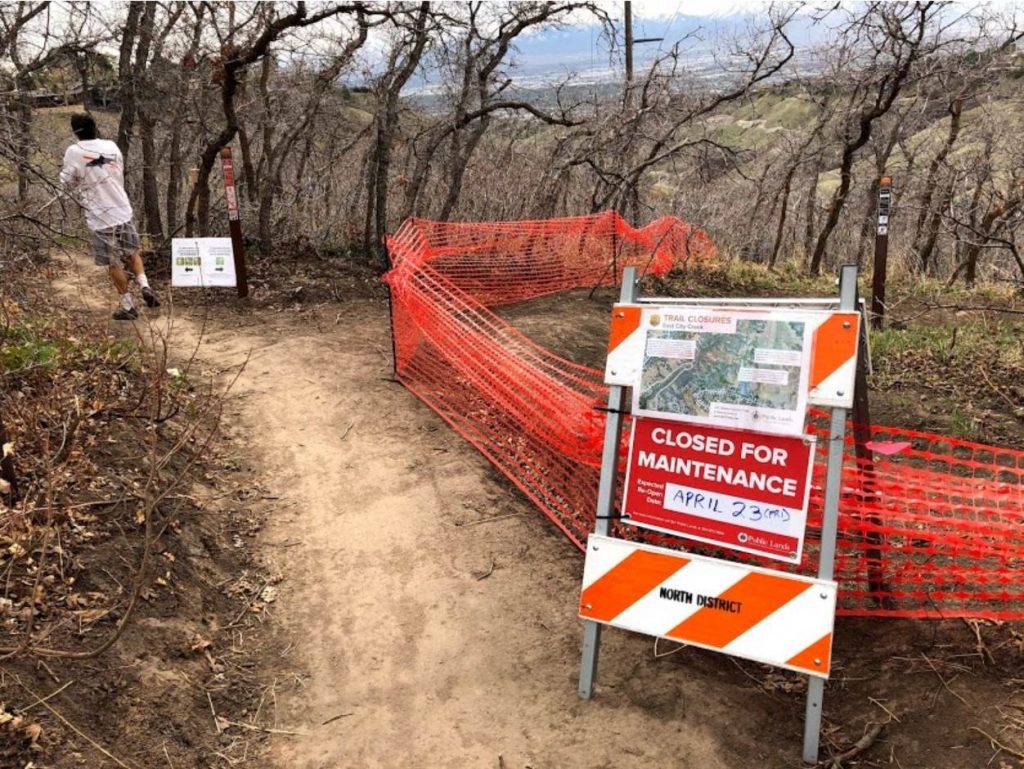 Terrace Hills: Signed, Sealed, Delivered
And now for some good accountability. We mentioned that we'd be realigning a 1/3-mile segment of the BST north of Terrace Hills Drive in order to create a more sustainable trail route, and, well, we did. Started. Finished. Re-opened. Ta-da! Active closure of the eroding ridgeline jeep trail has now begun with trenching, fencing, and signage to minimize future erosion and start the rehabilitation of the natural lands. Plans for re-vegetation are also underway. And here's a fun note: All ridgeline trails now have new, adjacent, sustainably built trails to access the same locations. It's never a bad idea to recreate more responsibly with respect to the wild land on which we play.

Twin Peaks: And So It Begins
We gave a heads up when construction was looming, but now, as of April 13, the new Twin Peaks hiking trail work will officially begin. This trail will replace some deteriorating and frequently used social trails along various ridges. Look for a hopeful Twin Peaks trail completion by Memorial Day! As we've mentioned previously, we don't anticipate any trail closures, but that means you'll need to practice sensible awareness and caution along with your best trail etiquette while navigating this area.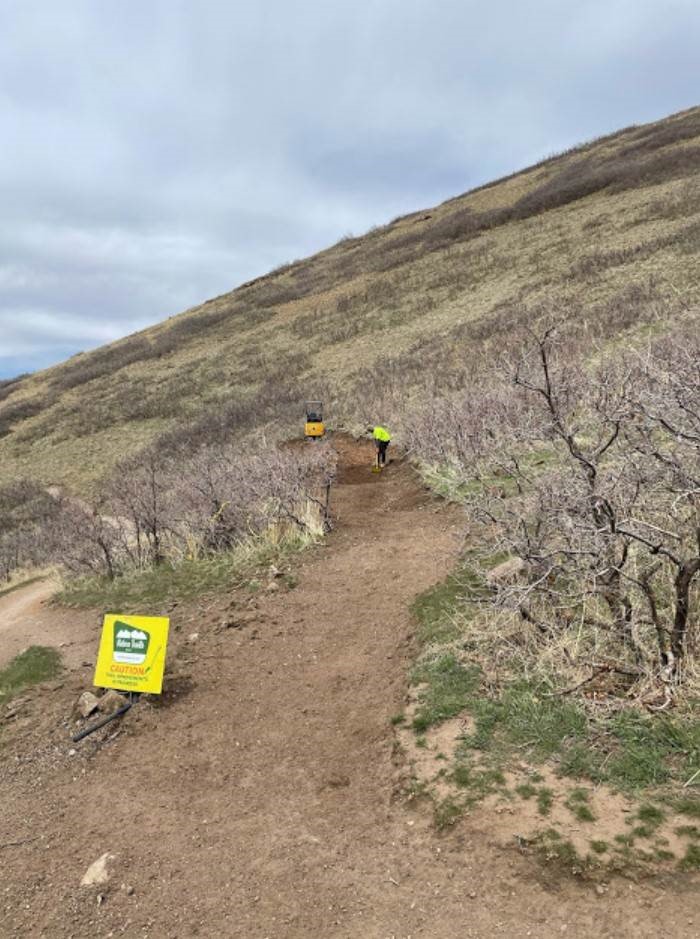 March 30, 2021
Popperton Park Update
All Popperton Park Trails are open and ready for use for hikers and bikers. These new trails built in 2020 are easily accessible by car, bus, or bike and are very family friendly, so bring the kids! These trails are also pet friendly and great for a little dirt-path stroll with your furry friends. Note: this park is on-leash only.
For those who may not know, Popperton Park has several different trails areas all with their own emphasis for activity and use. West Popperton is for hiking only. Bikes are welcome in East and South Popperton. Come explore this little trails oasis tucked into the lower foothills of Salt Lake and find a nearby natural escape you'll want to return to again and again.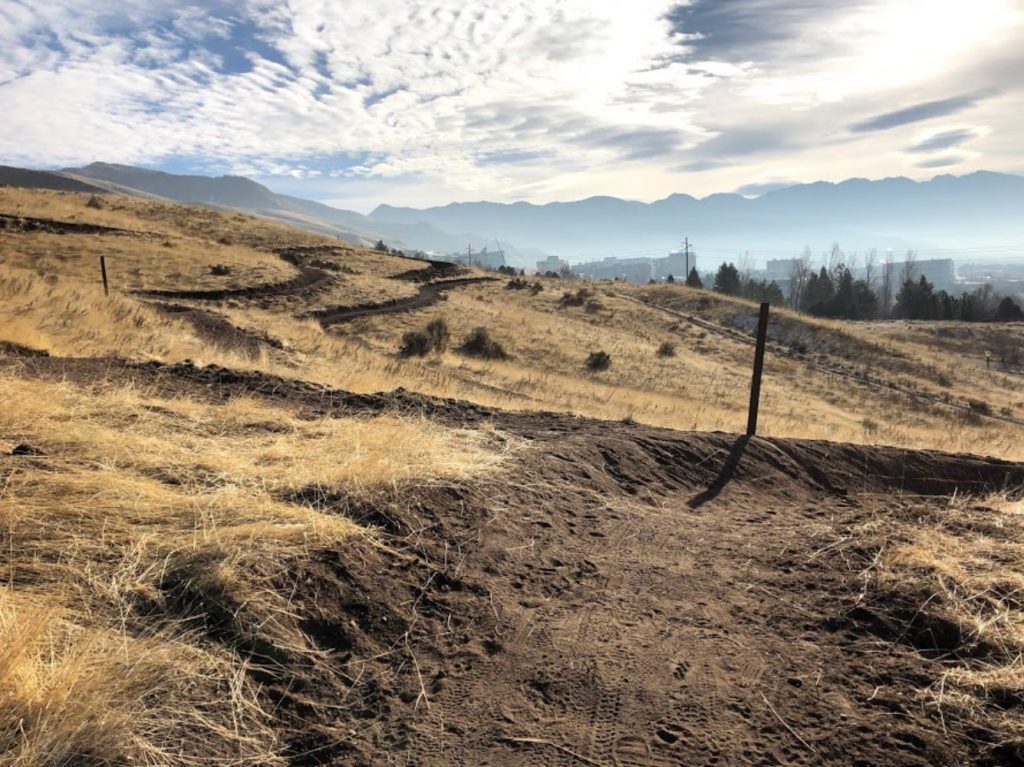 March 20, 2021
Important Trail Closures
Listed below are several key trail closures to know about before heading out and finding them inaccessible. Further down you can view a map of these closures as well.
Rehabbing 19th Ave Downhill Biking Trail
The new segment of 19th Ave (downhill bike trail) north of the I-Street Bike Park, west of the Meadow will not open until the rehabbed segment of existing BST below/west of the bike park in late April.
2-Day Closing of "Morris Meadows Trail"
The upper segment of BST – East City Creek (currently signed as "Morris Meadows Trail") will be closed Monday & Tuesday, March 22-23, during repairs and access to the Meadow will not be available.
Rehabbing Bonneville Shoreline Trail Segment
The existing segment of the BST below/west of the I-Street Bike Park will be closed for rehabilitation beginning on March 24. Hikers & uphill bikers may use East City Creek Trail. Downhill bikers can use city streets until the trail is reopened as 19th Ave trail. This closure should be 2-3 weeks.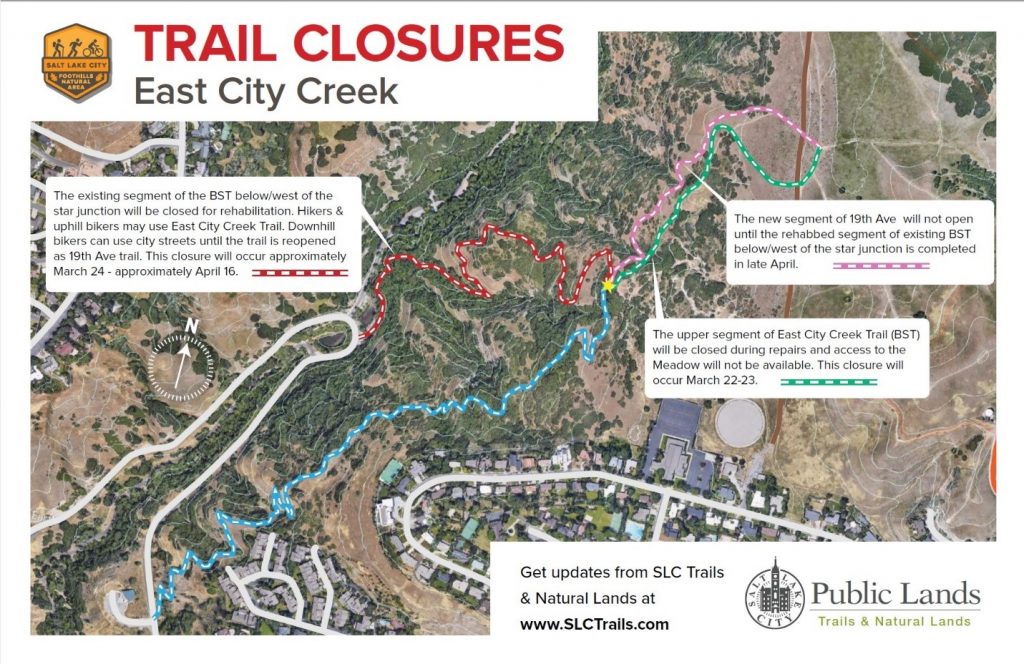 March 11, 2021
Upcoming New Enhancements, Routes, and Trails
Hello friends, neighbors, and fellow recreators – Through our dogged pursuit of enhancing and expanding our local trails, we are excited to announce that the completion of Foothills Trail System Phase I construction will be achieved this spring. Here are a few key milestones we anticipate this season that we can all look forward to. Happy trails.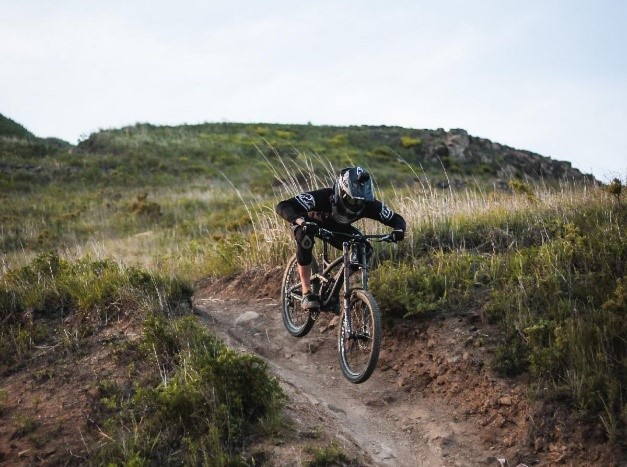 19th Ave Downhill Biking Trail Nearly Complete
The third and final segment of the 19th Ave downhill bike trail between the upper Avenues Meadow Trail and City Creek Canyon will be built along the pre-existing Bonneville Shoreline Trail. Be aware of trail closures at this location for a few weeks in April or May.
A More Sustainable Trail Route North of Terrace Hills
We will be realigning a 1/3-mile segment of the BST north of Terrace Hills Drive in order to create a more sustainable trail route and restore open space that has been degraded due to poor alignment of the original BST. The realigned trail will significantly improve physical sustainability, decrease erosion, and decrease the extent of vegetation trampling by trail users. The existing segment of the BST, along with various other eroding ridgeline trails in the vicinity of the BST, will be closed for re-vegetation.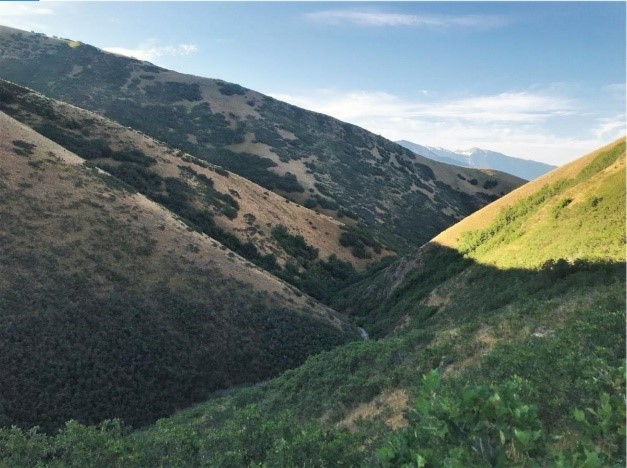 New Trail to Twin Peaks
A new trail from the BST saddle west of Dry Creek to the summit of Twin Peaks will start construction in April. No trail closures will occur but please be aware of active construction and practice caution along with your best trail etiquette. For more updates, maps and plan information, click the button below.