Salt Lake City Public Lands Department has initiated the development of new trailheads and amenities at five existing access locations: Victory Road, Bonneville Blvd (Salt Dome), 18th Ave (Hilltop Road), Popperton Park, and Emigration Trailhead.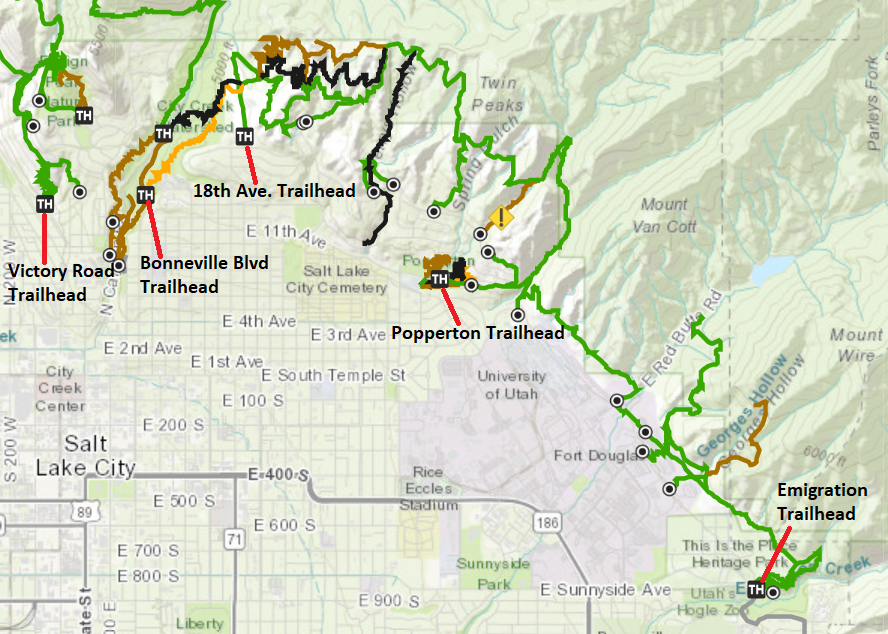 The development of these trailheads supports the greater demand for access to outdoor recreational opportunities and environmental protection through trail access information and services. Public Lands would like your input on the amenities you would like prioritized at the trailheads. You can provide feedback by completing the survey available on our website or visiting us on one of the days that we will be at the trailheads.
Below is a schedule of the days, times, and locations where we will be available to provide information and collect surveys. Dates and times may change depending on the weather. To learn more about the project and individual trailheads, please visit our website.
| | | | |
| --- | --- | --- | --- |
| Location | Address | Day | Time |
| Avenues Street Fair | E 2nd Ave Salt Lake City, UT | 9/10/2022 | 12:00-3:00 PM |
| Victory Road | 670 Victory Rd, Salt Lake City, UT 84103 | 9/13/2022 | 7:00-8:30 AM |
| Bonneville Blvd. | 651 Bonneville Blvd, Salt Lake City, UT 84103 | 9/23/2022 | 8:00-10:00 AM |
| 18th Ave | 925 Hilltop Rd, Salt Lake City, UT 84103 | 9/12/2022 | 7:00-9:00 AM |
| 18th Ave | 925 Hilltop Rd, Salt Lake City, UT 84103 | 9/22/2022 | 6:00-7:30 PM |
| Emigration | 2699 E Sunnyside Ave, Salt Lake City, UT 84108 | 9/20/2022 | 9:00-11:00 AM |
| Popperton | 360 North Popperton Park Way, Salt Lake City, UT 84103 | 9/26/2022 | 6:00-7:30 PM |