Salt Lake City Foothills Natural Area & Trail System
Important Notice
Rocky Mountain Power will be conducting significant repairs to their infrastructure in the Foothills beginning in July 2023. Project information can be found here. Trail closures and detours can be found on our Trail Updates page here.
Foothills Natural Area
The Salt Lake City Foothills Natural Area consists of approximately 6,000 acres of canyons and foothills bordering the northern and eastern limits of Salt Lake City. The Foothills consist of open sagebrush grasslands and scrub-oak woodlands and are bordered by Davis County to the north, established neighborhoods to the west and south, and protected Salt Lake City watershed lands to the east. The SLC Foothills have numerous sections created by City Creek Canyon, Dry Creek Canyon, Red Butte Canyon, Emigration Canyon and is bordered on the south by Parley's Canyon.
Foothills Natural Area Current Projects
Foothills Trail System Map
Click on the various trail segments on the map below to learn more.
For additional trail information, click here.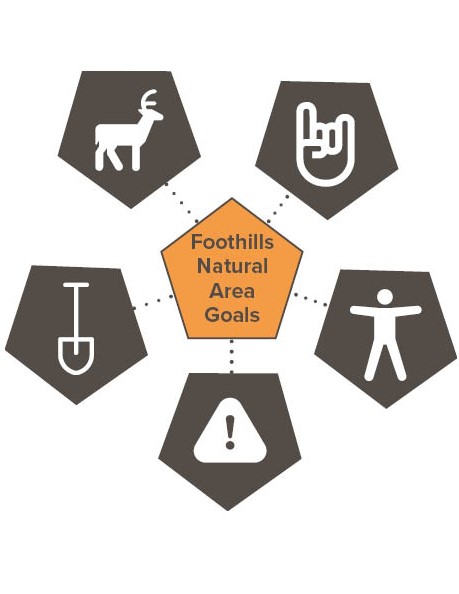 Foothills Trail System Vision & Goals
PROJECT VISION: The Foothills Natural Area will provide a variety of recreational trail experiences for diverse ages and abilities while managing the Foothills' environmental resources for future generations.
The Foothills Trail System Plan outlines five primary goals:
Environmentally Sustainable: Trails avoid sensitive habitat, minimize erosion, and make efficient use of available natural lands while protecting the wild and scenic nature of the Foothills landscape.
Enjoyable: Trails cater to a diversity of recreation types and users, and a variety of desired experiences.
Accessible: Trails are accessible to a broad audience of beginner to immediate trail users, including families, seniors, and people with disabilities.
Safe: Trail user conflicts are mitigated and minimized through trail design and use regulations.
Low-Maintenance: Trails durian water naturally, follow contours instead of fall-lines, and encourage users to remain on-trail, minimizing maintenance efforts.
Questions or comments? Contact Project Manager Tyler Fonarow at tyler.fonarow@slcgov.com or (801) 347-8663.
Stay In-The-Know
Subscribe to our newsletter to hear about volunteer opportunities, upcoming projects, adventure recommendations and more: