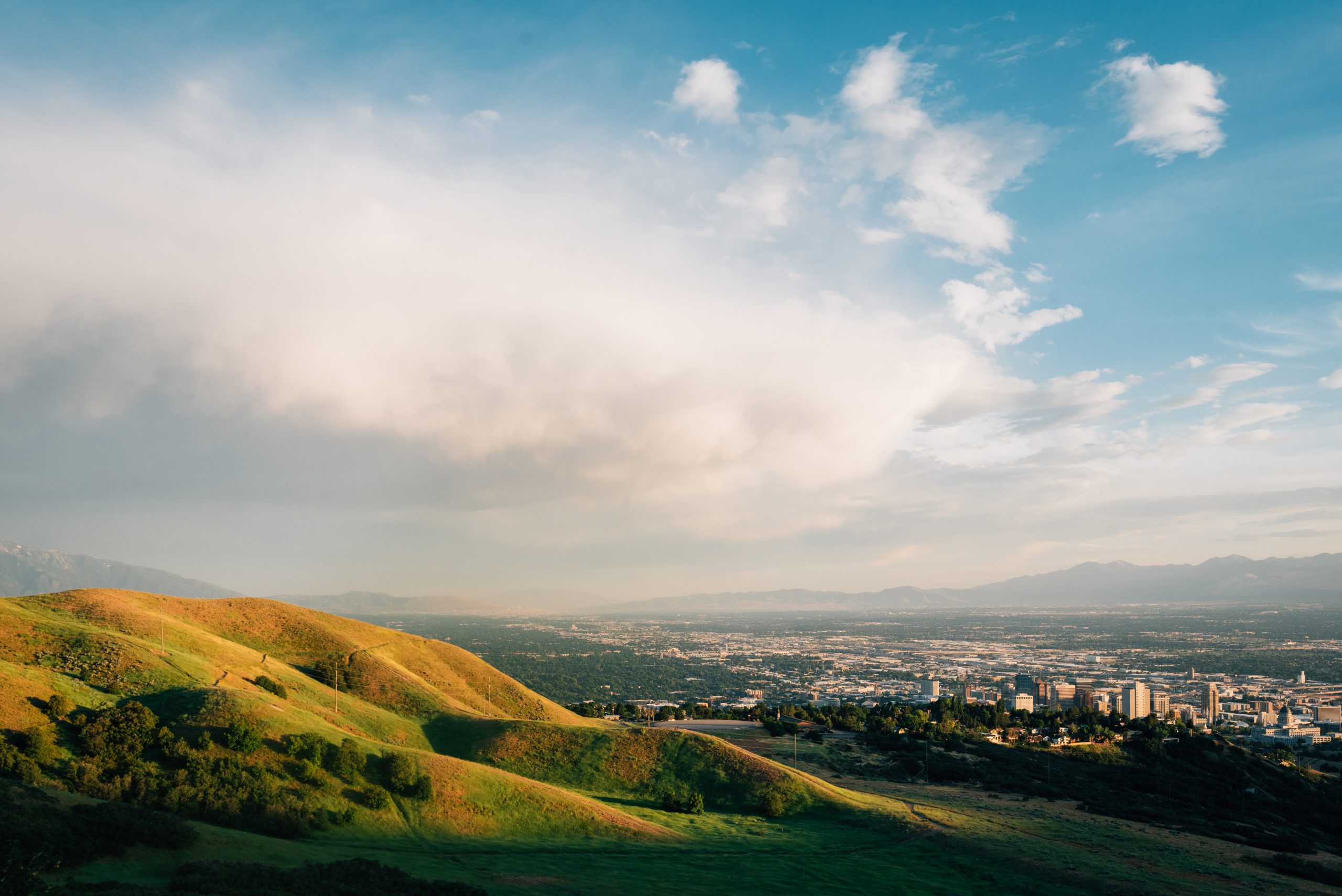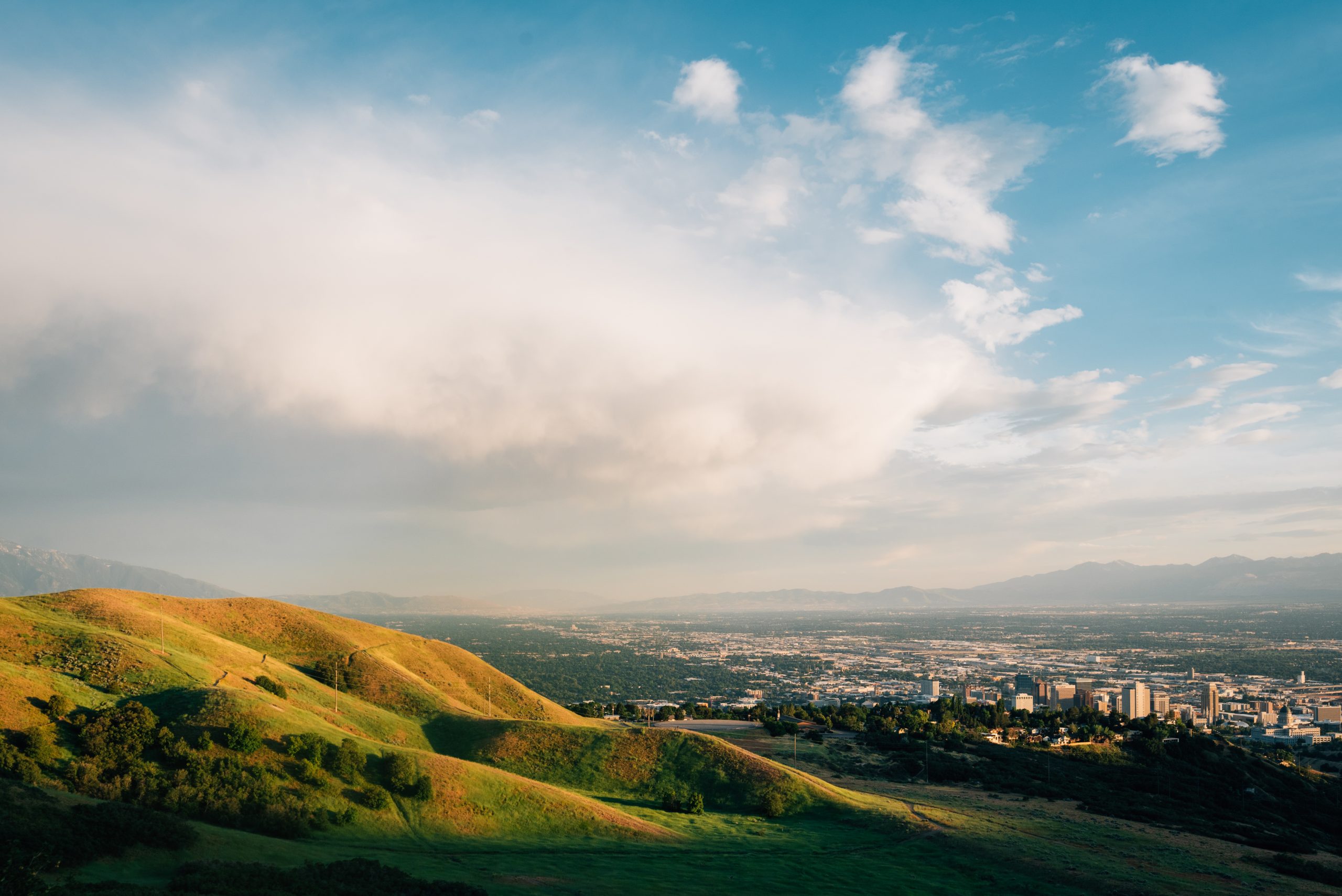 Salt Lake City Foothills Trail System
Foothills Natural Area – North Salt Lake to Parley's Canyon
Project Manager: Lewis Kogan
The Salt Lake City Foothills Natural Area consists of approximately 6,000 acres of canyons and foothills bordering the northern and eastern limits of Salt Lake City. The goal of the Foothills Trail System (FTS) Master Plan is to create a world-class, non-motorized recreational mountain trail system at the edge of Salt Lake City with over 100+ miles of sustainably-built, safe, and accessible trails. To enhance the safety, sustainability, and investment of our natural areas, we ask you to stay on the trails, stay off the trails when they are muddy, and ALWAYS keep your dogs on leash and on the trails.
Trail Openings & Closures Update 4/15/2021
The lower segment of 19th Ave (downhill biking; formerly the BST) north of the I-Street Bike Park down to the City Creek Trailhead remain closed for rehabilitation and re-routing. The middle and upper segments of 19th Ave (City Creek Saddle to the Meadow Trail) also remain closed for construction completion. We hope to open all three segments of the 19th Ave trail on Friday, April 23.
The BST – East City Creek trail from Bonneville Blvd (Salt Dome/Lower City Creek) up to Meadow Trail is now open for hikers and UPHILL BIKING ONLY. We ask downhill bikers to continue to use city streets (I Street to 11th Avenue) just a little bit longer. Thanks for your cooperation!
The Avenues Ridge Trail is open for hiking from the Meadow Trail up to the summit for an out-and-back hike or circling back for a loop hike on the BST. Construction should finish on the Avenues Ridge Trail on the east end at the City Creek Saddle between April 26 – May 7. Trail users should NOT try to use the social trail while the trail builders are working in that area. It is not safe for you or them. This location is noted with a pin on linked map above. Bikers ARE NOT allowed on any of these trails above the 19th Ave downhill biking trail.
A new segment of the BST has been constructed above Terrace Hills creating a more sustainable trail at a more manageable grade. The segment of the BST on the ridgeline between the Meadow Trail and Terrace Hills, as well as the old jeep track trail that continues on that ridgeline up to the upper Avenues/South City Creek ridgeline IS NOW CLOSED. Multiple trenches have been dug across the old jeep track to prevent usage and natural material fencing and signage will be installed soon. Additionally, all of the social trails heading up to that ridge from the BST will be closing to maintain the integrity of the habitat, vegetation, and natural lands.
Phase I of trail construction, which began in summer 2020, includes 5 projects:
Popperton Park – completed and open as of November 2020
West Popperton Hiking Loops
East Popperton Bike Trails
South Popperton Bike Loop
South Popperton Pedestrian Trail
Upper Avenues (initially named "Morris Mountain")
Avenues Ridgeline Trail (hiking only trail) – partially open as of December 2020
19th Ave (downhill-directional only biking trail) – partially completed but closed for stabilization; scheduled to open in late spring 2021)
BST Terrace Hills realignment – scheduled for spring 2021
City Creek – completed and open as of November 2020
East City Creek Trail (currently signed as "Morris Meadows Trail") (uphill bikes and foot-traffic allowed; restricted to downhill bikes)
Lower City Creek Loop (foot-traffic only; no bikes)
Twin Peaks Trail (foot-traffic only; no bikes) – construction scheduled to begin in April 2021
Dry Creek Alternate (uphill bikes and foot-traffic allowed; restricted to downhill bikes) – construction scheduled to begin in 2021
Lakeview Trail – moved to Phase II of Master Plan
Lower Towers Trail – construction TBD
New BST North Foothills – construction scheduled to begin in 2021 by Davis County
Stay In-The-Know
Subscribe to our Quarterly Newsletter to hear about volunteer opportunities, upcoming projects, adventure recommendations and more
The Foothills Natural Area
The Foothills are bordered by Davis County to the north, established neighborhoods to the west and south, and protected Salt Lake City watershed lands to the east and consists of open sagebrush grasslands and scrub-oak woodlands. The Foothills are bisected by City Creek Canyon, Red Butte Canyon, and bordered on the south by Emigration Canyon. Many smaller canyons and gullies also exist in the Foothills, including Dry Creek, Perry's Hollow, and others. The Foothills Natural Area provides important habitat for a variety of birds, small mammals, and other wildlife, and many plants native to the Salt Lake Valley. Big game such as deer and elk also utilize the Foothills, and the upper slopes and ravines are an important winter range for these mammals. In many ways, the Foothills ecosystem is fragile and susceptible to lasting damage. These lands also have tremendous potential to provide a refuge for the public, and an escape into the natural world only minutes from the heart of downtown SLC. In order to minimize our human footprint and ensure that this unique natural area is protected for future generations, it is imperative that recreational trails in the Foothills be carefully planned, designed, and constructed. This Foothills Trail System Plan establishes a vision for a recreational trail system that balances user needs with the needs of the Foothills environment so that the property can be enjoyed by Salt Lake City residents and visitors for decades to come.
Foothills Trail System Project Summary
The primary objectives of the plan are: (1) to provide detailed layout, design and management recommendations for a comprehensive non-motorized recreational trail system that is safe, enjoyable, accessible, connected, and sustainable; (2) to provide information to guide strategic implementation of the trail system over a 10-year time horizon; and (3) to provide and/or incorporate key supplemental information. The public feedback gathered as part of the Foothills Trail System plan will help guide plan development, including trail construction and layout recommendations, and will influence trail development projects for the next 10 years.
Foothill Trail System FAQ
Where can I find more information about the Foothill Trails Master Plan?
I'm excited about the new trails in the Foothills. How can I stay informed and get more involved?
You can sign up to receive updates via the Salt Lake City Trails & Natural Lands Newsletter email list by sending a request to here. You can also follow us on social media at facebook.com/SLCPPL, and @SLCPPL on Instagram and Twitter. Look for the hashtag #SLCTRAILS.
I would like to make a donation to support the Foothills Natural Area and/or the Foothills Trail System. How can I contribute?
Please contact Katie Riserhere. for information on how to make a donation to support the Foothills Natural Area.
Where can I find a trail map for the Foothills Natural Area?
A Foothills Natural Area Trails Map is currently in development. Please check back here for a link in the near future.
Soil and rocks have been falling onto some of the new trails. Were these trails constructed properly?
As new trails are cut across sometimes-steep side slopes, rocks and soil on the uphill side of the trail cut will often slough down onto the trail surface as the recently disturbed soil returns to its natural angle-of-repose. For the first one (or several) seasons, this can create the appearance that a trail is unstable but is actually an expected and normal occurrence. All new trails in the Foothills adhere to best practices for sustainable construction and are expected to prove to be extremely stable over time, requiring relatively low maintenance after the first few seasons.
Are the new trails preferentially designed to support hikers or mountain bikers?
Until this past year, all trails in the Foothills lacked management designations. Implementation of the Foothill Trails Plan is now creating management designations for new and existing trails. Many trails will remain open to all user types, while some new and existing trails are being designated as open to hikers only, to mountain bikers only, or to a special combination of uses like hikers plus uphill-bound mountain bikers. The result of these management designations will be to provide more options for trail users to choose their desired experience, reduce trail user conflicts, and improve trail quality and safety.
Why have uses been restricted on some existing trails?
In several key locations, the Foothill Trails Plan proposes separated-use options for downhill mountain bikes separate from pedestrians and uphill-bound mountain bikes, in order to mitigate common trail user conflicts and improve trail user experiences. As new trails are constructed and management controls implemented, trail users will be directed to use specific trails to get from Point A to Point B, including up and down Dry Creek, and between Bonneville Boulevard and Morris Meadows.
Just above City Creek, a new trail has been constructed for hikers and uphill-going mountain bikers only. With this new trail, the old Bonneville Shoreline Trail was changed from multi-use to downhill biking only. This allows segregation of uses for improved trail experiences and trail safety. A similar trail alignment in Dry Creek is also underway and will benefit all users. We will not change the designation of a multiuse trail until a nearby trail alternative is open for use. Recently completed and currently in-progress trail construction adds trails with various management designations so there are fun, safe, and sustainable options for as many types of users as possible.

A section of trail was just closed. Why was it necessary to close it?
Trails that have been used in the past may be popular, but it does not mean they were designed well. A key element of the Foothill Trails Master Plan is addressing the nearly 100 miles of informal social trails that exist within the SLC Foothills Natural Area. Many of these informal trails present long-term management challenges. Gully-bottom trails and trails along steep pipeline easements and old 4×4 tracks tend to capture all surface runoff during snowmelt and rainstorms, leading to worsening erosion that becomes increasingly severe as trail use grows. Ridgeline and 'fall-line' trails (those that follow the most direct route up- and down-slope) are not constrained by topography and tend to become braided and very wide. Many such popular social trails in the SLC foothills are 40 or even 60 feet wide, compared to the 3-4 feet that would be considered normal for a non-motorized recreational trail, and can result in visible scarring and extensive denudation of foothill vegetation. Trail 'decommissioning' allows the City to move trail users onto trails designed and constructed to follow the natural contours of the terrain, allows plants to revegetate and slow erosion of old trail scars, and helps reduce long-term maintenance needs.
New trails are leaving scars on the hillside. How does that protect the environment?
New trail construction associated with the implementation of the Foothill Trails Master Plan requires new trails to be built, and this does have temporary impacts on Foothills scenery and vegetation which cannot be avoided. The City is minimizing impact by building desirable, physically sustainable trails and gradually phasing out and reclaiming those trails that are less sustainable and which have a larger impact on vegetation disturbance and scenic views. City staff have worked carefully to align new trails to avoid sensitive plant species that would be significantly harmed by disturbance. In many cases the new trails will cross through groves of Gambel oak. Gambel oak is widespread across our foothills and well-established; it is not particularly sensitive to disturbance, and resprouts rapidly. In some locations, deposition of soil from the trail cut below the trail tread has created a highly visible area of bare soil and makes trails visible from below. While the initial area of disturbance can be visually alarming, this appearance is normal following new trail construction. In the Foothills, it has been the experience of the SLC Trails team that this area of disturbed soil is reclaimed by plants over one to three seasons. At this point, trails that follow the natural contours of the terrain (i.e. all the new trails) will be almost invisible from below, and have minimal visual impact when viewed from above, such that they are actually less visible than the steeper trails they are often replacing.
Why do the new trails have so many switchbacks?
Switchbacks and climbing turns are being used on many new trails in the Foothills to allow the "running grade" (i.e. steepness) of the new trails to remain consistent with modern best practices for sustainable trail construction. Trails that remain within the recommended grade limits are less susceptible to erosion from water running down the trail during rainstorms and snowmelt and tend to last longer and require less maintenance. While reducing steepness adds distance to trails that need to gain or lose a lot of elevation, it also makes them more accessible to a larger number of people, and generally more enjoyable too; on a gradual trail that follows the contours of the terrain, it's much easier to look around and enjoy the view!
What is the city doing to manage traffic to trail access points?
The City is committed to enhancements of trailhead and trail access infrastructure, as proposed in the Foothill Trails Master Plan. The City is currently in the design process for trailhead improvements – including visitor amenities, parking, and traffic safety improvements – at numerous trailhead locations. Construction will follow as funding is available.
Does the trail work in the foothills match exactly what was proposed in the Foothill Trails Master Plan?
The Foothill Trails Master Plan is intended to serve as an outline for achieving the goals of a trail system that is environmentally sustainable, enjoyable, accessible, safe, and low maintenance. Extensive planning, public and stakeholder input informed the recommendations of the Master Plan, but the Plan acknowledges that adjustments and modifications may occur as trail alignments move from lines on a map to routes on the ground. Professional trail builders are provided with the intended planning-level alignments, and the builders then scrutinize the terrain, and evaluate how to best meet the desired goals for a particular trail segment in the context of the larger trail system. City staff also continue to collect data on animal habitats, soil and geology, trail user patterns, and feedback from trail users and landowners. In some cases, the ongoing evaluation of this information and incorporation into the construction planning process results in adjustments to trail alignments, with the aim of better achieving plan goals.
What is the City going to do with feedback from trail users about the new trail construction?
Phased implementation of the Trails Master Plan allows the City to learn from input and experience and adjust methodologies accordingly to best achieve goals for an environmentally sustainable, enjoyable, accessible, safe and low maintenance trail system. As the City completes the first phase of trail construction in summer 2021, staff will conduct an evaluation of how effectively the first round of improvements met the goals of the Foothill Trails Master Plan. As part of this evaluation, staff, partners and volunteers will conduct trail intercept surveys and collect user data to understand how new trails and management designations are perceived and whether trails are being utilized as intended. Feedback received from trail users, residents and other stakeholders prior to intercept surveys will help to inform survey topics and data collection.