The Marmalade and West Capitol Hill neighborhoods provide a real-world example of what is often called "compatible infill development." Compatible infill is defined as the relationship between the height, spacing and location of new development and the surrounding neighborhood.
Salt Lake City Planning uses several different methods to guide how a new development "fits." For example, our historic districts have a set of guidelines for new development that provide architects and homeowners with direction on building scale, materials, and siting of a building or addition. Outside of historic districts, different zoning tools and processes are used to balance neighborhood compatibility with broader city goals that sometimes require bigger developments to "step" taller buildings down to shorter, existing buildings. Compatibility involves the relationship between the design of new development and the surrounding neighborhood.
Join us on Monday, July 30th at 7 pm on a walking tour of the Marmalade neighborhood and explore how historic districts and zoning tools work. What design elements help new developments fit into established neighborhoods? This is part two of a four-part Summer Planning Series where our Planning Division staff will share how our work is contributing to Salt Lake City's success. An RSVP is requested for each event.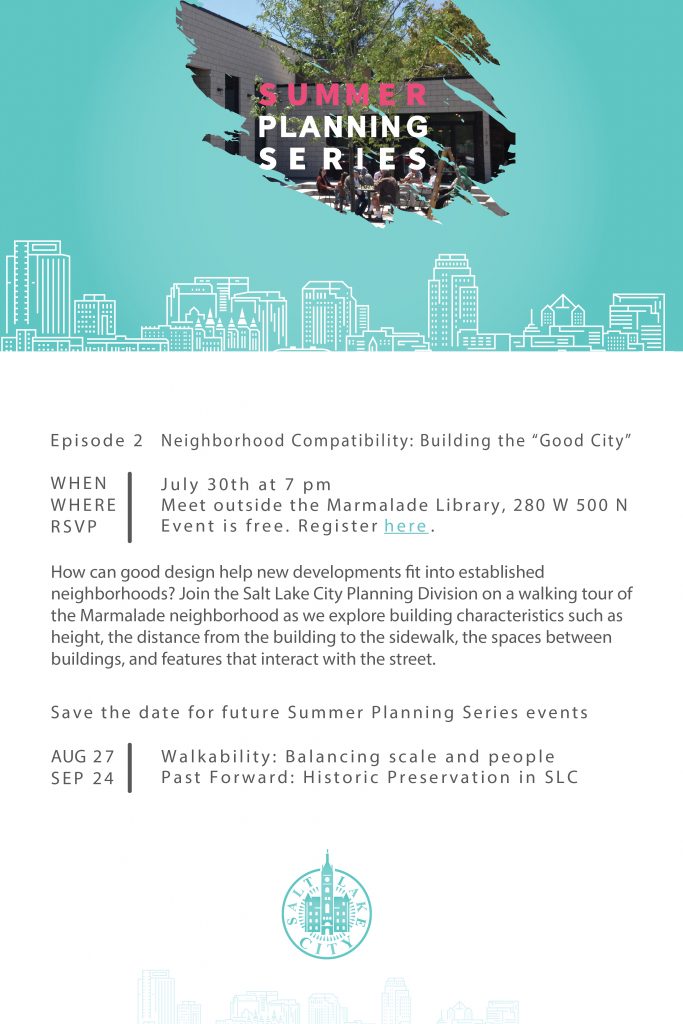 Tags: Historic Preservation, Meeting, Public Event, Summer Planning Series, Walking Tour, Zoning