This Online Open House will provide an opportunity for you to review information about the proposal and provide any questions or comments. This Open House meeting will be an electronic meeting pursuant to Salt Lake City Emergency Proclamation No. 2 of 2020 (2)(b).
Conditional Use
East Liberty Tap House Bar – Conditional Use
Petition Number: PLNPCM2020-00558
Zoning District: : CB – Community Business
City Council District: Five (5) – Darin Mano
Caroline & Josh Stewart, the property owners, are requesting Conditional Use approval for a bar establishment at 850 E 900 S. The space is currently occupied by the East Liberty Tap House and the bar establishment will retain the same name and ownership. A Bar is allowed as a Conditional Use in the CB – Community Business zoning district subject to certain size limitations. The applicant is proposing to change the license of the existing establishment from a Tavern/Restaurant to a Bar in order to conform to changes with alcohol related businesses that were previously adopted by the City and State. A 371 square foot area that previously functioned as a private dining room will be incorporated into the bar's space for patrons. The building's exterior, parking and other aspects of the existing operation are not being modified through this request.
Project Location
Approximately 850 E 900 S.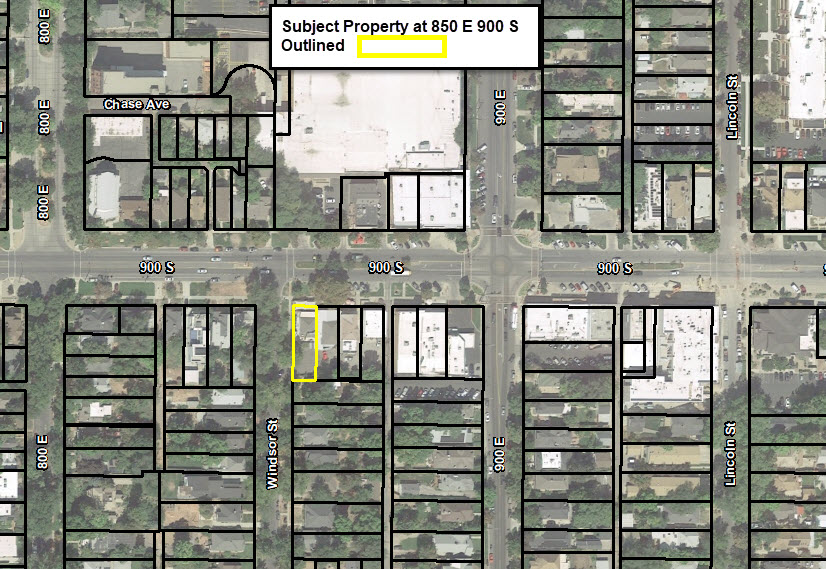 Additional Information
Next Steps
The Planning Division is in the process of obtaining public comment on this project to help identify concerns and issues from the public.
Notice has been sent to the Chairs of the community organizations for this area.
The Planning Commission will hold a public hearing to make a decision on the submitted proposal.
The Planning Commission public hearing will be scheduled at a future date.
Public Comments and Questions
We want to hear from you! Public comments and questions will be accepted within the 45-calendar-day window. To submit a comment or question please contact the staff planner via email or leave a voicemail, your questions will be answered within a week after the comment period has ended.
Start of Public Comment Period: August 31, 2020
End of the Public Comment Period: October 13, 2020
David J. Gellner // david.gellner@slcgov.com // 801-535-6107
(phone numbers are currently available for voicemails only)
Please note that public comments will still be accepted up until the date of the Planning Commission public hearing.
---
During and following this comment period, the Planning Division will evaluate the proposal against the applicable zoning standards, taking into consideration public comments as they relate to the standards, and develop a recommendation for the Planning Commission.