A form based code is a type of zoning where instead of regulating the use and then separating them –housing over here, retail over there–, we regulate what the building looks like: the form. While regular zoning has rules for building height, size, windows, as so forth, form based code goes to the next level with particular emphasis on how new development impacts or interacts with public spaces like the street and sidewalk. For example, how open or transparent is the building? How close is it to the sidewalk? Does the building rise multiple stories straight up or does it step back after two or three?
The intent is less micromanaging of the uses and more management of what it looks like because that's what people care about most. There are obvious exceptions major nuisance uses like a factory manufacturing smelly compounds. A form based code also has many more graphics and diagrams explaining the intent of each form based regulation. Regular zoning has very few visuals.
Salt Lake City's first form based code was adopted in 2013 for the Central Ninth neighborhood. Named FB-UN1 and FB-UN2, the Central Ninth form based code allows small scale –up to 2.5 stories—in the FB-UN1 and up to 4 stories in the FB-UN2. (UN stands for Urban Neighborhood.) We also have a form based code along the S-line corridor in Sugar House.
Join us on Monday, July 9th at 7 pm on a walking tour of Central Ninth and explore how the form based code works. See for yourself the results of this kind of zoning and compare it to more traditional zoning. This is part one of a four-part Summer Planning Series where our Planning Division staff will share how our work is contributing to Salt Lake City's success. An RSVP is requested for each event.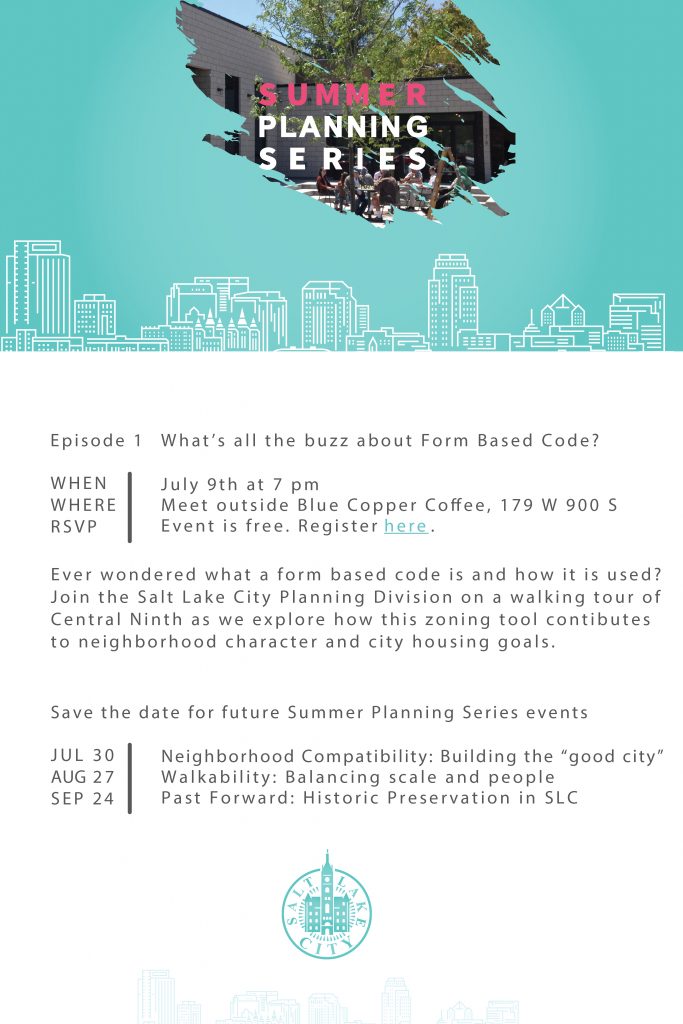 Tags: Form Based Code, Meeting, Public Event, Summer Planning Series, Walking Tour, Zoning