Q: What is the goal of this pilot?
A: The City is interested in testing whether organic turf management products and processes can meet the needs of maintaining landscape health and visual standards on our properties. While Salt Lake City already uses Integrated Pest Management guidelines to keep weeds and pests to a minimum, we're constantly evaluating new and better options. Recently, new organic products that do not contain conventional chemicals have come to market. The purpose of the pilot is to evaluate the feasibility, budget considerations, personnel requirements, and overall success of the new products and modified management methods.
We also want to involve you in our evaluation process! Once the pilot is complete, we plan to present the results to residents and solicit feedback.
Q: What is the process and timeline for the pilot project?
A: The pilot process will take place over three years (May 2017-November 2020) at Laird and Madsen Parks. Two-thirds of each park will be used to test new organic products, while the other third will act as a control area for comparison. The control area will receive applications of existing traditional products. The first phase of the pilot will focus on improving soil health with an organic treatment that will be applied in May, July, and September using a sprayer. In the fall, additional organic fertilizer and weed suppression treatments will be applied.
Q: Will the parks look different?
A: They might. While it is our goal to test effective organic products that maintain the same quality and appearance of the parks, these products may create some variation during the pilot. It may take time for the organic fertilizer to support the health of the turf more naturally. In the short term, weeds could be more apparent. However, as the health of the soil and turf increases over time, we expect it will crowd out invasive weeds.
​
Q: What is the current process for pesticide use in Salt Lake City parks?
A: Currently, the City follows an integrated pest management plan, which aims to use minimal chemical herbicides to effectively control weed problems. When chemicals are used, the City employs a warning process to notify residents of applications before and after they are applied and always maintains a 25 foot chemical-free buffer zone around playgrounds
Q: How can I learn more about implementing organic turf management in my yard?
A: Attend our Organic Yard Care Workshop this summer (date TBD) with Beyond Pesticides. You can also visit their website for resources on how to transition your yard to a pesticide-free space.
​
Q: How do I find more information?
A: Please contact slcgreen@slcgov.com or (801) 535-6438 with other questions.
Madsen Park | 9 N Chicago St (940 W)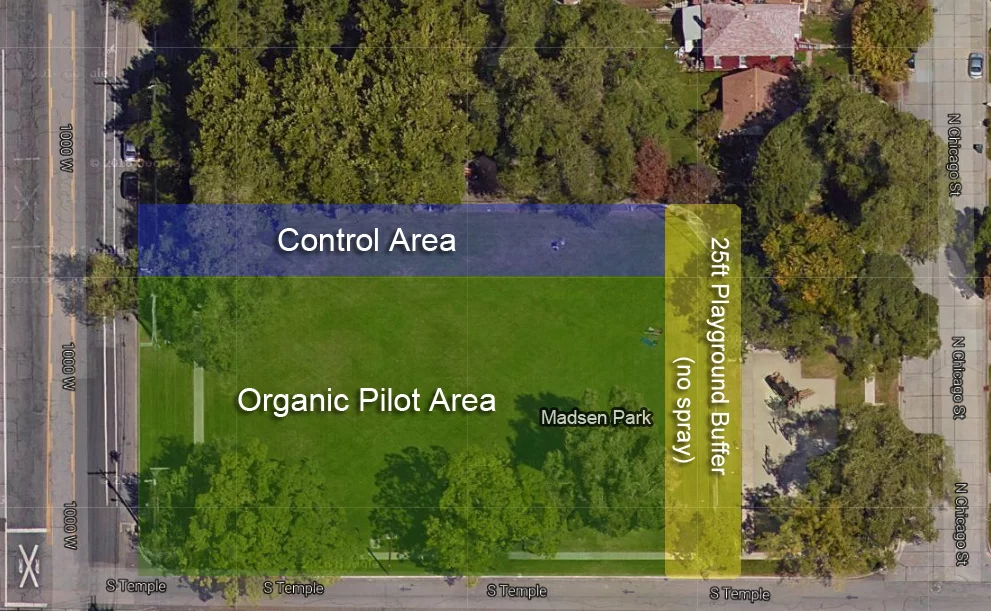 Laird Park | 1185 S 1800 E