Local businesses play an important role in supporting the Idle Free Ordinance. Because the ordinance directly impacts our business community, Salt Lake City is committed to working closely with these sectors to ensure that enforcement is balanced with the educational intent of the ordinance.
Drive Through Businesses
Most businesses with an efficient drive through window will not need to worry about the new ordinance, as the time limit of 2 minutes is more than enough for customers to move through their line.
Other businesses, like banks, credit unions, dry cleaners and made-to-order or drive-up fast food restaurants will be affected by the new ordinance. Drive through businesses can qualify for an exemption from enforcement on their property if they post idle free signage approved by Salt Lake City.
Diesel Fleets
Diesel fleets and loading docks for heavy-duty trucks can often be hotbeds for excessive idling. While some idling may be required by the manufacturer, maintenance or to run auxiliary equipment (see ordinance exemptions) most diesel idling is actually unnecessary.
Salt Lake City is collaborating with Breathe Utah to distribute idle free signs at schools and businesses within the city limits.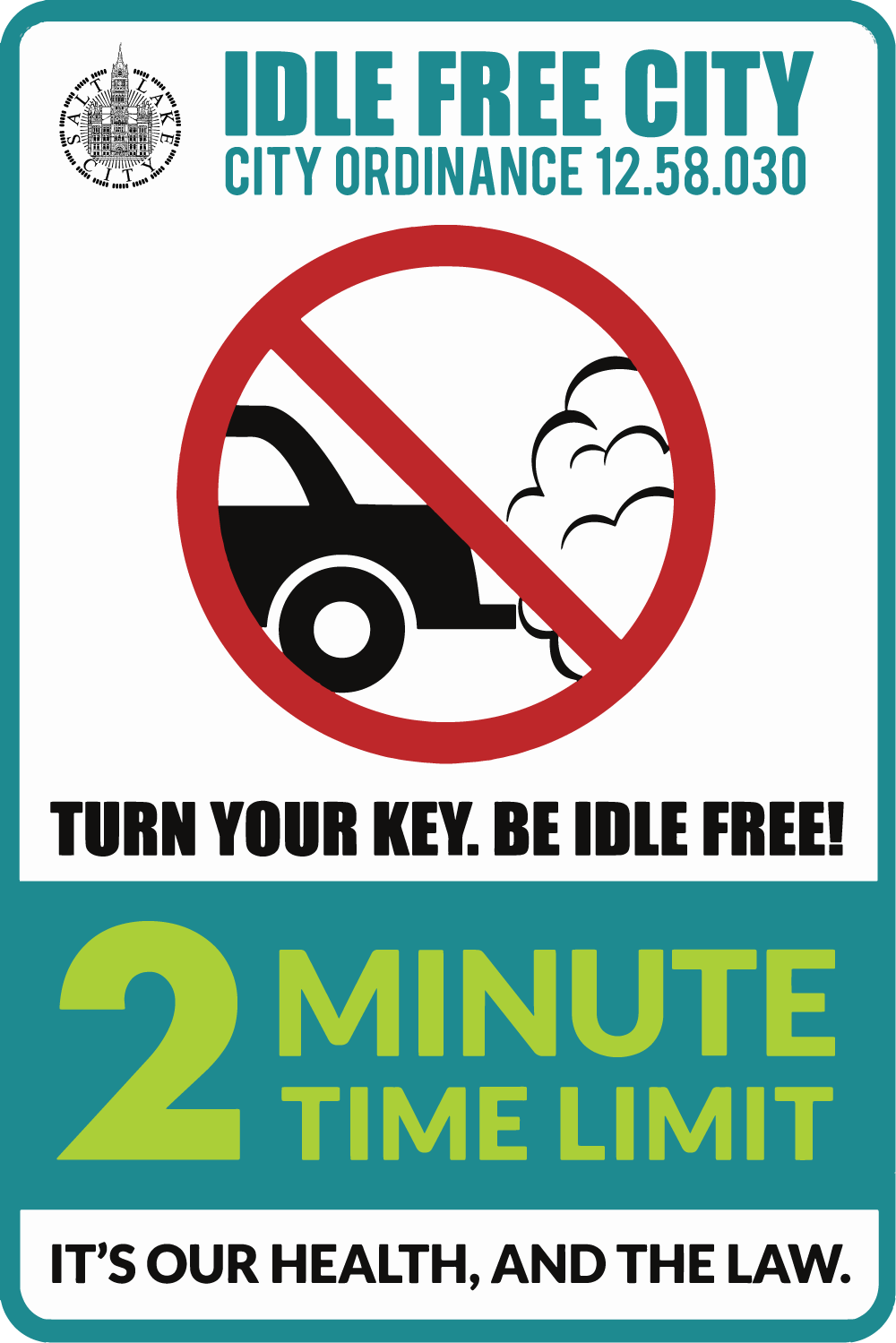 For more information about air pollution along the Wasatch Front and how you can help with this problem, consider scheduling a Breathe Utah Air Quality 101 presentation. Breathe Utah is an educational resource and advocacy group working to ensure we have healthy air and a vibrant place to live for generations to come.
To request a sign or to schedule an Air Quality 101 presentation, email education@breatheutah.org. More information is also available at BreatheUtah.org.
Idle Free Signage
» The signs, pictured at right, are available to Salt Lake City businesses free of charge, thanks to a generous grant from the Utah Clean Air Partnership (UCAIR).
» To date, roughly 200 Idle Free signs have been posted at local banks, restaurant drive through windows, schools and other key areas throughout Salt Lake City.
Return to Idle-Free Homepage