The 2023 program has closed. The program will launch again in 2024 – stay tuned.
About the program:
The SLC Food Equity Microgrant Program is a funding opportunity intended to support resident- and community-led projects that address food inequity and increase access to fresh, healthy, affordable, and culturally relevant food in Salt Lake City.
The purpose of the SLC Food Equity Microgrant Program is to build an inclusive community around healthy food choices where individuals living in Salt Lake City have many opportunities to shape, participate in, and enjoy a sustainable, equitable, and resilient local food environment.
In the winter of 2023, residents, community organizations, and local businesses applied for small grants to fund food equity projects in Salt Lake City. A list of the community organizations and local businesses that received grants in 2023 is included below.
Food Equity Microgrant goals:
By providing funds to start or continue community-led projects focused on food equity and accessibility, the SLC Food Equity Microgrant aims to achieve the following broad goals:
Foster resilient, diverse, and inclusive healthy neighborhood food environments.
Support multiple pathways for traditionally marginalized individuals and neighborhoods to consistently access and grow fresh, affordable, healthy, and culturally relevant food.
Enhance community and individual agency and self-reliance by reducing barriers and creating opportunities for people to access what they need to grow and prepare their own food.
Increase the availability and accessibility of food information and resources.
Create opportunities for residents to affordably and easily acquire food that is relevant to cultural and personal identity, individual health and wellbeing, religious and spiritual life, and personal taste.
---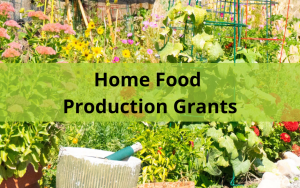 The Home Food Production Grant provides $250 for individual residents to build and establish their own gardens, chicken coops, beehives, hoop houses, etc., and/or take educational classes and workshops on gardening.
Access the 2023 Home Food Production grant application (English & Spanish).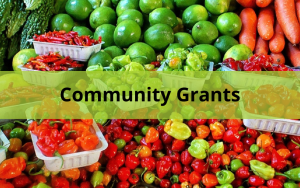 The Community Grants provide up to $5,000 for community groups, organizations, or small businesses. Check out these projects from a similar program in Austin, Texas for inspiration!
Access the 2023 Community grant application (English & Spanish).
In 2023, forty-five individual residents or households each received $250 Home Food Production Grants, and thirteen organizations received Community Grants. See below for a list of Community Grant recipients and a brief description of what they each used the funding for.
Carry the Water
Support the Indigenous Healing Garden project in the Glendale neighborhood – soil remediation, community workshops, food purchases, labor, garden tools & supplies
East Central Community Council
Support rebuilding the Outreach Community Garden in the University Gardens neighborhood; establish a youth garden; support garden cooperative to help people participate and learn in the space.
First United Methodist Church
Expand the church's Downtown herb garden and be able to provide individual plots to neighbors and members to grow vegetables to share.
Food Justice Coalition
Support programs to provide healthy, nutrient dense meals and dry meal kits to those facing hunger and homelessness in Salt Lake City.
Grünhof Greens
Scale up production of a microgreen business through converting a shed into an indoor "vertical farm"; focused on accessibility of easy, year-round nutrition and supporting neurodiversity.
Jayhawks
Provide educational workshops around healthy food; buy equipment and paint a mural on the community shed for garden tool sharing in the Fairpark/Rose Park neighborhood, build a hoophouse to extend the growing season
New American Goat Club
Support New American youth in learning about goat husbandry for meat production (culturally relevant food for many of their families) and developing leadership and teamwork skills through 4-H program
Peace Gardens International Academy
Support building a modular educational black (African Identified) artist designed edible plant mosaic living wall comprising culinary plants indigenous to Africa and African diaspora regions.
Salt Lake Canning Co
Support equipment upgrades, permits, & labor for processing and preserving gleaned fruit for donation to seniors in need.
SLC Food Not Bombs
Purchase equipment to support current food distribution efforts and support transportation costs/compensation for delivered meals; start a garden to support Community Fridge/Pantry (equipment, water)
Somali Community Self Management Agency
Buy equipment to start a gardening program for their clients; offer gardening stipends to the families they serve.
Vanavil Community Garden
Support the rebuild of a yard-share style community garden focused on producing and sharing culturally relevant and important foods in the Ballpark neighborhood.
Wasatch Community Gardens/Artes de Mexico en Utah
Support expanding the Sabores de Mi Patria program and establishing a "Families as Teachers" mentorship program to facilitate workshops in other locations (schools, community spaces)
---
Frequently asked questions:
Will the SLC Food Equity Microgrant Program run again?
Yes! The City Council renewed the SLC Food Equity Microgrant program's budget for Fiscal Year 2024. Applications for the next round of funding will open in early 2024.
Who can apply for a SLC Food Equity Microgrant?
SLC Food Equity Microgrants are available to the individuals and groups listed below. Only one application will be accepted per household or organization.
Individual residents or households living in Salt Lake City
Groups of two or more residents living in the same neighborhood
Community-based organizations, including both registered 501(c)(3) non-profit organizations or unregistered community groups based in or serving Salt Lake City
Community Councils and other neighborhood-based groups and organizations
Locally-owned businesses, social enterprises, and/or cooperative enterprises
Local farmers and others who grow and sell food locally
Priority Groups
Projects led by and serving those who identify as members of groups that have been most negatively impacted by the food system will be prioritized for funding. Priority peoples and communities include:
Black, Indigenous, and People of Color (BIPOC)
Historically marginalized or under-resourced people and neighborhoods, including neighborhoods on the Westside of Salt Lake City
People and households living in poverty or with low- or moderate-incomes
Unsheltered or informally sheltered people
LGBTQIA+ individuals and communities
People with disabilities
People with specific health needs
Veterans
Adults 65+
Youth
Nontraditional students
People of differing legal status
Immigrants and the newly arrived
Formerly incarcerated
People with deep cultural food relationships
Groups for whom other funding opportunities are or historically have been limited
In 2023, there was at least one applicant that identified with each of the priority population groups.
Please note the following groups are NOT eligible to receive a grant.
Government agencies
Political groups
Media groups
Groups or individuals living or serving outside of Salt Lake City
What kinds of projects are eligible for funding?
Any food related projects that connect with the purpose and goals of this grant will be considered for funding. All projects must comply with relevant City, County, and State regulations
Projects that align with the key ideas and recommendations outlined in the SLC Resident Food Equity Advisors' Final Report (June 2021) will be prioritized for funding. The four main categories of prioritized projects include:
Growing Food – Projects that support expanding opportunities and access to growing more food locally

Project examples: urban agriculture projects, community gardens, backyard gardening and food production, neighborhood orchards, neighborhood greenhouses, fruit-gleaning projects, garden education projects, indoor/vertical farming initiatives, composting efforts
**Note that new community garden projects will not be considered on public property. Please work through the City's Green City Growers Program if you are interested in proposing a new community garden.
**Please note, no fruit trees are allowed in Salt Lake City park strips.

Inclusive Outreach & Communications – Projects that support accessibility and availability of information about food resources to groups that experience challenges with traditional informational outlets
Dignified Food Access – Projects that support improving access to healthy and relevant food opportunities that center and respect the agency and choice of individuals

Project examples: client choice food pantries, culturally appropriate food pantries, mobile pantries or food delivery projects, food or cash vouchers, neighborhood micro-pantries, mutual-aid model food sharing projects

Neighborhood Healthy Food Environments – Projects that support the availability and accessibility of healthy, fresh foods and enhance the quality and character of the food environments near where people live

Project examples: healthy corner stores, fresh food carts, community markets, healthy food incentive programs, direct market outlets (farmers markets, farm stands, CSAs), fresh food delivery programs, streetscape or building improvements around local markets
Where can projects take place? Can projects be located on public and private property?
Projects must be located in Salt Lake City. Projects may take place on either public or private property. Proof of ownership or permission from the property owner may be required before projects are approved for funding.
See a map of the SLC boundaries here:
How are grants distributed to awardees?
Three options are available for grant recipients to receive funding for their project:
Funds provided via check to project leader after completing a W-9 with Salt Lake City.
Grant recipients may request reimbursement for purchases made for services and supplies used for their project after completing a W-9 form with Salt Lake City.
Sustainability team can purchase needed supplies or services for the project.
What can grant money be used for? Is there anything it can't be used for?
Approved uses of funds include:
Project equipment and supplies
Educational opportunities
Professional services or personnel compensation directly related to the project
Funds are not to be used for the following:
Personal use (rent, groceries, or other living/business expenses)
Political activities (lobbying or campaigning)
How are projects selected for funding?
Are there requirements for the grant recipients?
Yes. Grant recipients will be asked to do the following:
Attend an orientation training
Sign an agreement with the City outlining the responsibilities, expectations, and requirements of receiving funding.
Register with the City to receive the funding. This may involve tax reporting implications if you choose to have the grant disbursed directly to you.
Report outcomes of the funded project, including photos, to the Sustainability Department
How are grant applications accepted?
Applications are available and accepted in multiple formats including an online or paper form; a phone call, video chat, or in-person meeting; or an audio or video recording. Applications must address all the questions in the form (linked on this webpage) to be considered complete.
Applications are available and accepted in any language. Application forms in a language other than Spanish or English are available upon request.
Please note that applications have closed for the 2023 program. The SLC Food Equity Microgrant Program will open again in early 2024.
What does "equity" mean for this grant program?
Equity in Salt Lake City is acknowledging and addressing historic and current disparities experienced by our residents, employees, businesses, neighborhoods, and visitors. Salt Lake City provides access to resources and opportunities that support everyone in overcoming barriers to their success so that our community today, and generations tomorrow, can thrive.
The SLC Food Equity Microgrant Program grew out of recommendations made by our Resident Food Equity Advisors to improve food access and equity in Salt Lake City. It is a material example of the overall effort by the Sustainability Department to shift the way policy and programs are developed and delivered to emphasize inclusive, community-driven approaches where solutions to challenges are co-developed with our communities and residents. Our goal is to advance solutions that reflect the local knowledge, lived experience, and diverse priorities of residents and organizations whose lives have been impacted by structural inequities in the food system by providing funding to support new and existing food related projects.
We are committed to centering equity and accessibility in both the process and outcomes of this program and welcome feedback about ways to make this grant accessible to more people. If you have questions or suggestions about our equity work in Salt Lake City's food system, please contact the Food & Equity Program Manager, Maria Schwarz.
If you have a question that is not answered above, please contact the Food & Equity Program Manager, Maria Schwarz by email – maria.schwarz@slcgov.com or by phone/text – (385) 271-7220