The remediation plan to address environmental concerns at pilot area for The Other Side Village Site was accepted on August 15, 2023. See below for more information
The Other Side Village (TOSV) Environmental Information

Background
Salt Lake City owns a 70-acre parcel located at 1850 W Indiana Avenue. This parcel is a historical municipal landfill that accepted waste from 1923 to 1962. In the late 1970s, the landfill was bisected by the construction of I-215, creating a West Pile and an East Pile. Since the development of I-215, Salt Lake City has used portions of the East Pile and surrounding land for processing green waste; however, municipal dumping stopped in the 1960s.
The Other Side Academy (TOSA) has obtained approval to develop The Other Side Village (TOSV) pilot project within an 8-acre area in southeastern corner of the site, which is the area least impacted by past landfill activities. To accommodate the development, the city council approved a rezone of the development site on October 18, 2022. On May 10, 2023, the Planning Commission approved TOSA's Planned Development. For more background on the City's Zoning and Planning processes and approvals, visit the Salt Lake City Council's page and Planning's virtual open house page.
The pilot project will provide housing and supportive services for those experiencing homelessness and struggling with substance abuse, mental illness and/or physical disability. This innovative project is a step toward creating more affordable housing choices and options for residents to thrive.
To ensure that the area is safe for residents, the City entered the site into the Utah Department of Environmental Quality's (UDEQ) Voluntary Cleanup Program (VCP). Under the VCP, the City is working closely with regulators to investigate the pilot area and develop a remediation plan that will make the area safe for residential use. The City is also coordinating closely with TOSA to ensure that the sampling and remediation actions align with the TOSV development plans.
The City will only allow residents to occupy the site after the remediation is complete.
Summary of Environmental Conditions
Several environmental investigations have been conducted at this parcel since the 1990s, but these investigations were focused primarily on the areas used as a landfill and not the pilot project area. Since the TOSV project started being considered in 2021, additional investigations have been conducted in the pilot area. This page summarizes the results of the pilot project area investigations since 2021.
Characterization of the site has included the collection of soil samples, groundwater samples, and soil gas samples for analyses of all potential environmental impacts associated with former landfills. Characterization and sample analyses have been conducted in coordination with UDEQ to ensure all potential impacted media, contaminants, and exposure pathways are identified and evaluated. After analyzing samples for an extensive list of potential contaminants, the following impacts were identified:
Fill material was found to be impacted by one polycyclic aromatic hydrocarbon (benzo(a)pyrene) and two metals (arsenic and cadmium). Samples of native materials beneath the fill have reported impacts from arsenic; however, benzo(a)pyrene and cadmium have not been reported.
Groundwater was found to be impacted by1,4-dioxane (a volatile organic compound), PFAS compounds (known as an emerging contaminant) and two metals (arsenic and hexavalent chromium).
Soil gas samples reported elevated concentrations of chloroform.
All compounds reported are chemicals that are commonly identified at residential, commercial, and industrial sites in developed cities.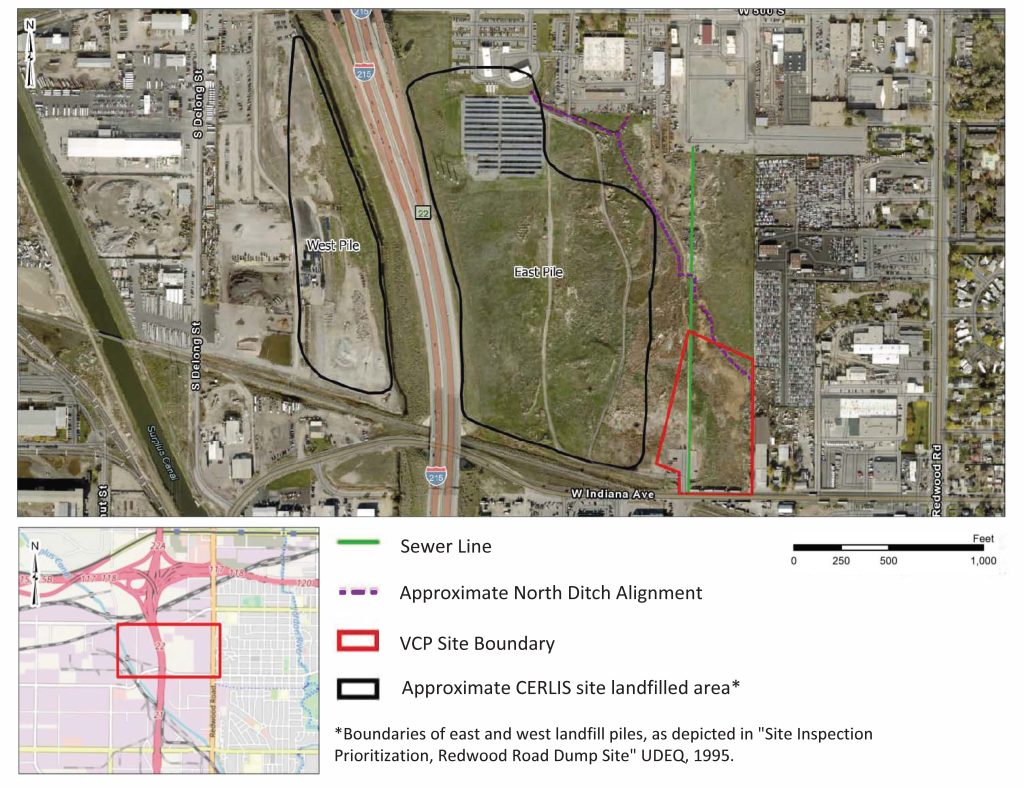 Source: Site Characterization Report Redwood Road Dump Pilot Phase Project, Terracon, January 18, 2023
Remediation
A remediation plan was developed to address the environmental concerns in the pilot area. This plan was approved and accepted by VCP regulators on August 15, 2023. The approval process included a 30-day public comment period from June 23, 2023 – July 23, 2023.
Remediation strategies and exposure pathways were carefully addressed to make development of this community safe for anyone living, working, or visiting the site. The primary remediation strategies are:
Excavate impacted soils and dispose offsite at a permitted facility
Install vapor intrusion mitigation systems under buildings to prevent soil gas infiltration
Implement institutional controls and engineering controls to manage any impacts remaining on site post-remediation, such as fencing, signage, routine groundwater monitoring, and inspections to ensure integrity of remedial actions
Visit the DEQ Public Notice Webpage to access the full plan.
Remediation will be conducted as part of construction of the TOSV. With an approved RAP, TOSA can proceed with site remediation and development after receiving the appropriate permits and agreements from the City. Construction is anticipated to begin in late summer or fall.
Building occupancy will be allowed after the remedial approaches are implemented and the site is considered safe for residential use.
Next Steps

An overview of the environmental milestones and next steps for the TOSV project is provided below. This timeline is for informational purposes only and is subject to change.
March 2023 – Additional sampling to define extent of soil contamination, finalize Site Characterization Report
April/May 2023 – Finalize Proposed Remedial Action Plan and submit to DEQ for approval
June 2023 – Remedial Action Plan published for public comment
August 15, 2023 – Remedial Action Plan is accepted by DEQ
Late Summer/Fall 2023 – Construction and remediation will start after receiving the appropriate permits and agreements from the City
Winter/Spring 2024 – City will issue Certificate of Occupancy after remediation is implemented and the site is considered safe for residential use
If you have any questions on the environmental work at this site, contact Catherine Wyffels in Sustainability (Catherine.wyffels@slcgov.com)