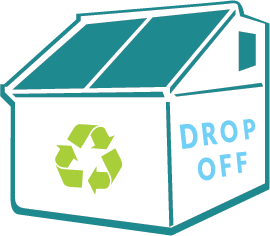 .
If you do not have recycling collection at your residence and you live in a Salt Lake City multi-family property, first check to see if your property manager should offer recycling as part of the Business & Multi-Family Recycling Ordinance. If you believe they should and are not, fill out this form and we will follow up to see if they are eligible.
The following drop-off locations are free and open to the public
Rocky Mountain Recycling
2950 West 900 South • 801 975-1820
3110 South 900 West • 801 975-1820
Green Fiber (Paper products only)
3061 South 3600 West  • 801 972-6551
Salt Lake Valley Landfill
6030 W California Ave • 385.468.6370
Salt Lake Valley Transfer Station
3300 South 509 West  • 385.468.6370
Trans-Jordan Landfill
10473 S Bacchus Hwy • 801-569-8994
View the complete list of glass recycling drop-off locations.