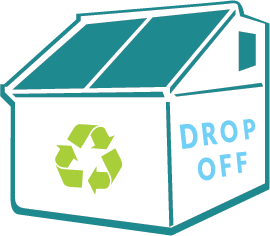 .
If you do not have recycling collection at your residence and you live in a Salt Lake City multi-family property, first check to see if your property manager should offer recycling as part of the Business & Multi-Family Recycling Ordinance. If you believe they should and are not, fill out this form and we will follow up to see if they are eligible.
The following drop-off locations are free and open to the public
And many Green Fiber dumpsters at Salt Lake City schools.
Materials Accepted:
Paper
Cardboard
(Access to the containers is through the scales and across from the Household Hazardous Waste Collection area).
Materials Accepted:
Plastic Containers
Metal & Aluminum Cans
Cardboard
Glass
Textiles/Clothing
Please contact them directly or visit their location to inquire if they are still accepting recycling drop-offs.
View the complete list of glass recycling drop-off locations.
.