Para leer en español haga clic aquí.
Neighbors,
Though Governor Herbert is relaxing restrictions in most areas of the state to 'yellow,' Salt Lake City's higher numbers of COVID-19 warrant a continuation of the 'orange' phase.
Salt Lake City zip codes 84116 and 84104 have continuously shown some of the highest COVID-19 numbers in the state of Utah. Salt Lake County public health data for the capital city, as a whole, shows a consistent, though gradual, increase in positive cases.
The state has been in the 'orange' phase since May 1 and symptoms may appear up to 14 days after exposure to the virus. Today's data may not yet show the full impact of our May 1st shift, and the current data does not indicate Salt Lake City should yet be loosening our approach. Dr. Anthony Fauci, the nation's top infectious disease expert, has advised that communities wait until positive cases have declined for at least two weeks before easing restrictions.
To have confidence in a transition to 'yellow', Salt Lake City should see at least 14 days of declining positive cases. We will continue to track public health data being collected by Salt Lake County Health Department and encourage our residents and businesses to exercise great caution by limiting unnecessary trips, wearing face coverings when out in public and practicing social distancing, until we see a sufficient decline in cases.
Let's continue taking care of one another so that we can ensure our city is on solid footing before we move to the next phase of recovery.
Erin Mendenhall
Mayor, Salt Lake City
---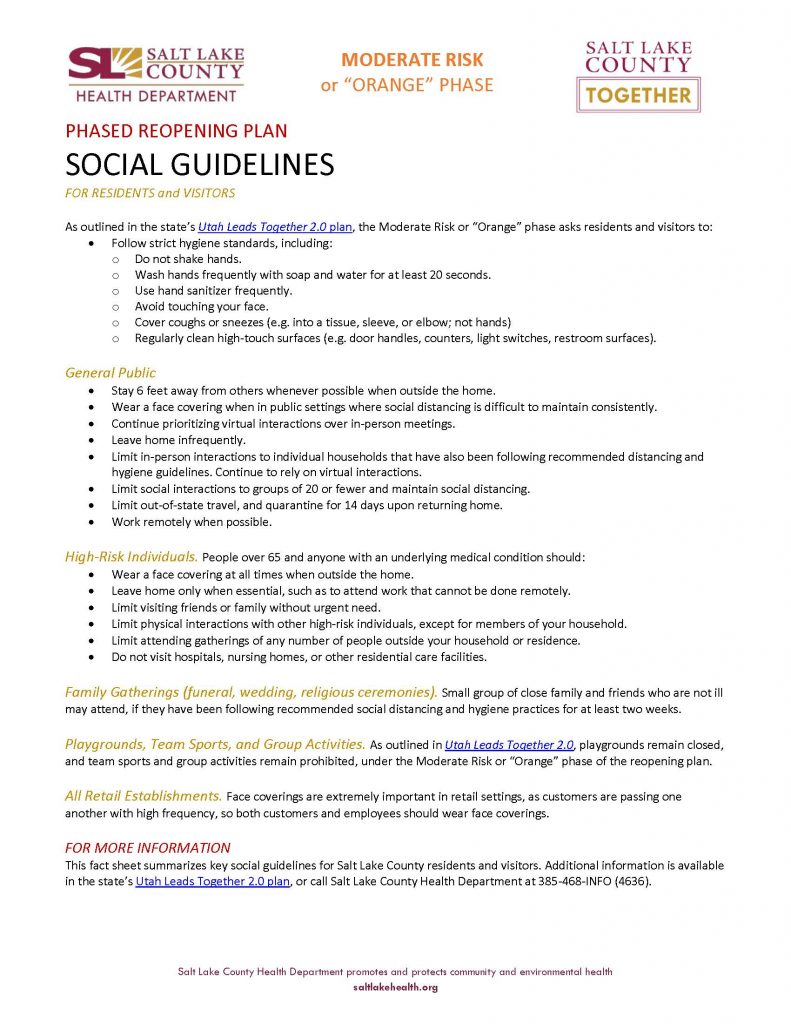 *Playgrounds, Team Sports and Group Activities
Under the direction of City administration, SLC Public Lands has updated the guidelines for team sports and group activities in our parks. We will now allow organized skill development and conditioning activities in City parks and at the Regional Athletic Complex, as long as participants are able to remain at least 10 feet away from one another.
Please note that games are not allowed yet under these requirements. Practices only.
Field reservations will be allowed starting Monday, May 18, assuming the organizers can commit to following these updated guidelines. Please call 801-972-7800 with any questions about park field reservations, or 801-972-7883 with questions about Regional Athletic Complex reservations.
For detailed guidelines from the state for businesses and individuals, click here.
---
MULTILINGUAL PSAs
Salt Lake City is recording PSAs in various languages with the most up-to-date information about our city's COVID-19 status and precautions to take.
Click on each language to watch this week's PSA.
ASL, Arabic, Bosnian, Farsi, Korean, Mandarin, Samoan, Somali, Spanish, Swahili, Tongan, Vietnamese
---
GENERAL FAQ