Para leer en español haga clic aquí.
Neighbors,
I know you are as concerned as I am about the health and safety of everyone in our city as we face the COVID-19 pandemic.
I have taken the step of issuing a declaration of a state of emergency to ensure we have access to every resource and many capabilities we will need.
The health of our community is our first priority. This means practicing social distancing and, at the recommendation of the Center for Disease Control, limiting your interactions to groups of 10 or fewer.
As you may know the county declared a public health emergency that limits business operations. At restaurants, dine-in operations are prohibited; takeout, curbside, pickup, drive-thru, delivery (including by third-party services), and mobile food (trucks/carts) are allowed with some modifications. Grocery stores and cafeterias will eliminate seating areas as well as any other opportunity to congregate.
We have to draw a clear line, as hard as it may be, because the stakes are so high.
My hope is that by taking these bold measures we are able to stem the tide of transmissions and limit the impact on our City, our residents, our emergency systems and healthcare facilities over the long term.
The effects of the COVID-19 situation are already significant for many in our City. People are experiencing lost wages, dropped hours, lost rent, and lost business. Know that I will do everything in my power to help our community persevere and recover.
Please visit the website of our Economic Development Department for more information for businesses: www.slc.gov/ed. The State is also providing resources through its Department of Workforce Services. If your job has been affected by the pandemic, visit https://jobs.utah.gov/covid19/ for more information.
I also want to assure you that we are working diligently to address both the continuity of our own internal City operations and the services that the City and our partners provide. We are committed to working with the state, county, school district, and community groups to ensure that services needed by our most vulnerable neighbors, like delivery of food and medicine, are not disrupted.
There are resources, like the United Way's 211 which helps connect people to food, housing and other needs. The school district is also providing weekday breakfast and lunch for children ages 0-18, and food boxes for families on Monday, Wednesday and Friday at select locations.
We will continue to update you both here, on this website, and across our city's social media platforms. Please take care and stay tuned.
Erin Mendenhall
Mayor, Salt Lake City
---
---
FAQ
What should I do if I believe I am sick?
Before you go to a healthcare provider, call 1-800-456-7707.
This Utah Coronavirus information hotline has been activated by the Utah Poison Control Center. It is a resource for those who believe they may have been exposed to COVID-19, as well as a central resource for the public's questions about COVID-19. The line is staffed 24/7 – callers will first hear a recorded options menu before talking to a staff member.
How should I prepare?
Right now the best thing you can do is take recommended steps to deter the spread of illness:
Stop handshaking and use other, no-contact methods of greeting
Regularly wash your hands
Create habits and reminders to avoid touching your face, and cover coughs and sneezes
Disinfect surfaces like doorknobs, tables, desks, and handrails regularly
Stay home if you are feeling sick
Avoid contact with anyone who is sick
Avoid sharing food and beverages?
Visit the Utah Department of Public Health for more tips on how to protect yourself.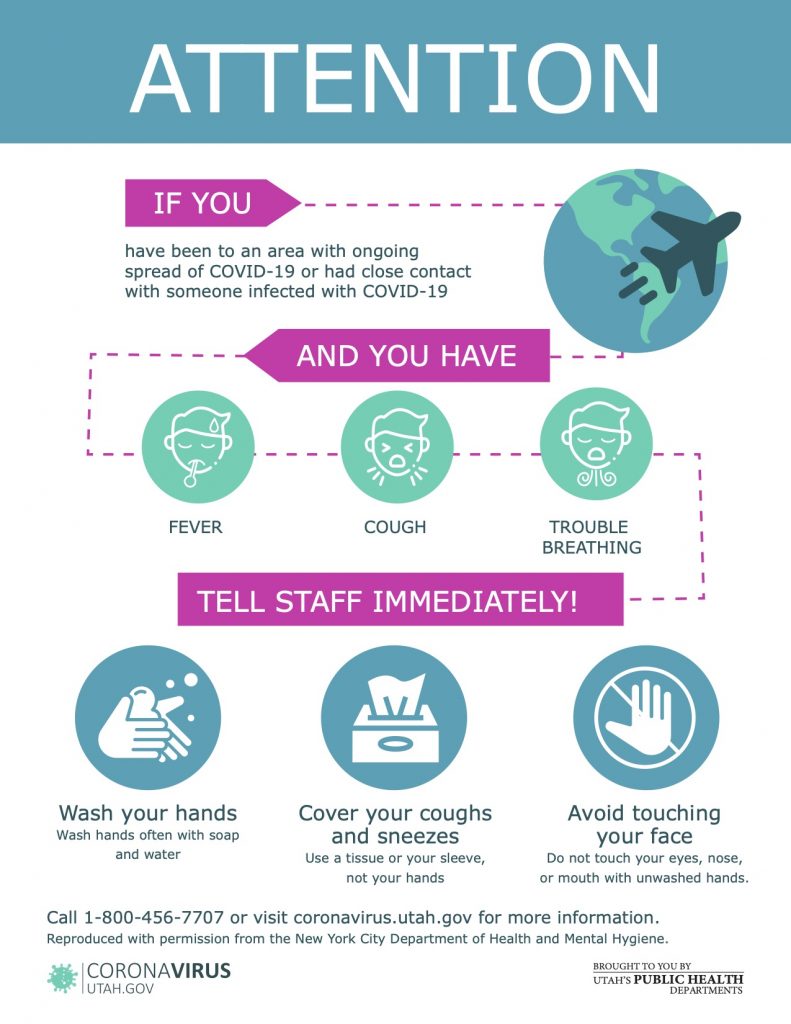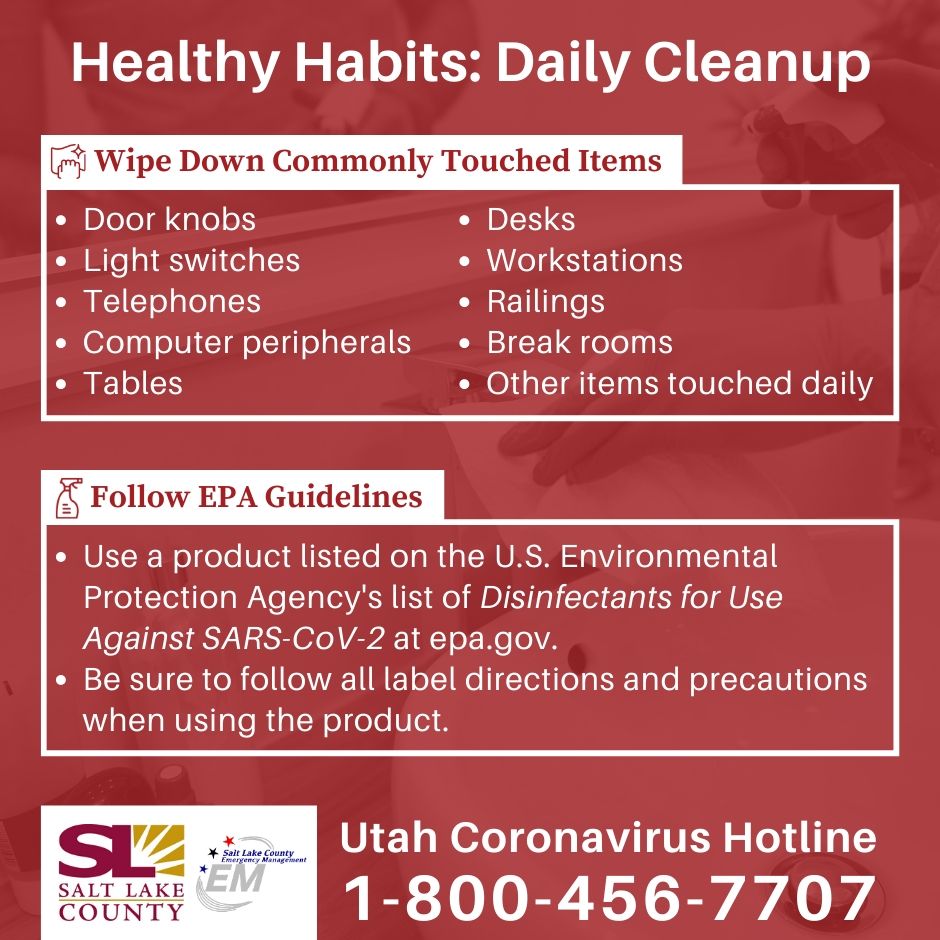 The Red American Cross has put together steps for how cope with the evolving situation.
---
Disaster Distress Helpline– SAMHSA's Disaster Distress Helpline is a 24/7, 365-day-a-year, national hotline dedicated to providing immediate crisis counseling for people who are experiencing emotional distress related to any natural or human-caused disaster.
You can call 1-800-985-5990 or text TalkWithUs to 66746 to connect with a trained crisis counselor. https://www.samhsa.gov/find-help/disaster-distress-helpline.
Deaf/Hard of Hearing
· Text TalkWithUs to 66746
· Use your preferred relay service to call 1-800-985-5990
· TTY 1-800-846-8517
What if I need emergency help from police, fire, or EMS?
Call 911 if you need emergency assistance.
Salt Lake City 911 Dispatch, Fire and Police are all operating under specific protocols aimed at safeguarding the health and safety of their teams and the public.
They are prepared to assist you no matter the circumstance and will continue to respond to calls for service.
Resources for the community
Will City services still be available ?
Yes. See below for information on services.
Public Services UPDATES
Parking Enforcement
The City is limiting parking enforcement and collection to minimize the impact on residents who may be self-quarantined, and whose vehicles may be parked for extended periods of time on City streets.
This includes not enforcing time-limited parking on certain streets and parking prohibitions in residential neighborhoods. Metered parking downtown will remain the same so that the City can ensure that people can easily utilize convenient parking for our local businesses.
Here is the list of the time-restricted on street parking ordinances.
---
Department of Public Utilities
Due to COVID19, there will be limited public access to the Department of Public Utilities building starting Monday, 3/23. Bill pay, Hive Passes and development review service will be available, but with limited contact. Please call customer service @ 801-483-6700 for details before visiting the City and County Building.
---
Salt Lake City Citizen Access Portal: Use this portal to Schedule/Reschedule/Cancel inspections, looking up permit details, etc.
---
In dealing with potential impacts from the Coronavirus and recent Earthquakes.
During this time, the Planning Division is cancelling all Planning related Public Meetings and Hearings until April 3rd, or until further notice. These meetings include: Planning Commission, Historic Landmark Commission, Appeals Hearings, Administrative Hearings, and Open Houses.
---
Cemetery Sexton Building is closed. Burial services will still be provided.
---
The Parks and Public Lands Administration building will remain closed.
---
SlC Lake City Golf:
Effective Monday, March 23, the Salt Lake City Golf Division will temporarily suspend play at all six City golf courses: Bonneville, Forest Dale, Glendale, Mountain Dell, Nibley Park and Rose Park. Salt Lake City's Golf Division has also implemented the following illness prevention measures:
Rentals of motorized and pull carts are suspended throughout weekend play and until further notice.
Cash payments have also been suspended, along with retail sales within the pro shop throughout weekend play and until further notice.
Food service continues to be suspended until further notice.
Other changes include suspending the use of ball washers and sand rakes. Flagsticks will remain in the cup, but the cup will be raised by two inches, preventing the ball from going into the cup. Balls coming into contact with the raised cup are to be considered holed.
---
Water
Salt Lake City drinking water from the tap is safe, reliable, economical, and meets or exceeds all federal and state safe drinking water standards. COVID-19 will not change this.
While our City recommends keeping a 4-day supply of bottled water for an emergency kit in case of a natural disaster; it is not necessary to purchase bottled water to prepare for COVID-19.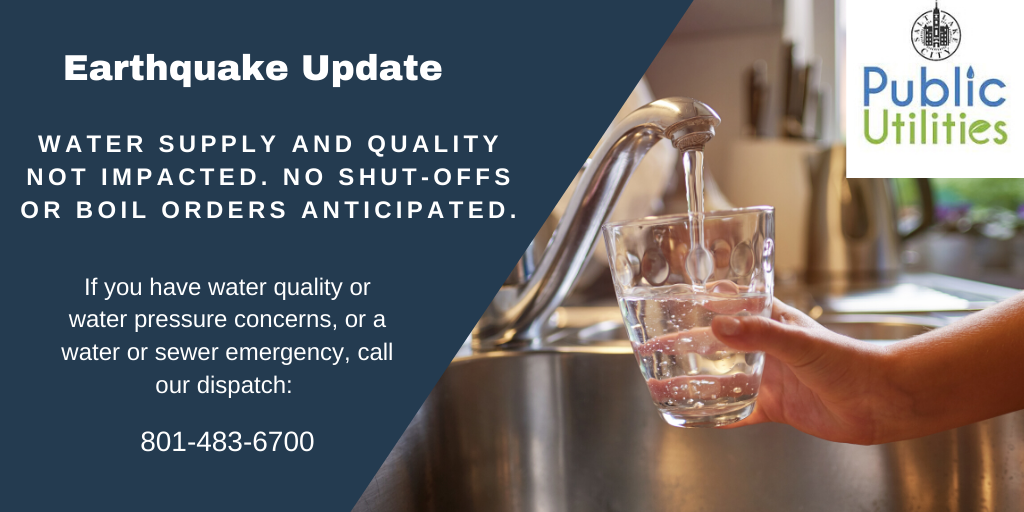 ---
Garbage and Recycle Pick up
Salt Lake City waste & recycling services are continuing uninterrupted at this time. This includes our garbage, recycling, and compost container collection, as well as the Call 2 Haul bulk waste program.
The Education Team is also out checking containers. For more information on services, please visit: https://www.slc.gov/sustainability/waste-management/
Please email slcwasteandrecycling@slcgov.com or call 801-535-6999 for waste questions.
---
Community & Neighborhoods Departments
Please go https://www.slc.gov/can/can-covid19/ for a summary of the actions the Community & Neighborhoods Department (which includes Transportation, Engineering, Housing and Neighborhood Development, Planning, Building Services and Civil Enforcement, Capitol Asset and Real Estate Services Team, and Civic Engagement Team) is taking in response to the directive to limit contact between staff, partners, and the general public as a result of the COVID-19 virus outbreak.
---
Building Permit Office
The Building Permit Office at the City and County Building is closed to walk-in customers, however, building inspections staff will continue to make building inspections in the regular routine. All online services are available for permits and plan review. Plan review is continuing by staff working from home. Any questions can be directed to online staff at: slcpermits@slcgov.com.
Please check our website for updates and all additional informationhttps://www.slc.gov/buildingservices/. We will be responding to all inquiries via email at building.services@slcgov.com. If you prefer to call, please dial 801-535-7224.
---
Housing and Neighborhood Development
RESPONSE TO COVID-19: Please be aware we are no longer accepting walk-in business related applications, contract management, or payments.
All customers who regularly visit us in the office to make monthly payments are asked to call 801-535-7228 and make your payment using a credit card or an electronic check. We request you continue making your payments over the phone until the City returns to a normal schedule.
For all the details visit https://www.slc.gov/can/can-covid19/.
---
Economic Development Department
We have streamlined COVID-19 resources for Salt Lake City's business community to plan, prepare, and respond to the COVID-19 virus outbreak. There will be updates. As we follow public health guidelines and common sense, we will give Salt Lake City the best opportunity to stay resilient during this challenging economic time.
Visit the department's page for Business Resources for COVID-19.
---
Salt Lake City Justice Court
Please go to the webpage https://www.slc.gov/courts/ and use the emails and / or the Request to Judge form for all correspondence possible.
The phone number to called is 801-535-6300.  Phones are open from 8:30 a.m. -11:30 a.m. and from 1 p.m. – 4 p.m.
Criminal Email: criminalsection@slcgov.com
Jury Hotline: 801-535-6400
Jury Day Phone: 801-535-6430
Jury Email: jury@slcgov.com
Traffic Email:  traffic@slcgov.com
Small Claims
Email: smallclaims@slcgov.com
---
Recorder's Office
Claims can be mailed to: Salt Lake City Recorder P.O. Box 145515 Salt Lake City, Utah 84114-5515.
---
Salt Lake City Library
As a precautionary measure to help prevent the spread of COVID-19 (Coronavirus), The City Library will be closed from March 15 through Sunday, March 29. We are closely monitoring the situation, and may extend the closure beyond March 29.
All events, programs, outreach, and meeting room reservations have been cancelled through Sunday, April 19.
---
Gallivan Center/ Special Events
Events at the Gallivan Center are cancelled until further notice. The Excellence in the Community Concert series will continue via Facebook Live, Wednesdays at 7 p.m. The Gallivan Center is also encouraging residents to support local businesses through its Support Local Bingo challenge. Download the card here.
---
Should I go out into the public?
I'm worried about my neighbor. How can I help?
The City is organizing to support our neighbors through local, community-network assistance and we're asking for your help.
First, if you haven't already, make sure you have your neighbors' contact information so you can call, text or email them. Talk with them about emergency planning, whether anyone in the household has unique needs like essential prescriptions or medical care, and how you might be able to help one another should this situation escalate.
You can also visit https://nextdoor.com/ to connect with your neighbors.
If you are able to assist a neighbor who needs help during this time, use this form we've created to let them know all the ways in which you are able to help them:
Rent and Mortgages
The following flyer offers information for renters, multifamily property owners and mortgage holders. You can download the flyer here.
I need help with childcare. What do I do?
Currently the State has subsidy resources for low-income, working parents: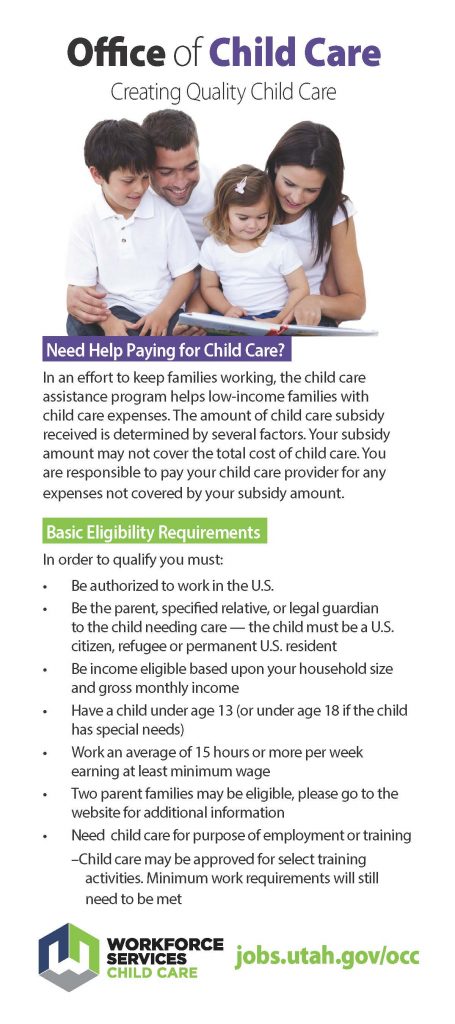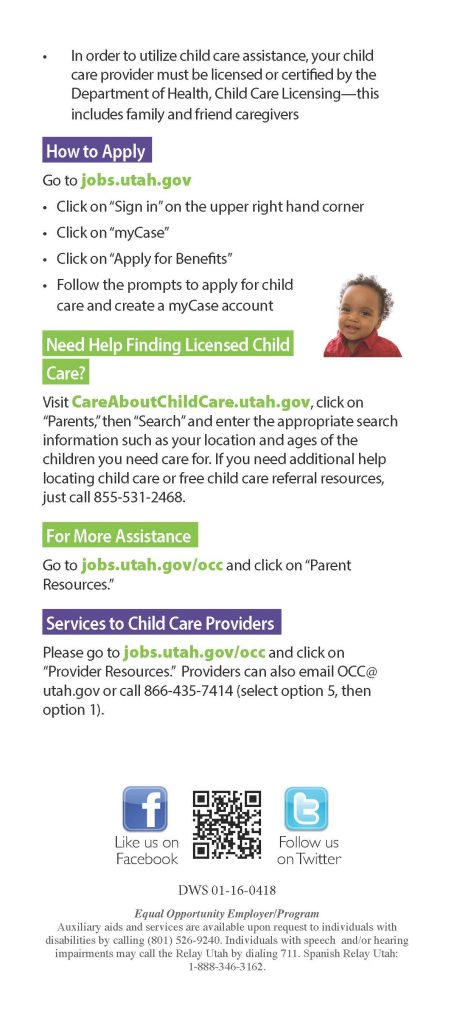 Click here to read FAQs the Department of Workforce Services and the Utah Department of Health put together on childcare options.
What are best practices for preparing my business?
We are all facing a widespread public health concern. The Coronavirus is not something we will take lightly. My administration and city staff have been mobilized to work around the clock to ensure the safety of the public and our employees while we also consider ways to minimize the local economic impact of COVID-19.
My team and I are taking conservative measures to help mitigate this crisis locally out of an abundance of caution. We strongly believe prevention of the spread of Coronavirus is the key to minimize it's spread and long-term economic impact. "Flattening the curve" of impact on our community is the goal of all proclamation measures being implemented.
We are working closely with local health officials and our business community for best practices, but I also want to encourage our business community to take immediate preventative measures. To that end, I'd like to thank the Governor and Lt Gov for their great work at the State level to prohibit mass gatherings for the coming weeks. Please visit Coronavirus.utah.gov for up to date information.
Yesterday, we learned the President will activate emergency relief efforts for small businesses which are most affected by the Coronavirus. The Small Business Administration has been advised to release $50 billion in funds to assist small businesses as they navigate this crisis.
Our city's economic climate thrives on service-based companies and we recognize there will be substantial impacts as citizens self-quarantine and stay away from large gatherings. I have instructed my economic development team to begin work on solutions which will help those businesses stay viable long after the Coronavirus crisis dissipates. Salt Lake City wants to support our local businesses and is looking at financial support opportunities.
I am advising local businesses to address some key areas to minimize the impact of the Coronavirus:
Create or consider implementing tele-work plans for employees where possible.
Revise sick leave policies for your business to ensure employees have the capability to stay at home if sick or if they are taking care of a loved one.
Minimize unnecessary travel.
Make considerations for childcare.
Our team is hard at work identifying solutions that will help businesses which could become deeply impacted by this crisis. We will be working diligently to best serve the public and the business community as we all work through this public health crisis.
Please share your questions through the Salt Lake Chamber COVID-19 website.
Our Economic Development team has developed and deployed a COVID-19 Business Impact Survey today to better understand the impacts businesses are already seeing as we identify possible solutions.
Should I buy or start wearing a mask?
What if I have additional questions?
This Utah Coronavirus information hotline is a central resource for the public's questions about COVID-19. You can call them at 1-800-456-7707
If you have a specific City-related question please reach out to us here.