Para leer en español haga clic aquí.
Neighbors,
After over a month of downward trending COVID data in our city Salt Lake City will shift to the yellow restriction phase.
Because our city has been the center of some of the most elevated levels in the state and we are home to many populations who have been disproportionately impacted by COVID-19, we've been more precautious than the guidance from the CDC and state health officials. While the recommendation has been for us to look for a 14-day stabilization or decline in the positivity rate, Salt Lake City's rate has been trending downward since July 13. We now have over one month of data that shows us we are continuing in the right direction in this pandemic.
Furthermore, our testing rates in the city are above the state target. And Salt Lake City's most impacted zip codes — 84104 and 84116 — have each seen an overall trend stabilization or reduction over the past 30 days.
Salt Lake City and our county have also led out with a mask mandate that has clearly influenced the direction of our 30-day downward trend. Masks are working, and we are grateful to County Mayor Jenny Wilson and the Salt Lake County Health Department for extending the mask mandate through January 5, 2021 to help ensure we continue to see these downward trends.
We know that there are communities in Salt Lake City, particularly our 84104 and 84116 zip codes, that continue to see elevated numbers of COVID-19 cases. As a city we will coordinate closely with the county and state health departments on testing availability, and reinforcing safety measures that prevent the spread of COVID-19.
This shift is not a signal to relax on the important measures we take each day to stop the spread of COVID. Shifting to yellow is not a return to normal, but an acknowledgment that our residents move from neighborhood to neighborhood and city to city, and there is limited public health benefit to remaining orange at this point. While a shift comes along with some minor changes to the State's risk guidelines, we all must be vigilant about our actions to stay safe and maintain this downward curve.
Masks are still required. We are still asking you to maintain 6 feet of distance from others. We still must be careful with our efforts to sanitize and wash our hands. And high-risk individuals still must take additional steps to keep themselves safe.
We will continue to make decisions based on the data and recommendations from our public health experts, and we're committing to you that if our trends change course I will act immediately to request that the State Department of Health re-elevate our restriction level.
Erin Mendenhall
Mayor, Salt Lake City
---
In an effort to better ensure important information related to COVID-19 reaches everyone in Salt Lake City, we are recording updates as new information becomes available in different languages to share throughout the community. Click on each languages to watch the video update.
Arabic, ASL, Bosnian, Farsi, Korean, Mandarin, Samoan, Spanish, Somali, Swahili, Tongan and Vietnamese.
---
To download the flyers below, click HERE.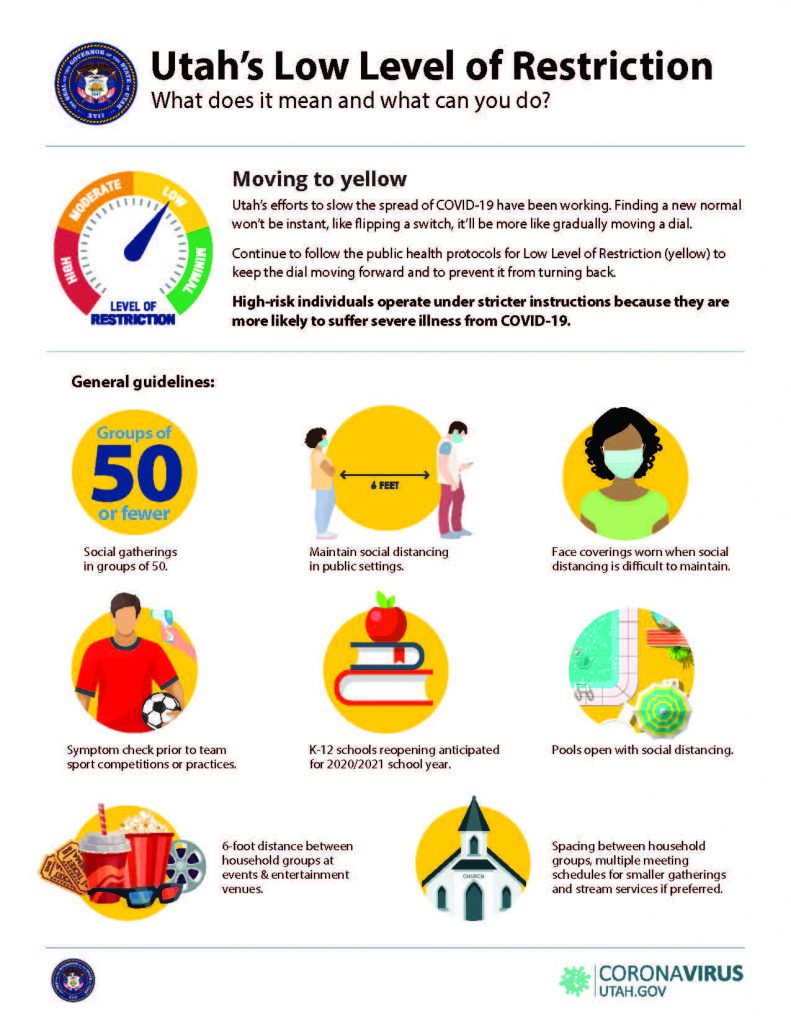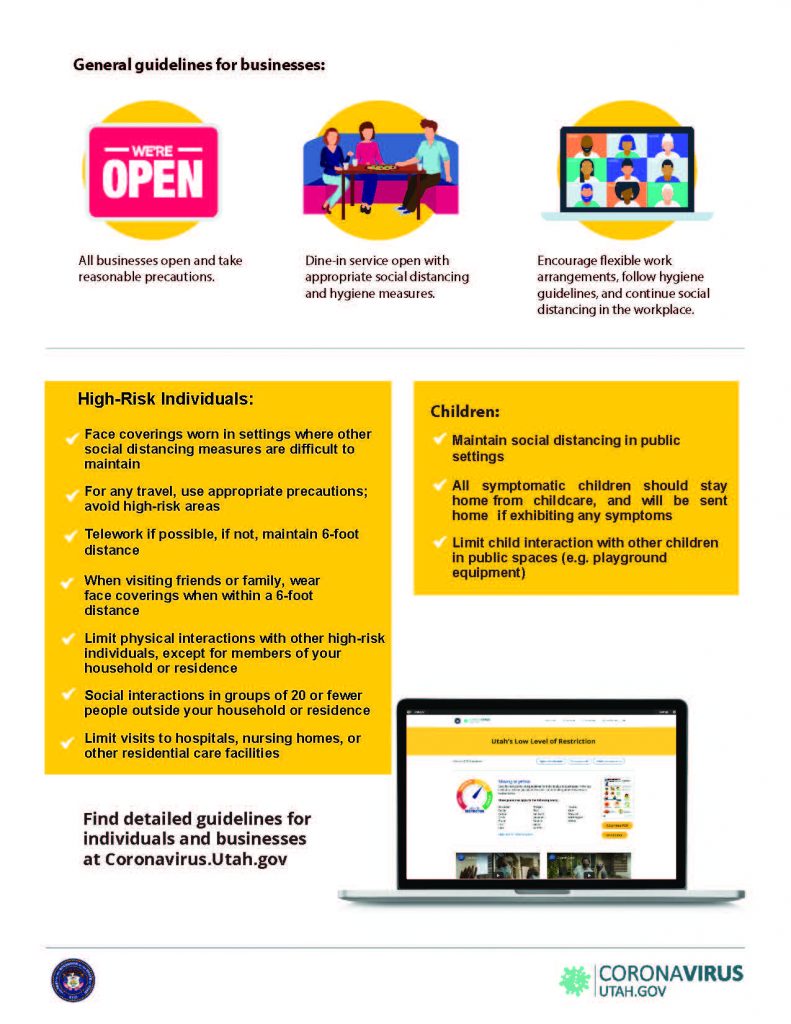 ---
GENERAL FAQ