Overview
Salt Lake City's Sustainability Department is committed to seeing the reduction of pesticide use in our community. We have created resources to help residents and businesses explore chemical-free methods for yard and lawn care.
In partnership with the Parks & Public Lands Division, we are also testing the use of organic turf management products at two Salt Lake City parks, Madsen Park and Laird Park.
This test project continues to build on the work the Parks Division has already implemented through its best management practices with their integrated pest management plan.
While we have done our very best to identify high quality organic test products that will be comparable or better than the products we currently use, you might notice some difference in the appearance of the grass during the 18 month pilot phase. The ultimate goal is to find alternative and cost-effective organic products that can be used to improve our parks and public lands.
​
Timeline & Process
The project will take place between May 2017 and November 2018 at Laird and Madsen Parks.

Two-thirds of each park will be used to test new organic products, while the other third will act as a control area for comparison. The control area will receive applications of existing traditional products. See map of Laird and Madsen Park test areas, below.

The first phase of the project will focus on improving soil health with an organic product that will be applied in May, July, and September using a sprayer.

In fall 2017 and spring 2018, additional organic fertilizer and weed suppression treatments will be applied. You may see our crews in these parks more frequently during this test because the organic products require more frequent application than the traditional products.

​The test will conclude in November 2018, after which we will evaluate the results visually, along with cost of the products, staff time required, and potential added benefit to park users.
Learn More
Madsen Park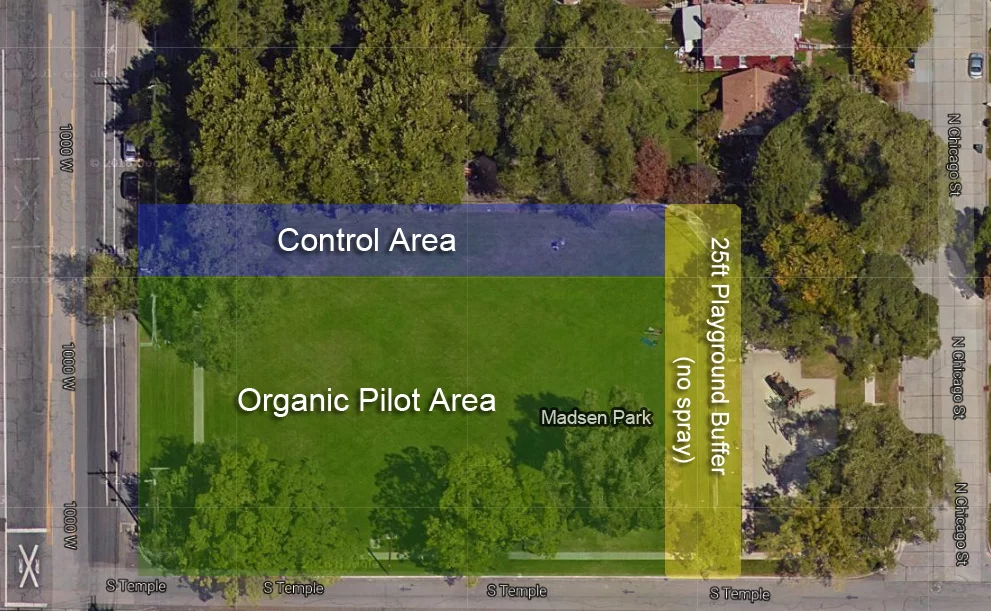 Laird Park