Overview
Salt Lake City's Sustainability Department is working to reduce pesticide use in our community. We have created resources to help residents and businesses explore chemical-free methods for yard and lawn care through the #PesticideFreeSLC campaign.
In 2017, in partnership with the Parks & Public Lands Division, we also began a three-year pilot project of organic turf management methods at Madsen Park and Laird Park. Two-thirds of each park is being treated with new organic products, while the other third is functioning as a control area for comparison. The control area receives applications of existing traditional products. 
The organic land management pilot builds on the work the Parks Division has already implemented through its best management practices with their integrated pest management plan.
Timeline & Process for Organic Land Care
The first phase of the project focuses on improving soil health with an organic product that will be applied in May, July, and September using a sprayer.

In fall and spring, additional organic fertilizer and weed suppression treatments are applied. You may see our crews in these parks more frequently during this test because the organic products require more frequent application than the traditional products.
While we have done our very best to identify high quality organic test products that will be comparable or better than the products we currently use, you might notice some difference in the appearance of the grass during the pilot phase. The ultimate goal is to find alternative and cost-effective organic products that can be used to improve our parks and public lands.
​Given the success of the ongoing pilot at Laird and Madsen, in 2019, Salt Lake City announced that one field at Westpointe Park, and two fields at the Regional Athletic Complex would also be added to the pilot to test organic turf management, thanks to a donation from Stonyfield Organic. 
As funding permits, more Salt Lake City fields and parks will be evaluated for a transition to organic land management methods. Factors to consider are the cost of the products, staff time required, visual appeal, and potential added benefit to park and field users. 
What do you think? 
Contact slcgreen@slcgov.com and share your thoughts on organic land management practices at these and other Salt Lake City parks and fields.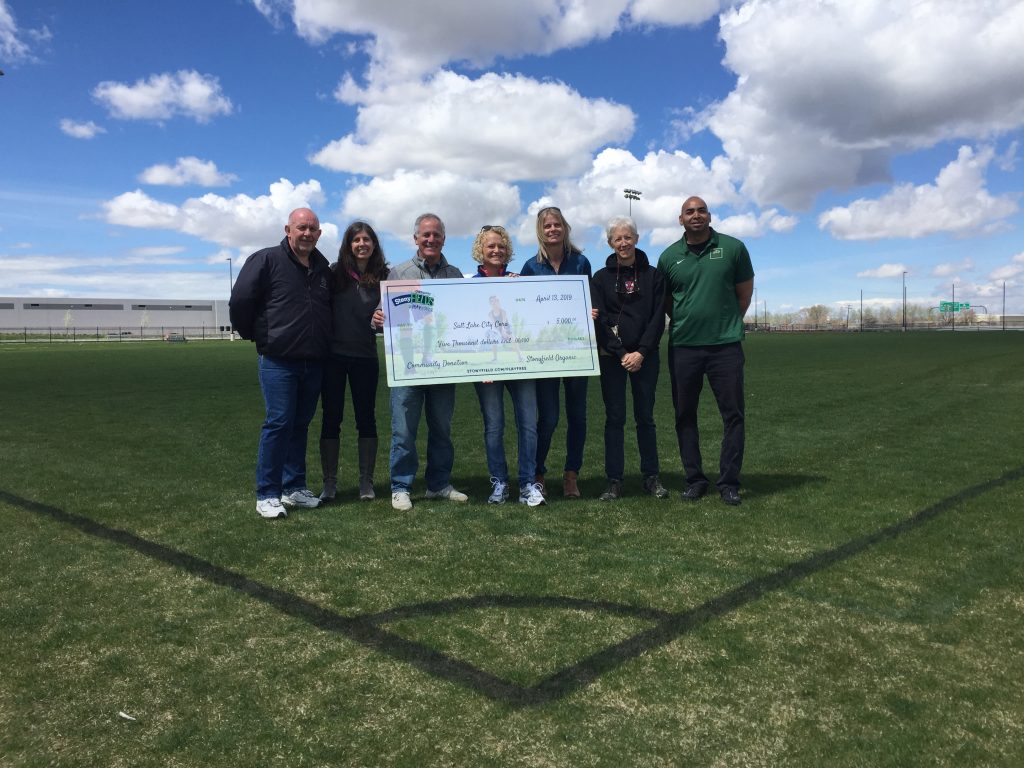 Salt Lake City staff and Mayor Jackie Biskupski receive a donation from Stonyfield Organic CEO Gary Hirschberg to support the piloting of two fields at the Regional Athletic Complex and one field at Westpointe park to organic land care methods. April 13, 2019.