United Nations Civil Society Conference
August 26 – 28th 2019 in Salt Lake City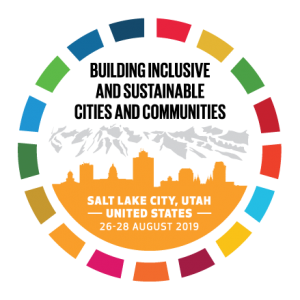 Salt Lake City is proud to host the 2019 United Nations Civil Society Conference in August. This year's theme is "Building Inclusive and Sustainable Communities." The annual conference attracts between 2,000-4,000 representatives from over 300 non-governmental organizations representing more than 80 countries.
The Conference is traditionally held at UN Headquarters, but has recently been hosted by global cities, including Melbourne, Australia; Paris; Mexico City; and Bonn, Germany. The 2019 Conference in Salt Lake City will be the first time the event is held in the United States outside of New York.
Mayor Biskupski encouraged the United Nations to make Sustainability Goal 11 the focus of the 2019 Conference. Sustainable Development Goal 11 lays out a series of targets for cities to reach by 2030, including access to safe and affordable housing, transportation, and green and public spaces. Goal 11 also encourages cities to adopt and implement plans to reduce the environmental impact of cities, particularly air quality.
Salt Lake City's Sustainability Department is participating in several presentations, including Tuesday's afternoon thematic session. See below for a list of all presentations SLCgreen will be a part of, including plans and other resources related to the topic.
.
Thematic Session: Local & Regional Governments Leading the Way to Sustainable Communities
Municipal governments are leading the way to "Build Inclusive and Sustainable Communities." As the closest government entity to their citizens, they are uniquely positioned to make a difference in people's lives, while also being on the frontlines of responding to climate change and its impacts on communities. These local governments are making meaningful progress in reducing carbon emissions, becoming more resilient to a warming world, and improving air quality while doing so in an equitable manner to ensure the needs of their citizens are being met.
Collaboration is the key to success. This Thematic Session will explore and emphasize the power of networks to share information and amplify impact. Concrete examples from several Utah communities will highlight how local governments and civil society organizations have worked together to craft programs, policies, and regulations to create more sustainable communities. Speakers will include senior-level city sustainability staff, a state representative, and local nonprofit partners. They will detail legislation that created a pathway for large-scale renewable energy development, electrified transportation initiatives, and community food production.
Attend this session if you work for a municipal government; represent a civil society organization that is looking for examples on ways to collaborate with your local government; or have an interest in renewable energy, energy efficiency, improving air quality, electrified transportation, food security or equitable program design.
Topic One: Clean Energy and Climate Change
Presenting: Tyler Poulson, Salt Lake City Energy Program Manager; Sarah Wright, Utah Clean Energy Executive Director
Topic Two: Clean Air and Transportation
Presenting: Luke Cartin, Park City Sustainability Program Manager; Patrice Arent, Utah State Representative
Topic Three: Food Policy Task Force
Presenting: Debbie Lyons, Salt Lake City Sustainability Deputy Director; Supreet Gill, Salt Lake City Sustainability Program Manager
Thematic Session: Climate Change – Cities and Communities in Action
As outlined in Intergovernmental Panel on Climate Change (IPCC), and other reports elaborated over the years by the scientific community, as well as public and private sector entities, climate change with its associated risks is among the defining issues of our time, the impact of which is global in scope and unprecedented in scale and is already disrupting communities and livelihoods, especially of those living in poverty.
However, there is a growing recognition that affordable, scalable solutions are currently available that will enable us all to leapfrog to more green, clean, resilient economies in the long run.
Cities and communities, underpinned by strong advocacy from civil society are acting on reducing emissions and on development for resiliency, with innovative strategies for carbon neutrality and resilient infrastructure; transportation and energy systems decarbonisation, zero emissions buildings; innovative financing mechanisms and behaviour change among consumers, producers and policymakers.
With the UN Secretary-General's Climate Action Summit 2019 taking place in September 2019, this session will be an opportunity to boost ambition and accelerate action to implement the Paris Agreement, with a focus on local action and the role of youth.
Join us for this Thematic Session if you care for matters such as: Low carbon pathways and per capita footprint; Transport and mobility transformation, Renewable energy, Fiscal incentives for green tech, Coastal communities, Climate-smart food production, Land use, land-change and forestry.
Presenting: Mayor Jackie Biskupski, Salt Lake City; Selina Neirok Leem, The Republic of the Marshall Islands Youth Delegate; Olumide Idowu, Co-Founder of Climate Wednesday; John Rego, VP SONY Pictures Entertainment Sustainability Corporate Responsibility & Environmental Affairs; Laura Tobón, Media Personality
Workshop Presentations
Energy & Climate: Pathways to 100%: Partnerships for Community Renewable Energy
Description: More than 200 communities in the United States have committed to transitioning to 100% renewable energy by 2035. Utah communities are taking steps with our electric utility provider towards becoming a net-100% renewable electricity communities powered by wind, solar power and geothermal energy. Representatives from national and local non-profit organizations – Sierra Club and Utah Clean Energy – along with Salt Lake City will lead a discussion on a unique collaboration between investor-owned utilities, local and state government organizations, and NGOs in advancing climate action by supporting development of renewable energy resources.
Panelists: Drew O'Bryan, Tyler Poulson and Sarah Wright
Related Plans + Resources:
Food Systems: Eating for a Healthy, Sustainable, and Just Food System
Description: Americans eat twice the amount of meat as the USDA recommends (and more than three times the global average), while only 10% are eating the recommended fruit and vegetable servings. As a result, GHG emissions from animal agriculture are on the rise, and diet related disease has become the leading cause of death in the U.S. A growing body of evidence indicates Americans' taste for meat and animal products is putting them and the planet at greater risk. SLCgreen and Plant Based Utah will discuss how dietary choices are impacting the health of people and the planet.
Panelists: Plant Based Utah, Factory Farming Awareness Coalition, and Debbie Lyons
Related Plans + Resources:
Food Systems: Food as an Economic Development Strategy
Description: Culinary incubator kitchens are popping up in cites all across the country to help burgeoning food entrepreneurs successfully enter the market. A culinary incubator kitchen is designed to give small food businesses a competitive advantage when entering or continuing in the local marketplace by providing an affordable certified kitchen space for food prep. A culinary incubator kitchen is more than just a space to cook food, it provides resources for business planning, distribution, branding, and marketing of new products and space for community events and education. It serves as an important driver for the local food system, while acting as a vibrant community hub. Join Square Kitchen, Spice Kitchen, and Salt Lake City as they discuss their different incubator models and how culinary incubator kitchens are transforming the culinary landscape, creating resilient local economies, and building community wealth.
Panelists: Square Kitchen, Spice Kitchen, and Local Food Business
Related Plans & Resources:
Local Food Business [TBD]
Food Systems: Harvest the City
Description: A sustainable, low-carbon, equitable food system that provides nutritious food for the entire community is key to creating a climate-resilient, peaceful, and healthy community. In Utah, only 2% of vegetables and 3% of fruit consumed is in grown in-state while most of the agricultural resources are allocated to animal production. To create a more resilient food system, the community must shift from carbon intensive meat and dairy agricultural practices to more diverse produce production methods. Less than 20% of Salt Lake City residents are consuming the daily recommended intake of fruits and vegetables and 15% experience food hardship – not knowing where their next meal is coming from. Increasing availability to affordable, fresh, whole foods is integral to creating a healthy community. In order to address these issues, and in an effort to become more resilient and self-sufficient, urban centers are leveraging innovative public-private partnerships to increase local food production, build community relationships, and expand access to fresh produce. Attendees will learn how local organizations are finding unexpected ways to grow and harvest more food. The panel will be followed by an opportunity to participate in a robust discussion on how these programs can be scaled in other cities.
Panelists: Wasatch Community Gardens, Green Urban Lunch Box, and Supreet Gill
Related Plans + Resources:
U.N. Sustainability Goal 11 Targets
Click here for a UN Conference summary handout.
Goal 11.1 | Affordable Housing
Goal 11.2 | Transportation & Transit
Goal 11.4 | Cultural Heritage & Preservation
Goal 11.6 | Clean Energy Goals
Goal 11.7 | Parks & Open Spaces