Request Extra Compost Cans Year-Round
The City's curbside compost can (aka "yard waste bin") is available to divert compostable yard waste, including leaves, grass, brush, and branches, from the city's landfill.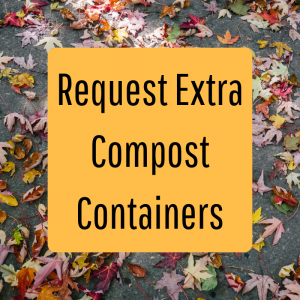 If you have a large yard project, you can request extra containers on a first-come basis. Containers can be requested anytime during the year. Please note that when compost collection is temporarily suspended in the winter, extra containers will be delivered but not serviced.
*Prior to 2018, extra green waste cans were only available in the fall. They were often called "extra leaf cans," "extra leaf bins," or "leaves only bins." As part of the change to Call 2 Haul, Salt Lake City is pleased to offer extra compost containers year-round.
Placement options include:
Two extra brown containers for 4 weeks 
One extra container for 8 weeks (for residents with limited storage)
They will be collected on your regular weekly garbage day.
Container availability is limited based on inventory. 
To request, please fill out this online form or call 801-535-6999. Requests will not be received through email.
Please do not rake (or blow) your leaves, branches, or dirt into the street or gutter. Debris left in the streets and gutters is bad for the stormwater system and leads to deterioration of water quality, street flooding, and icing problems.
Have a lot of leaves?
Try composting leaves in your own yard, in a compost can or mulching them into your flower beds or gardens. Read our blog post detailing how and why this is a beneficial practice.
Rather than a chore to be conquered all at once, rake enough leaves each week just to fill the can.
Temporarily store extra leaves in your yard, in a pile, or in a large sturdy container and feed them into your yard waste can each week.
---
Holiday Tree Collection
Residents are encouraged to cut up their Christmas trees (into 4-foot pieces or smaller) and put them in the brown curbside compost can for collection on their regular weekly waste collection day.
Please do not to overfill the brown container.
Ornaments and lights must be removed. Flocked trees are not accepted on the curb or in the brown can (cut flocked trees up and place them in your garbage can).
Residents who cannot cut their trees for placement in the brown cans may put trees curbside for collection.
We will collect trees left at the curb January 2  – 20, 2023. 
Questions? Call 801-535-6999.
---
In addition to regular curbside collection services, Salt Lake City offers the following special curbside services:
Salt Lake City residents have the opportunity to dispose of bulky items at their curb through the Call 2 Haul program.
Can-to-Curb Service (By Request)
Salt Lake City is proud to provide extra assistance for residents who require help moving their can to the curb and back. To register for the free program, please call (801) 535-6999.
.