About Us
Salt Lake City Green is comprised of award-winning environmental programs that help the community conserve resources, reduce pollution, slow climate change and ensure a healthy, sustainable future for Salt Lake City. Salt Lake City Green, or SLCgreen, is the public face of Salt Lake City's Sustainability Department.
The Salt Lake City Sustainability Department was created in July 2016 under Mayor Jackie Biskupski to emphasize the City's commitment to improve air quality and protect our natural resources. Prior to becoming a stand-alone department, Sustainability was one of four divisions housed within the Public Services Department.

Connect with Us
Follow SLCgreen on Facebook, Instagram, and Twitter. You can also stay up to date with the latest sustainability happenings by following the SLCgreen blog, or subscribing to our weekly newsletter.

Organization & Management
The Waste & Recycling Division is dedicated to providing convenient, accessible and outstanding service to all who live, work and play in Salt Lake City, while providing a safe and positive work environment for employees, and maintaining their core values of fiscal integrity and sustainable waste diversion.
The W&R Division runs Salt Lake City's curbside refuse programs, including weekly waste collection services for approximately 45,000 households, the Call 2 Haul bulk waste program, Christmas tree collection, and container maintenance programs. The Division also oversees outreach for and compliance with the City's Business & Multi-Family Recycling ordinance; Construction & Demolition debris ordinance; and Special Events waste permitting.
The Energy & Environment (E&E) Division ensures that all Salt Lake City municipal departments comply with all applicable environmental regulations. They also guide City-wide policy and practice to minimize the environmental impact of the community and of City operations. The E&E Program specifically focuses on Environmental Compliance, Climate Mitigation and Adaptation Strategies, Air Quality, Energy Conservation, Renewable Energy, and Food Security.

Plans and Years in Review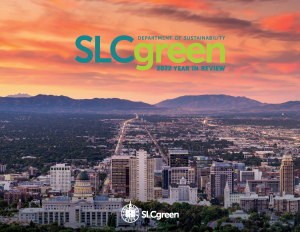 Explore our Climate Positive plan to learn more about our goals and priorities.
You can also read our 2022, 2021, 2020, 2019, 2018, 2017, and 2016 Years in Review.

Contact Us
SLCgreen: (801) 535-6470 | slcgreen@slcgov.com
Waste & Recycling: (801) 535-6999 | slcwasteandrecycling@slcgov.com

Meet the Team
Energy & Environment Division
Debbie Lyons

Department Director

Sophia Nicholas

Energy & Environment Division Director

Christopher Thomas

Senior Energy & Climate Program Manager

Peter Nelson

Sustainability Program Manager

Catherine Wyffels

Environment & Air Quality Manager

Maria Schwarz

Food & Equity Program Manager

Angie Brohamer

Financial Analyst

Monica O'Malley

Special Projects
.
Waste & Recycling Division
Debbie Lyons

Department Director

Chris Bell

Waste & Recycling Division Director

Cory Young

Program Manager

Frank Young

Operations Manager

Cliff Kano

Maintenance Supervisor

Joe Trujillo

Maintenance Supervisor

Ashley Bailey

Education and Permits Lead

Kyle Fuchshuber

Permit Coordinator

Sustainability Awards & Recognition
The City has received recognition and awards related to climate preparedness, resiliency, and sustainability.
The Department of Energy's Better Buildings initiative has recognized several Salt Lake City programs with awards, including for our Executive Order for Energy Management of City Facilities (see here) and the retro-commissioning of the Public Safety Building (see here).
White House Task Force on Climate Preparedness and Resilience. Salt Lake City served on the White House Task Force on Climate Preparedness and Resilience.
Mayors' Climate Protection Award. Salt Lake City was awarded the Mayors' Climate Protection Award 2013 by the U.S. Conference of Mayors and Wal-Mart for his leadership to institute innovative practices that reduce GHG emissions.
Seventh Most Influential City For Policy Ideas. Salt Lake City ranked as the seventh most influential city in the nation for policy ideas in the study, "Mayoral Policy Making: Results from the 21st-Century Mayors Leadership Survey" (Boston University, October 2014). Salt Lake City was the smallest municipality among the top 10 biggest influencers.
Top 20 Most Resilient Cities. International Council for Local Environmental Initiatives (ICLEI) – Local Governments for Sustainability USA named Salt Lake City among the top 20 most resilient cities on the "front line" of dealing with the multi-pronged challenges associated with climate change and extreme weather events in 2013.
Barrier Buster and Mountain Mover. The City received the U.S. Department of Energy Solar America "Barrier Buster" and "Mountain Mover" awards for its progress in solar energy.
Top 10 Sustainable Cities. The City was recognized by Moyers and Company in January 2013 as one of the 12 top cities leading the way in sustainability.
Utah Sustainable Business Leadership Award. Sustainability Director Vicki Bennett was awarded the 2014 Utah Sustainable Business Leadership award from Utah Business Magazine.