What Can I Put in My Curbside Recycling Container?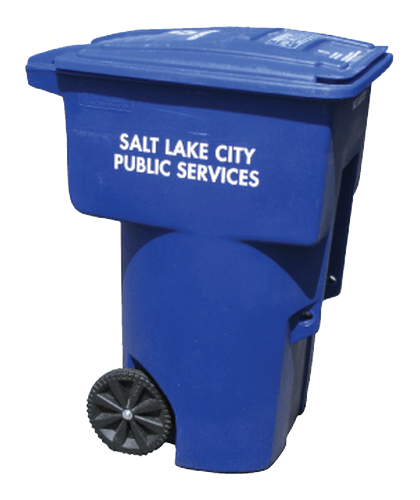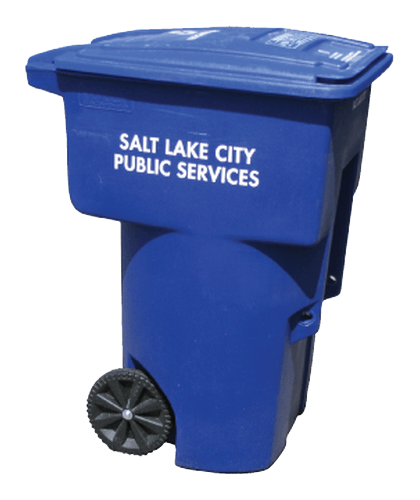 In many ways, recycling is the most common-sense practice to care for our planet and practice sound stewardship. Recycling conserves landfill space, saves water, reduces greenhouse gas emissions, and gives new life to discarded material.
However, recycling is also a commodity market. This means that recycling rules change from time to time. Ultimately, the success of a recycling program depends on having vendors to purchase all those discarded things we put in the blue bin.
In 2018, the recycling world was shaken up by changes announced by China, which has affected recycling facilities worldwide. This includes local Utah processors used by Salt Lake City.
Maintaining a robust recycling program is a core function of Salt Lake City's Sustainability Department. However, the global recycling shake-up is an opportunity for our community to reaffirm the importance of Reduce, Reuse, and Recycle Right. (For tips, see this recent post from SLCgreen on the Utah Department of Environmental Quality blog.)
Please help us by only putting the correct items in your blue container. While additional changes may be announced at a later time, the following restrictions are now in effect for Salt Lake City curbside bins.
Please do not put

plastic bags

, films, or wraps of any kind in the blue container. (Learn more)
Do not enclose recyclables in plastic bags or kitchen bin liners (i.e. do not "bag your recyclables.") This will prevent your items from being recycled.
No expanded polystyrene ("

Styrofoam

")
No

shredded paper

.
Yes!
Newspaper and newspaper inserts
Cardboard boxes, shoe boxes, cereal boxes, paper tubes
Magazines and phone books
Aluminum cans
Steel (tin) food cans
Plastic containers
Plastic-coated cartons
Junk mail, office paper, envelopes
Aerosol cans
No!
Glass (Sign up for curbside glass recycling or take yours to a community drop-off location.)
Food and food wrappings
Napkins, paper towels, toilet paper, paper plates
Clothing
Electronics, computers, small appliances
Yard waste
Toys, garden hoses, plastic swimming pools
Home improvement/construction materials
Plastic bags (learn why here)
Styrofoam
Shredded paper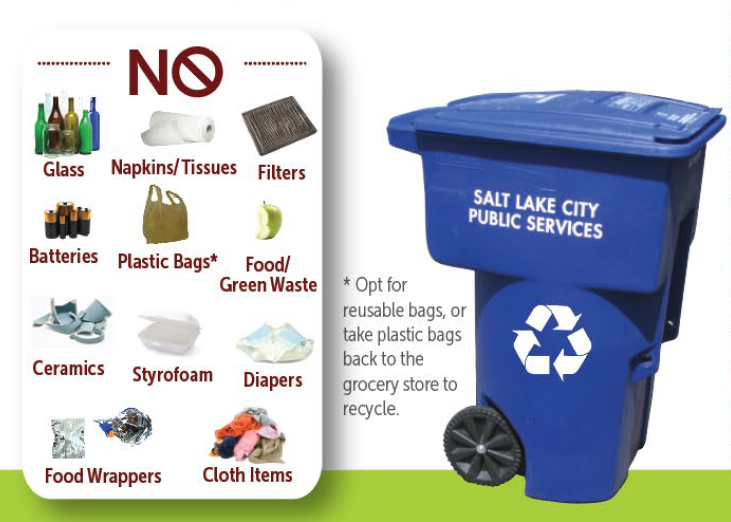 Download the SLC Curbside Services Brochure.
Why Recycle?
Salt Lake City collects recyclables from an estimated 45,000 residential homes, and 1,100 small businesses and multi-family complexes every day, five days per week.  An average of 750 tons of material are recycled each month.
Recycling this amount of material each month saves the equivalent of:
7,379 mature trees (91,427,200 sheets of copy paper)
3,030 cubic yards of landfill space (the annual space needed for 3,891 people)
2,353,583 kWh of electricity (enough to power the needs of 225 homes)
2,604 metric tons of greenhouse gas emissions
4,011,430 gallons of water (enough to meet the daily needs of over 50,000 people).
(Source: Waste Management, May 2018 stats)
The City currently recycles or composts 42% of the waste collected from residents. Our goal is to reach 50% in the next several years.
Thank you for Reducing, Reusing, and Recycling!