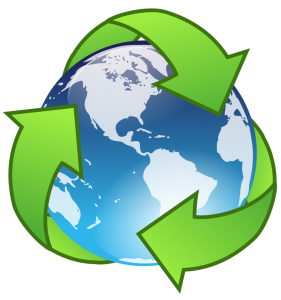 Salt Lake City's recycling program accepts clean paper, plastic containers, metal cans, and cardboard. Bulk waste can be collected through the Call 2 Haul program. However, some materials don't belong in the blue curbside containers and require specialty recycling.
Thanks to our community partners and alternative specialty recyclers, there are many ways to reduce, reuse, and recycle materials that cannot be collected through curbside services.
General Recycling
Programs
• Utah Recycling Alliance. They host regular CHaRM (Collection of Hard to Recycle Materials) events.

• Recycle Utah (Summit County-based non-profit)

• TerraCycle boxes for many types of items
Clothing & Textiles
• The Salt Lake Valley Landfill has a Big Brothers Big Sisters clothing bin available for new or gently used clothing. The container is located about 100 yards east of the landfill entrance.

• Some retailers periodically accept old clothing for recycling that is too worn to be reused:
○ H&M (any clothing)
○ Patagonia (Patagonia clothing only)
○ Madewell (any jeans)
○ Reformation x thredUP (clothing)

• Drop off or mail denim for recycling through Cotton Incorporated's Blue Jeans Go Green program.
Eyeglasses & Sunglasses
• Used glasses can be dropped off at LensCrafters, Target Optical, Sears Optical, and Pearl Vision to be donated to the OneSight program which provides new and used glasses to those in need. You can also mail in your glasses to their vision center. More information is available here.

• Lions Club International, New Eyes for the Needy, and Vision Aid Overseas also accept donations.
Art & Office Supplies
• Clever Octopus is a local non-profit that accepts items used in arts and crafts projects at their Creative Reuse Center.

• Crayola Marker Recycling
Plastic Bags & Films
• Clean plastic bags can be returned to most grocery stores.

• Plastic Film Recycling
Styrofoam
• Marko Foam – for recycling block Styrofoam (no packing peanuts or take-out containers). Please contact Marko Foam directly at (801) 972-1354 for instructions on where and how to drop of your block Styrofoam.
Bulk Cardboard & Shredded Paper
• Greenfiber (3061 S 3600 W, West Valley City, UT 84119) accepts bulk cardboard and shredded paper for recycling. They also have drop-off locations that can be accessed by appointment by calling 801-746-5716.
Mattresses & Furniture
• Mattress recycling at Springback Utah. Also available through Call 2 Haul.

• Reusable furniture can be donated to local organizations for reuse. Visit the Call 2 Haul Resources page.
Bicycles
• Bikes and bike equipment can be donated to the Bike Collective for reuse.
• Bicycle tires can be recycled with Liberty Tire or through Call 2 Haul.
Electronics
Electronic Waste is accepted in the Call 2 Haul program. Other options include:
• The Health Department's Household Hazardous Waste facility also accepts electronics, including CRT TVs, at both the Salt Lake Valley and Trans-Jordan Landfill locations.
Other options include:
• Best Buy
• Metech Recycling
• Recycle Solutions
Auto Tires
Tires can be dropped off with Liberty Tire or recycled through Call 2 Haul (up to 4 car tires accepted).
Other Programs
• Wands for Wildlife – twice a year (in February and October) Wands for Wildlife collects used mascara wands for cleaning the fur and feathers of wild animals at wildlife refuges and rehabilitation centers
• Asbestos Disposal – The best way to handle, dispose of and recycle asbestos is to hire licensed asbestos abatement professionals. Learn more about how asbestos is recycled and how professionals safely handle and dispose of asbestos-containing materials.
Household Hazardous Waste
Materials including antifreeze, batteries, oil, paint, toxic chemicals, fluorescent lights, CFL lights, and electronics should be taken to the appropriate hazardous waste collection location.
Batteries
The common household alkaline batteries are usually non-hazardous and can be thrown away in your trash can if you follow these precautions: 1) Gather used alkaline batteries in a cardboard box or plastic container to prevent sparks. 2) Tape 9-volt terminals to prevent fire risk.

Other batteries, especially reusable batteries, require specialty recycling in order to keep harmful materials out of the environment and preventing fires in collection trucks and recycling facilities.
• The Salt Lake Valley Landfill accepts batteries (including alkaline) for recycling in the Household Hazardous Waste drop off.
• Some retailers also accept batteries for recycling. Please check with your local store to ensure they can accept your batteries: Home Depot, Batteries + Bulbs, Lowe's, stores participating in the Call2Recycling program, and Ikea.
CFL & Florescent Lights
Because florescent lights contain mercury, they must be recycled properly to protect the environment. CFLs are accepted at Home Depot, Batteries + Bulbs, and Lowe's, as well as at the Household Hazardous Waste drop off at the Salt Lake Valley Landfill.

Please check with retailers to ensure availability of this service. You can find additional locations for CFL drop-off here.
Recycling Drop-offs
Looking for dumpsters for your recycling? See our page here.
Consumer Packaging
Certain brands have partnered with TerraCycle to offer recycling of their products and packaging that can't go in your blue bin. This includes common items like Kroger Simple Truth products, Colgate, Burt's Bees, and others.
.