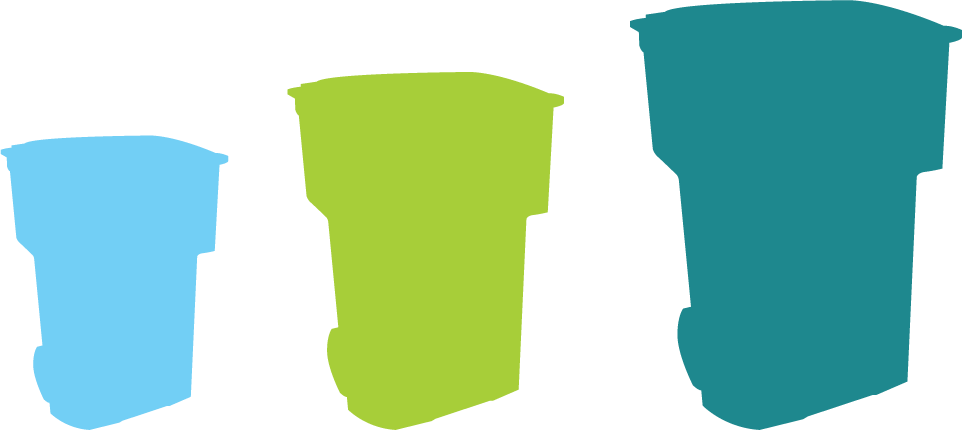 .
Please see below for the results to the online survey and the timeline on the rates process.
.
Overview:
To keep pace with rising equipment, operations, and recycling costs, the City is proposing raising monthly fees on waste collection.
The Sustainability Department's Waste & Recycling Division operates as one of the City's Enterprise Funds (the Refuse Fund), meaning it is sustained solely through service fees. These are collected through residents' Public Utilities bills under the "Container" line item. (Please see the image in the below drop-down menu). The Refuse Fund cannot be used to support any other City services. Similarly, waste & recycling services are not supported by the General Fund.
To continue with the current level of service and to maintain a cash operating reserve of 15-20% as recommended by the City's Finance Department, the Refuse Fund requires a rate increase in the near future.
UPDATES: Due to the COVID-19 pandemic and economic impact to ratepayers, the Sustainability Department postponed a proposed increase in Fiscal Year 2021 (July 2020 – June 2021) by delaying scheduled capital purchases. As the economy rebound, a rate increase of 12% is proposed for Fiscal Year 2022 (July 2021 – June 2022) to stabilize the refuse fund. Rate increases for several years may be needed to reach a healthy cash operating reserve.
In late 2019, the Sustainability Department undertook a community engagement effort through an online survey, as well as a "gaps analysis" to solicit feedback from populations and neighborhoods that had lower response rates to the online survey.
The results of this survey will help inform the Mayor's annual budget, as well as the City Council who is responsible for setting final rates.
Thank you for your feedback!
---
Proposed Rate Increase Timeline
November – December 2019
Community input is collected through survey.

Survey closes: December 8.
December 2019
Additional community outreach occurs.
Winter
2020
Sustainability Department compiles and shares survey results & community feedback.
February – May 2020
City budget process occurs:

– The Sustainability Department will develop a budget proposal using survey feedback and internal budget analysis.
– The Finance Department reviews budget proposal.
– The Mayor's Office reviews, makes amendments, and incorporates potential rate increases into overall proposed budget sent to City Council.

May – June 2020
The City Council reviews proposed Salt Lake City Budget Recommendations and goes through the budget process.
July 2020
Proposed rate increase is delayed due to the COVID-19 pandemic.
Spring 2021
A rate increase of 12% on all garbage container sizes is proposed. See below menu for details.
July 2021
If supported by the City Council, rate increase will take effect.
Questions? Please contact us at slcgreen@slcgov.com or call 801-535-6999.
---
Online Survey Results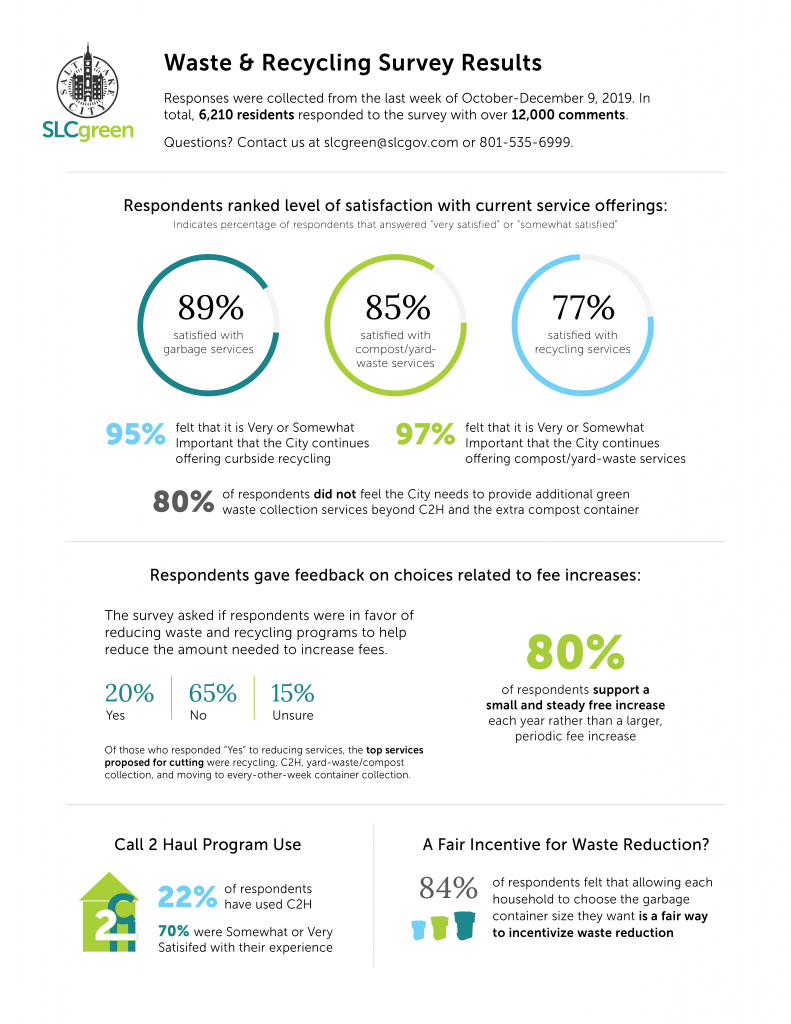 The survey was open from the end of October – December 8.
We received 6,210 responses to the survey and over 12,000 comments in corresponding open-comment fields.
95% of respondents ranked it as Very or Somewhat Important that the City continue offering curbside recycling.
97% of respondents ranked it as Very or Somewhat Important that the City continue offering curbside compost/yard waste collection.
22% of respondents had used the Call 2 Haul program since its inception with 70% ranking their experience as Very or Somewhat Satisfied.
80% of respondents did not feel the City needs to provide additional green waste collection services beyond what is available through Call 2 Haul and the extra compost container year-round program.
84% of respondents felt that allowing each household to choose the garbage container size they want is a fair way to incentivize waste reduction.
80% of survey respondents supported a small and steady fee increase each year rather than a larger, periodic fee increase.
When asked whether the City should be looking at cutting waste services to avoid raising fees as much, 20% of respondents said yes and 65% said no. 15% were unsure.
To see the data visualization of the multiple choice questions in the survey, along with the top comment categories for the open comment fields, download the rates survey results PDF.
In addition to the multiple choice questions, we received over 12,000 responses in the open comment fields across nine questions. The Sustainability Department staff read and categorized each comment. A summary of the most frequent comment categories to the open-ended comments is provided after each corresponding multiple choice question in the rates survey results.
You can view the complete anonymous responses for the open comment field questions below:
Gaps Analysis
Although the response to the online survey was robust, we recognized that more in-depth outreach with certain populations was very important. After analyzing the online survey results, the Sustainability Department worked through a community consultant to engage in focus group conversations and surveys in specific areas.
These included:
Capitol Hill Community Council
Westpointe Community Council
Poplar Grove – Sorenson Community Center
84111 area of west of Liberty Park – Outreach to Liberty Elementary and Community Learning Center
Gaps Analysis Findings
The findings from the gaps analysis were similar to the results from the larger community survey:
51% of residents surveyed had the 90 gallon can, 33% the 60 gallon can, and 16% the 40 gallon can.

(The true breakdown among all Salt Lake City curbside waste customers is: 75% of residents have the 90 gallon can, 13% have the 60 gallon, and 22% have the 40 gallon).

64% thought it was fair to have different prices for different sized cans.
82% were satisfied with Salt Lake City's waste services.
71% use their recycling can weekly.
87% thought the city should keep the curbside recycling program.
78% used the brown compost can.
53% had not used Call 2 Haul.
35% had used Call 2 Haul — all offered positive feedback, with one comment stating that crews did not come when they said they would.
64% preferred the slow and steady fee increase.
10% said a fee increase would be a hardship.
Proposed Fee Increases Fiscal Year 2022
In Fiscal Year 2022, the Sustainability Department is proposing a rate increase of 12% across garbage container sizes, pending approval by the City Council in the FY22 Citywide budget. These fees are:
| | | | | |
| --- | --- | --- | --- | --- |
| Container | Current Fee | Proposed Monthly Fee | Monthly Increase | Annual Increase |
| 90 gallon garbage | $21.00 | $23.50 | $2.50 | $30.00 |
| 60 gallon garbage | $17.75 | $19.75 | $2.00 | $24.00 |
| 40 gallon garbage | $13.75 | $15.50 | $1.75 | $21.00 |
| Multi-Family Recycling** | $7.00 | $7.85 | $0.85 | $10.20 |
**Recycling containers are not charged for most customers. SLC Waste and Recycling does service a few number of multi-family and business recycling cans and this fee increase is proposed for those customers.
Who We Are & What We Do
Salt Lake City's Sustainability Department is passionate about all aspects of waste management—from maintaining a top-notch operation, to creating innovative programs for waste diversion.
The Waste & Recycling Division employs approximately 60 people and is responsible for refuse collection services for roughly 42,000 households in Salt Lake City.
These households include single-family, duplex, and triplex homes.
One of our sustainability goals is to achieve "Zero Waste by 2040," which means all waste is recycled, reused, or composted instead of being sent to a landfill.
The main responsibilities of the Waste & Recycling Division include:
Stay in the loop
Where Does Your Money Go?
Residents pay a monthly fee for waste services (see the "Container" line item on Public Utilities bills, as shown below). There are 12 billing cycles per year.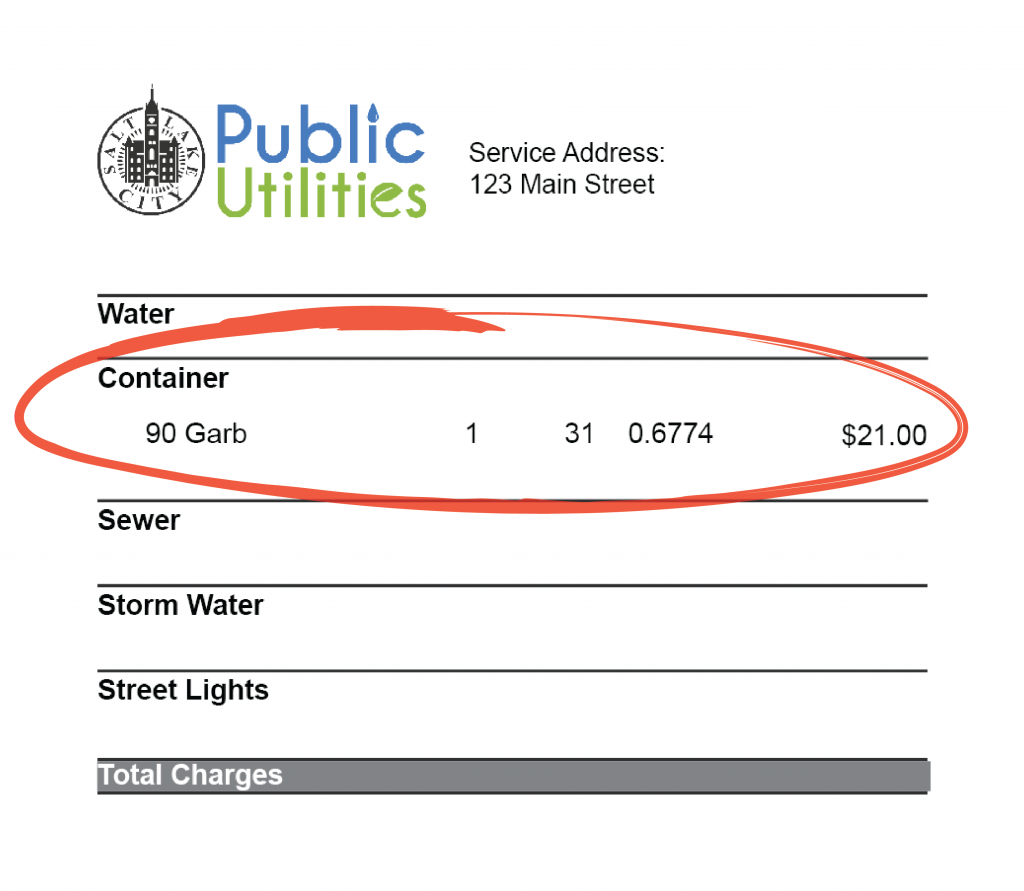 When averaged per household per month, ratepayer fees support the following waste programs.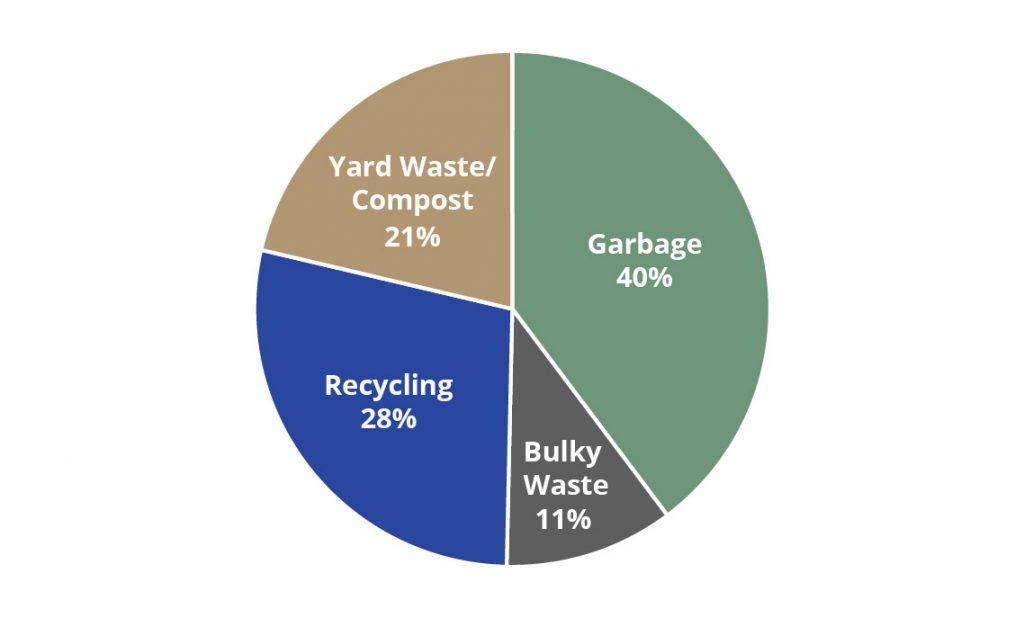 Question: Can't we just save money by getting rid of the recycling or the yard waste/compost programs?
Answer: Unfortunately, no. A household's overall waste wouldn't decrease if the recycling and yard waste bins were removed. Instead, items that were previously placed in the blue or brown bins would now be put in the garbage. Those items would still need to be hauled away, which still requires trucks, containers, and staff. To add to the cost, the previously-recycled or -composted items would now be dumped as garbage at the Landfill, which raises our garbage tipping fees. In the end, costs would NOT decrease proportionately by eliminating the recycling or compost programs. Instead, the City would face higher short-term and long-term garbage costs for all that extra green waste and recyclables being thrown away.
Question: How much material is recycled each month in Salt Lake City?
Answer: Check out the most recent diversion report from our single-stream recycling processor. This includes plastic, paper, metal cans, and cardboard.
Question: How much does recycling cost?
Answer: Recycling is a commodity market, so sometimes it returns revenue to the city, while at other times it costs money to recycle. Recycling currently costs the city money. In 2019, recycling tipping fees were 4.8% of total waste & recycling expenses.
Downsize your garbage can or sign up for glass recycling