Welcome to City Creek Canyon
City Creek Canyon is a valuable source of high quality drinking water. Salt Lake City has designated the canyon as a protected watershed.   Remember the watershed is fragile and vital to the public health as a drinking water source. As you enjoy the serenity of this canyon in the Capital City's back yard, please treat it with respect.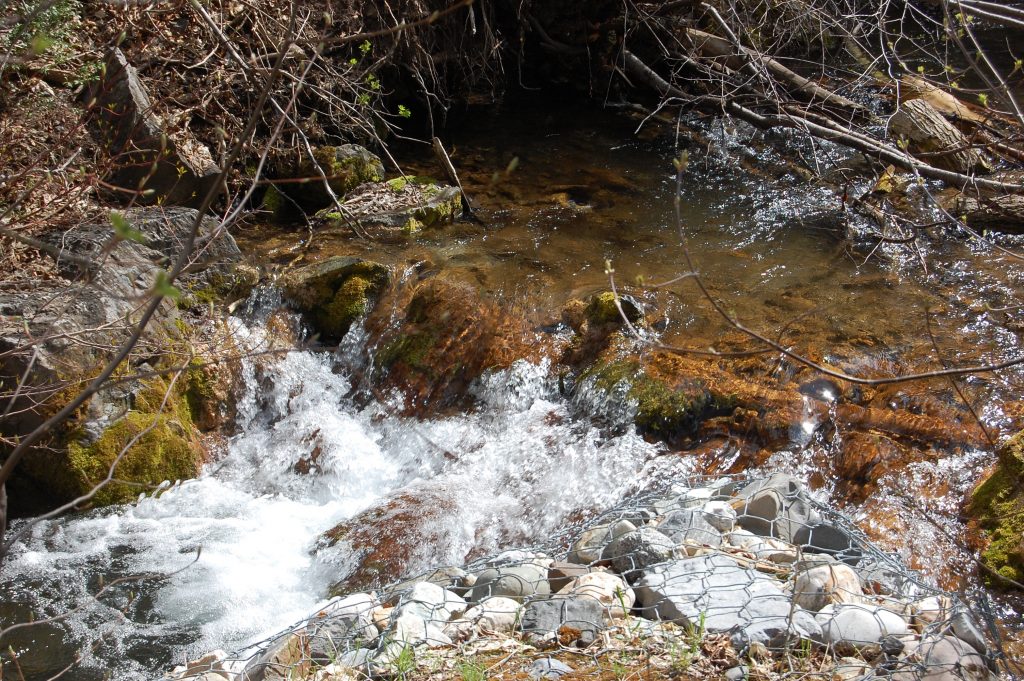 General Canyon Information
Use Restrooms
Pick Up Trash
Prevent Forest Fires – Observe restrictions and put out fires
Prevent Erosion – Stay on trails
Dogs are not allowed above picnic site #16
Swimming and wading in the stream is prohibited
The City Creek Canyon Master Plan was adopted by the Salt Lake City council in 1985, which led to its designation as a Nature Preserve and annexation of the entire Canyon into the City. The City Creek Water Treatment Plant is located approximately 3 miles from the canyon entrance off Bonneville Boulevard . The area above the water treatment facility has been declared a Protected Watershed to preserve this high quality drinking water source.
Click here for enlarged map

How do I get to City Creek Canyon?

The only vehicle access to City Creek Canyon Park and Nature Preserve is from "B" Street and 11th Avenue to Bonneville Boulevard , a one way street, to Canyon Road. Turn right at Canyon Road and go approximately 300 feet to the Canyon Gate House.
Park Hours

The canyon is open from 8:30am to 10:00pm. Cars are not allowed in the canyon after 8:00pm. On holidays no cars are allowed up the canyon after 6:30 pm. The canyon will close at 8:00pm on holidays. Observed holidays include Memorial Day, Independence Day, Pioneer Day, and Labor Day. In the event of an emergency, visitors may be required to leave the canyon. No refunds will be issued.
Cars

Private vehicles are allowed on even calendar days during the summer period from Memorial Day in May to the last even day in September. The canyon is closed to private motorized traffic during the winter and on odd numbered calendar days. The entrance fee for cars just going for a drive or to a trailhead is $3.00 cash, correct change only, please.
Bicycles
Summer Season: Memorial Day weekend through the end of September
City Creek Canyon above Bonneville Boulevard is open to bicycles on ODD numbered calendar days on the paved road. The road is closed to bicycles on EVEN numbered calendar days beginning Memorial Day Weekend through the end of September. Additionally, the canyon is closed to bicycles on all Holidays, including Juneteenth June 19th, July 4th, July 24th, Memorial Day and Labor Day.
Winter Season: October 1st until Memorial Day weekend
City Creek Canyon above Bonneville Boulevard is open to bicycles every day of the week, except during the rifle deer hunt for the area. Dates vary from year to year for this hunt but it is typically the third week in October. During the winter season, the canyon is closed to private vehicles; but service vehicle may still be present so use caution.
Year Round:
Maintenance vehicles may be on the road at any time.
Bicycles are allowed only on the paved road.
Bicycles are not allowed on trails in City Creek Canyon, with the exception of the Bonneville Shoreline Trail.
Please note that the road is subject to close without notice at any time due to SLC Department of Public Utilities maintenance operations, road repair, and emergencies.
Direction of Travel
Bicycles are required to followed all traffic rules, including the use of the right hand lane. Bicycles traveling up hill need to use the creek-side lane; Bicycles traveling down the canyon need to use the hill side lane.
[accordion title="Speed Limit & Safety"]
Canyon speed limit is 15 mph for all motorized and non-motorized travel (including bicycles).
Failure to observe bicycle and vehicle speed restrictions may result in citations and serious injury.
Drive, Bike, Run and Walk Safely! The canyon road is used extensively by runners, walkers, bicyclists, dogs on leash, and public vehicles. Maintenance vehicles may be on the road at any time!
Walkers, Joggers and Strollers

Pedestrians should use the creek-side lane, regardless whether they are traveling up or down the canyon road. Be aware that you will share the lane with up hill traveling bicycles.
The canyon is generally open to pedestrians every day, including during the hunting season. Occasionally the canyon is closed to pedestrians and other users for maintenance or safety reasons. Signs will be posted during closures.
Dogs
Dogs must be on leash at all times in areas they are allowed.
Dogs are not allowed in the protected watershed area which is located above picnic area # 16.
Dispose of dog waste in proper waste bags and bins.
Dogs commune with humans and can transmit disease into the water supply. Dogs are not allowed in the drinking water supply watershed, above or within 1000 feet of the Water Treatment Plant.
Wading or swimming in the creek is not allowed (dogs or people).
Picnic Reservations and Information
Reservations

Reservations can be made online only.  Picnic sites may be reserved on all holidays and even numbered calendar days from Memorial Day weekend through the last weekend in September. The canyon is subject to closures due to snow or adverse weather. Picnic reservations may be made after the first Monday of March. Reservations can be made here and can be made up to 5 days in advance.  Day of reservations can be made in person at the City Creek Gate House, with cash or check payment only if spots are available. Refunds are not issued for any reason, including emergencies or weather. A reservation date and location may be changed with 48 hours notice upon availability.
Picnic Area Fees and Amenities
See the canyon map for locations of picnic sites and amenities such as toilets and water.
Picnic areas 1 through 23 can generally accommodate 12-70 persons, depending upon the site capacity. Fees vary from $3.00 to $25.00. Click here to see area map. Click here to see a spreadsheet with details on each site.
The Rotary Park areas 24 through 30 can accommodate groups of 12 to 200 persons. Reservation fees are $3.00 to $75.00.
Day use fee is $3.00 per vehicle for those without reservations. Check with the gate guard for available sites that have not been reserved.
To make a reservation, click here.
Rotary Park Picnic Area
The Salt Lake Rotary Club established Rotary Park in City Creek Canyon in 1921. The Rotary Club of Salt Lake restored and rededicated the upper portion park in 1996, and continues to support Salt Lake City Department of Public Utilities in maintenance of this area in the park.
Rotary Park and other City Creek picnic sites are reserved by contacting Watershed Management at (801) 483-6705.
Fishing
Other than restricted access areas near water treatment plant facilities and as posted, fishing is allowed in accordance with the current fishing proclamation issued by the
Utah Division of Wildlife Resources
.
Anglers must wear clean waders while in the stream.
Please clean and dispose of fish waste outside the canyon to protect the water supply and keep the area clean for others.
Wildlife
As a nature preserve, City Creek Canyon is home to many wild animals. This affords a unique opportunity to observe deer, moose, elk, badger, cougar and many other animals in their natural habitat.
Common sense is the rule: keep a safe distance and do not approach wild animals such as cougar and moose!
City Creek Canyon History
City Creek was the first water source used by the Mormon Pioneers settling the Salt Lake Valley in 1847. In the early years water flowed through ditches for irrigating gardens. Residents hand dipped water for their culinary and domestic needs.
In 1866, City Creek was first diverted into a municipally-owned, piped water distribution system to provide fire protection and culinary water supply to city residents.
Chlorine was added to City Creek water in 1917 to inactivate (disinfect) water-borne pathogen bacteria in the public drinking water supply.
Excessive and careless recreational use during the early 1900's resulted in noticeable pollution of the City Creek Canyon drinking water supply, and the canyon was closed to public use from 1952 to 1966.
In 1953, City Creek became the site for Utah 's first municipally owned water treatment plant.
A $10M upgrade of the treatment plant was completed in 2006.
City Creek Canyon collects water from 19.2 square miles of watershed that feeds the 14.5 mile-long City Creek stream. Flow in
City Creek varies from about 7 cubic feet per second ( cfs ) in the winter to over 45 cfs at peak runoff in May.
The maximum recorded flow in City Creek during the floods of 1983 was 322 cfs, which resulted in considerable debris flows, flooding and damage through downtown Salt Lake City as State Street was converted into a temporary "river" after debris clogged the City's storm drain pipes.
Major repairs and reconfiguration of the City Creek storm drain system was accomplished following the 1983 and 1984 floods to reduce the risk debris damming and future flooding.