Street lighting: Supporting safety and energy efficiency
Salt Lake City has developed a new Street Lighting Master Plan.
This plan will provide a consistent approach to lighting in the City for years to come. Click below to view a copy of this plan:
Street Lighting, Volume 1 – Master Plan
Street Lighting, Volume 2 – Technical Guidance and Implementation
International Dark-Sky Association Recognition of the Master Plan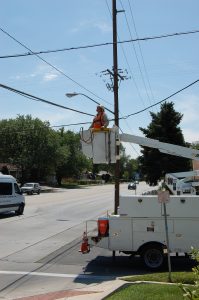 Public Utilities manages and maintains more than 15,500 street lights in Salt Lake City.
Residential and commercial customers support street lighting through a monthly user fee, included in the bill for drinking water, wastewater, stormwater and sanitation services.
The initial capital improvement program for street lighting in 2012 included a metric of converting the City's entire inventory to high-energy efficiency LED lamps by the end of 2021.
We are in the process of updating our street lighting master plan. Details about the plan and opportunities for public engagement in this process will soon be available on this street lighting page. A copy of our 2006 street lighting master plan is available at this link.
Our street lighting program works with non-profit community organizations (i.e. schools, arts organizations) in supporting street lighting messaging banners for temporary time periods. Interested groups must apply for the program through our department.
For assistance with, or questions about street lighting, please contact Street Lighting Program Manager David Pearson at david.pearson@slcgov.com or 801-483-6738