Maintaining and managing our storm water system
Storm water management is essential in reducing localized flooding, and it improves water quality in our streams and lakes. Public Utilities has built and maintains an intricate storm drain system throughout the City. We routinely clean these drains and monitor for storm drain pollution from contaminated runoff from streets, sidewalks, businesses, yards and gutters.
We also educate the public on keeping toxic and hazardous materials from running into storm drains and ultimately harming our water. It's a fact: We all live downstream.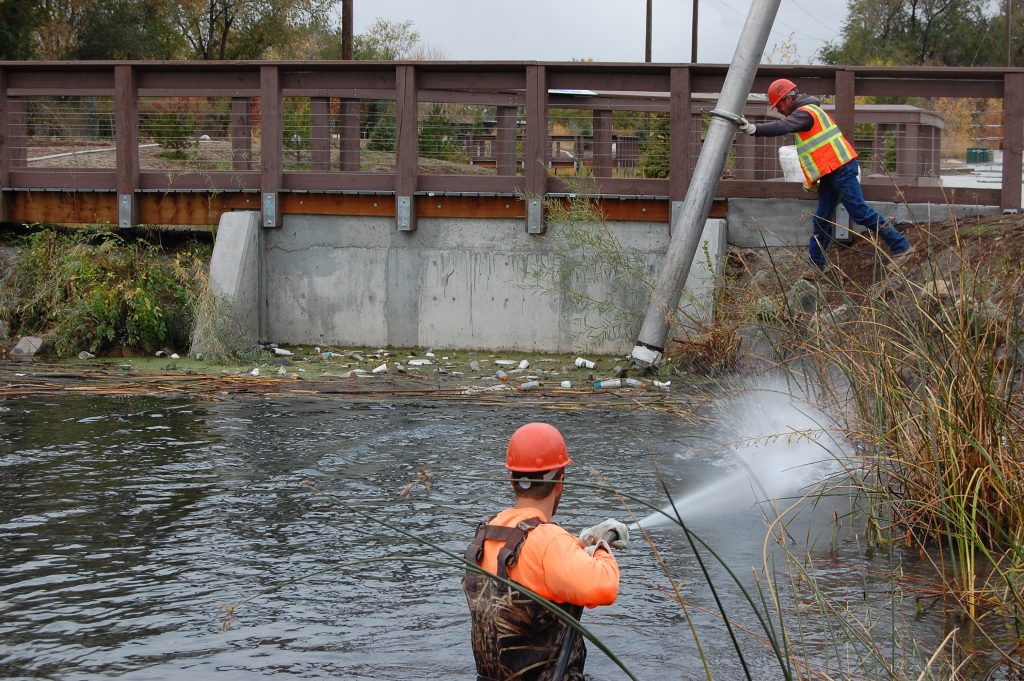 Flood control is directly linked to stormwater management. Clogged storm drains can lead to localized flooding. We work together with federal, state and county agencies on flood control, including educating and assisting the public in the event of flooding.
Public Utilities takes a two-pronged approach to helping residents and business owners. First, we work to prevent or reduce the risk of damage from floods, and second, we work closely with other agencies to ensure the community has all the information and assistance needed in the event of a flood. Our Department works in cooperation with the Federal Emergency Management Agency (FEMA), which identifies and designates flood zones, and the National Flood Insurance Program (NFIP), which offers flood insurance to home or business owners located in FEMA Special Flood Hazard Areas (SFHAs).
Public Utilities can help you determine if your property is in a flood zone, help you understand the federal rules and regulations regarding developed properties within flood zones, and help with options regarding development in a flood zone. We also will work with consulting licensed professionals to assist in any remapping or flood control measure that may reduce the risk of flood damage. In addition to the FEMA areas, the Utility helps address local flooding issues due to rain storms, snow melt, or groundwater, through our storm water management program to minimize damage or accidents related to flooding.
The community can help by reporting localized flooding problems as soon as possible. This will allow our crews to take immediate action and to avoid future problems. Please call our emergency dispatch center at 801-483-6700 to report flooding.
The following sites and documentation may assist you:
Visit the
FEMA Map Service Center site
to search flood insurance rate maps, to determine flooding hazards and FEMA flood zone determination.
http://www.floodsmart.gov
 (LINK) Citizen portal for FEMA with excellent resources regarding floodzones, insurance, and how the remapping process works.
Emergency Management and Assistance (LINK) The FEMA website for the regulations regarding Special Flood Hazard Areas (SFHAs). Sections 60.1 through 60.3 are the general areas of interest. Note that SLC Code (Chp 18.68) does not allow the Variances as discussed in Section 60.6.
Salt Lake City Code Chapter 18.68 supports certain floodplain regulations. Note that specifics in the City code may trump the general regulations found in the federal code. While the City code may have requirements more stringent, it may not be more lenient than the federal code. As a general rule, the code which is more strict will govern.
Information at Salt Lake County Flood Control may also be helpful.
Please direct questions related to flood control to Jason Draper at Salt Lake City Public Utilities at 801-483-6751 or
jason.draper@slcgov.com