Water Conservation Demonstration Gardens
Salt Lake City Public Utilities, is committed to assisting the community in using water more efficiently in landscaping. Water conservation demonstration gardens such as this one, partially funded through a Central Utah Project Completion Act grant, provide opportunities to display sustainable landscape practices through proper plant selection, appropriate irrigation design and other best management practices for our climate, topography and elevation.

The Washington Square Demonstration Garden, at the east entrance to the Salt Lake City and County Building, was partially funded by a Central Utah Project Completion Act grant. Taking inspiration from garden designers and writers of the 1800's, the garden has been designed in the "modern style" as described by John Louden and Gertrude Jekyll, and features masses of plants irregularly placed within a formal setting. The dominant plant is the herbaceous perennial. While bedding plants were still popular at the time, there was a growing garden movement away from the artificiality of annual flower beds, as well as growing disdain for the necessary time and resources required to maintain such beds. The new style emphasized using hardy plants in a stylized, naturalistic way.
Any garden, whether it is planted in a classic style or a more modern rendering, can be constructed and maintained with not only an eye to beauty, but also sustainability. We hope Washington Square inspires and illuminates these possibilities.

Welcome to the Greater Avenues Water Conservation Demonstration Garden. Utah is home to beautiful plants, some of which are naturally adapted to our harsh, hot summers, and cold, dry winters. Fortunately, many of these plants are ideally suited to our gardens and deserve a place in our urban landscapes. Whether you desire an exclusively native garden, or simply to augment a broader plant selection with plants from our Utah palette, there are many wonderful plants available.
Situated in Salt Lake City's northern foothills at Terrace Hills Drive and 11th Avenue, this parcel of ground has been transformed from a lot with weeds and debris to a garden for learning and inspiration. With the intent to provide guidance in creating landscapes appropriate to the City's semi-arid climate and periodic droughts, the location drove the design and the plant palette. This garden demonstrates the beauty of our native plants, their role in a water-wise landscape, and their unique ability to create gentle transitions within wildland urban interfaces and our own urban gardens.The garden is divided into zones loosely representing Utah's plant communities and unique ecozones:
Desert Community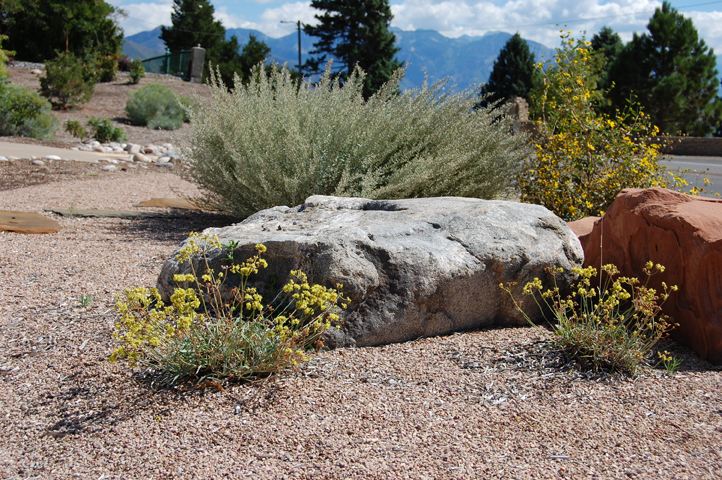 This plant community has more to offer than cactus, and many herbaceous perennials make this zone their home. The plants in this community, besides being lovely and fascinating, are very drought tolerant and in our landscapes rarely require supplemental watering ring after establishment.
Shrub Steppe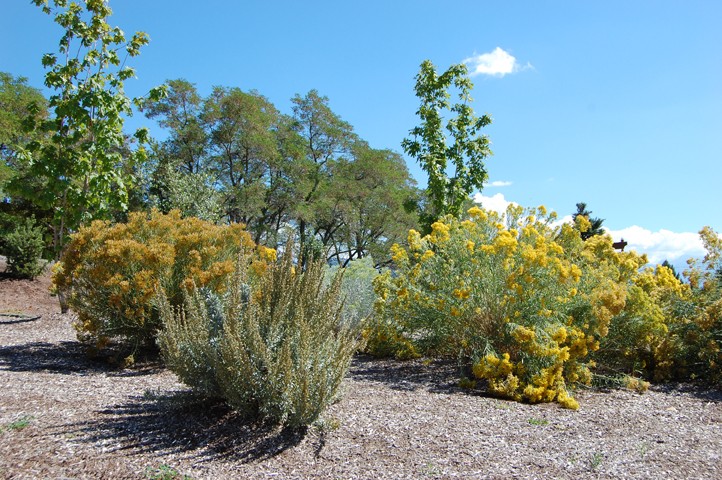 The plants in this community are suited to the lower and drier elevations of our foothills. Many familiar shrubs and flowers occupy this zone, and the variety of grasses range from lower, sod-like grasses to large, ornamental specimens. The shrub steppe species are particularly well-suited to our urban landscape and have a medium to high drought tolerance.
Montane Meadow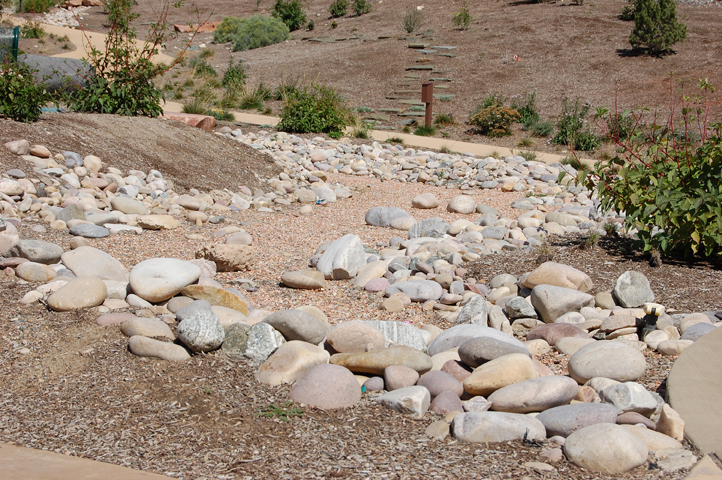 This community is populated with mostly herbaceous species, including many grasses, bulbs, and flowers. The water-demand range for this community is broad, and the plants selected here represent those whose requirements are moderate to low, with some being suited to mild drought conditions.
Dry Riparian

This zone is typified by areas that may only have water several times a year, as found in washes. The plants in this community use the water when it is available, but can also tolerate a higher degree of drought than plants growing in wet riparian areas.
Mountain Foothills

This garden combines these higher-elevation plant communities. Though plants from the subalpine regions tend to not fare well in lower elevations, montane and foothills plants are more adaptive to our location and many are well suited to moderate drought conditions.