Salt Lake City Public Utilities Water Conservation Program
2021 Rain Barrel Initiative: Program Detail
---
Rain Barrels are COMING SOON!
Rain barrels are expected mid-October! To receive updates or be placed on the wait list, email hailey.keller@slcgov.com.
Due to Covid-19, we are still limiting access to our office. We will be taking pre-payment through Customer Service at 801.483.6900, ext. 2. For information regarding pick-up events or to be placed on the wait list, contact hailey.keller@slcgov.com. Rain barrel pick-up will require proof of pre-payment.
---
Program Eligibility
As the barrels are offered at cost and are not subsidized, anyone may purchase a barrel.
Barrels are for capturing rainwater for use in landscapes and should NOT be used to store drinking water.
Purchase Price
$68.50 + sales tax (this represents our costs, including shipping. A slight increase – the first since 2016!)
Product Details
Manufacturer: The Great American Rain Barrel
60-gallons
Recycled and repurposed food-grade plastic
BPA-free
Made in America
Wide, hard top with removable screw lid
Mosquito screen
One (1) plastic, threaded spigot
Two (2) ¾-inch overflow valves
Two port location options
Dimensions: 39" tall, 24" diameter, 20 lbs. empty
Instructional videos on-line at www.tgarb.com
---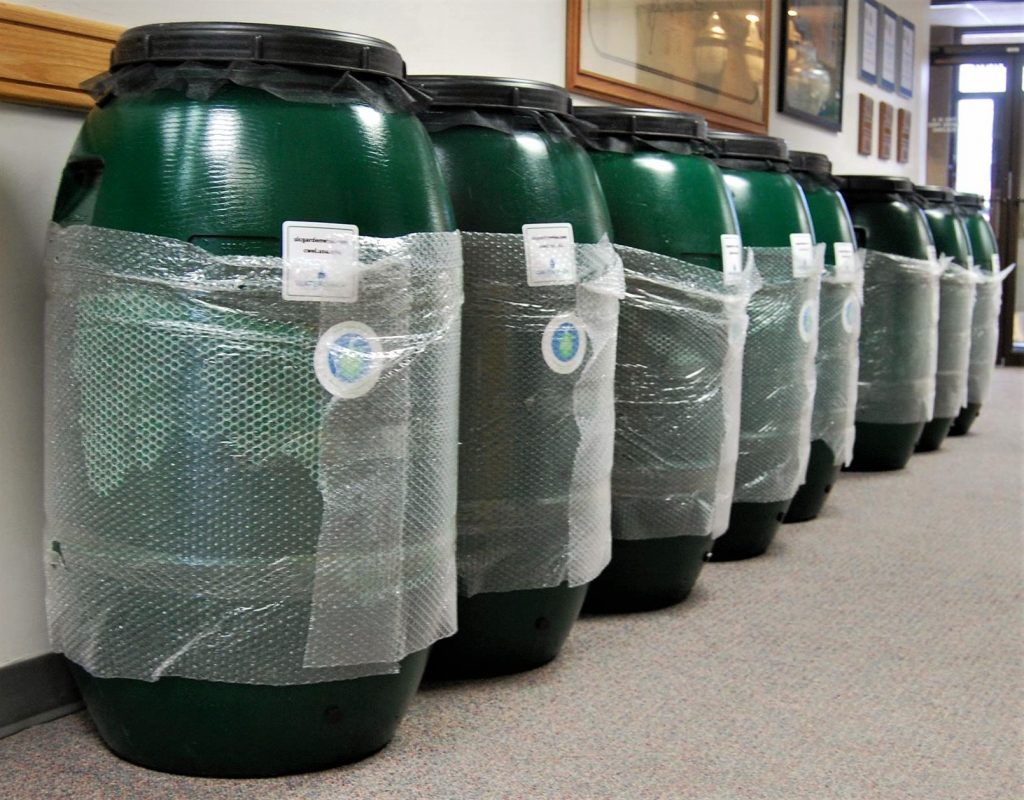 ---
Quantities and Other Program Notes
Rain Barrels are only available while supplies last
You may purchase as many as you need, but if you have more than two (2) you will need to register them with the State of Utah. See link at bottom of page.
Barrels are not for re-sale. Not under any circumstance.
Just so you know, we will be doing research around the rain barrels, and buying the barrel means you don't mind us checking in, now and again. So, please provide your email or mobile number so we can stay in touch.
Customer Purchase and Pickup. Sorry, no delivery
Rain barrels will be made available for purchase and pickup during regular Public Utility business hours.
We are located at 1530 South West Temple. Most of the time, we are open Monday through Friday, 8am to 5pm. Closed during State and Federal Holidays. And the day after Thanksgiving.
If special arrangements are necessary for pick-up of pre-paid barrels, contact Stephanie Duer at 385.419.6670 or stephanie.duer@slcgov.com.
Installation will remain the responsibility of the customer.
Rain Barrel Installation Videos
State of Utah Rainwater Harvesting Registration
Utah State law (Utah Code 73-3-1.5) allows rain catchment storage up to 2,500 gallons, with the following qualifiers:

A person may collect and store precipitation without registering in no more than two covered storage containers if neither covered container has a maximum storage capacity of greater than 100 gallons
Collection in more than two (2) containers or greater than 100 gallons must be registered
Collection and use are limited to the same parcel of land on which the water is captured and stored
There is no cost for registration
To register your rain barrels, visit: http://www.waterrights.utah.gov/forms/rainwater.asp
---
COVID-19 RESPONSE: During the COVID-19 pandemic, some residents have inquired about the safety of storing drinking water in rain barrels. Salt Lake City Department of Public Utilities (SLCDPU) recommends against this. We advise people to follow the manufacturer's instructions and to use rain barrels for the purpose they are intended–to store and conserve rain water only. We also emphasize SLCDPU water is safe to drink from the tap. Culinary water has been treated to provide the safest supply possible and meets or exceeds all federal and state safe drinking water standards.
---
624 Barrels and counting!
---
• For questions please contact Stephanie Duer, Water Conservation Manager •
• Phone: (345) 419-6670 • Email: stephanie.duer@slcgov.com •