SLC Turf Trade!
---
---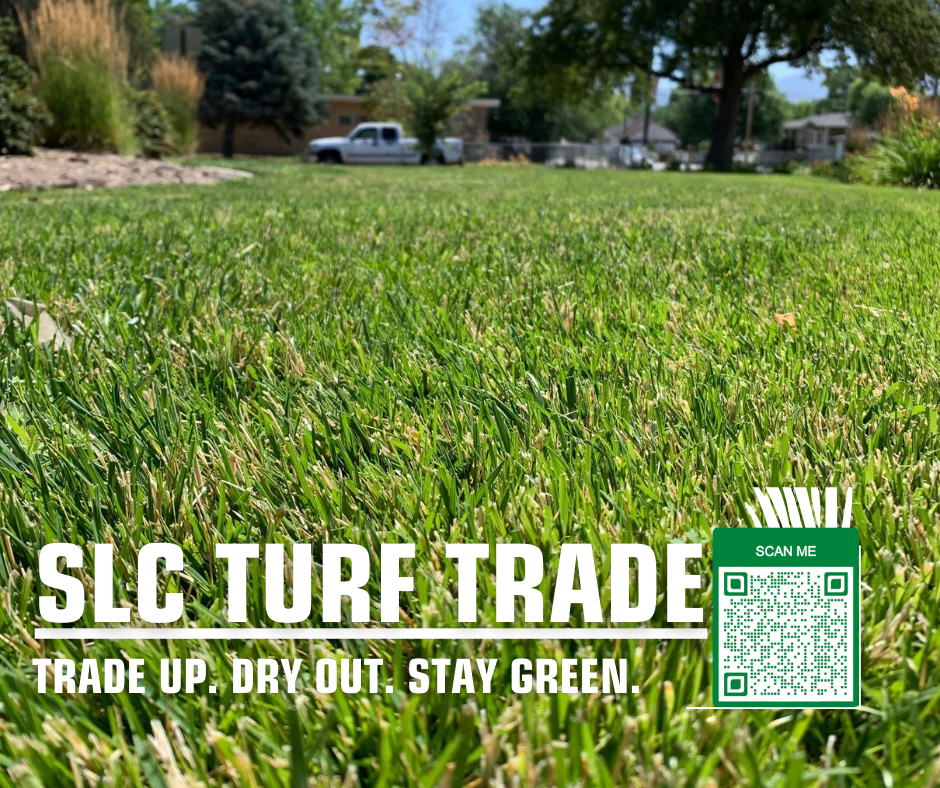 Have you been experiencing a little green guilt? We've all been there, right? We all know how important it is to use less water (especially during the drought), but… we also want our lovely, cool, green lawns. A little "have my cake and eat it too"?! Well, what if you didn't have to choose? Really.
Salt Lake City Public Utilities' Water Conservation Program is now offering a lower water grass seed for sale! We partnered with Utah State University and the Turfgrass Water Conservation Alliance to identify a mix/blend of grasses particularly well suited to grow right here along the Wasatch Front. It's a cool-season blend of tall fescue and a little bit of bluegrass, and it needs 30% less water than the typical Bluegrass lawn. 30% less. At least. Really.
The grass seed is priced at our cost – 5 pounds for $8.50 + tax, and 5 lbs covers 1000 square feet!
Last fall, we renovated the landscape at one of our Utility facilities, reducing the lawn area by 50%, planting low-water trees, shrubs, and flowers, installing a high-efficiency irrigation system with controller, and our new grass seed.
We've already reduced our water use!
---
The typical Kentucky Bluegrass lawn requires between 24 to 30 inches of water during the growing season – Trade Up! Grass seed requires 30% less, or 15 to 19 inches of water per season! And if you reduce your lawn area by a bit when you re-seed, imagine how much water you can save!
Why keep your lawn? It's okay if you don't want to keep your lawn, but, lawns can be nice. Lawns also provide environmental benefits, including supporting soil health, sequestering carbon, and mitigating heat island effect. But it doesn't help if that lawn is over-watered. The problem with lawn is, we choose the wrong kind, plant too much of it, and then over-water it. Changing to a more appropriate variety of lawn will mean a greener lawn and more water saved – it's a win-win!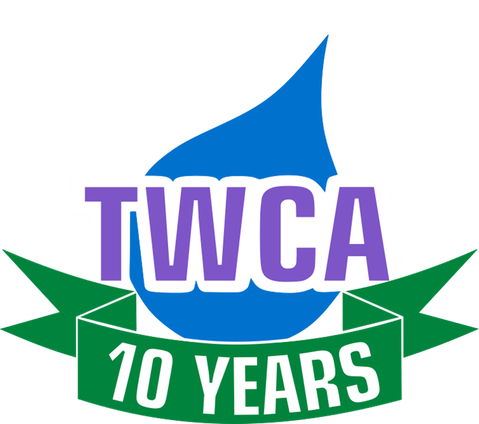 Why this grass seed? This grass blend/mix has been identified as being ideally suited for our service area by TWCA and USU.
Who is the TWCA? For twelve years Turfgrass Water Conservation Alliance (TWCA) has provided independent third-party qualification of drought tolerant turfgrasses. TWCA Qualified drought tolerant turfgrasses reduce water requirements by at least 30% over conventional cultivars.
Why are we selling the grass seed? Well, the short answer is – nobody else is selling this particular blend, especially identified for us by TWCA! And, with their contacts and support, we are able to offer the grass seed at cost! A 5-lb bag costs only $8.50 (plus tax) and will cover 1000 square feet!
How to you buy Trade UP!? Visit https://tgwca.info/SLCTT_preorder. You'll need to have the account number for your water service handy (Sorry folks, for now, it's only available for sale within our service area). Not certain if you live in the service area? Check your water bill – if it's from Salt Lake City Public Utilities, carry on! Once you pay for your grass seed, you'll receive a notification regarding pick-up dates.
---
How do you plant it? It's easy! Kill your lawn, mow it low, and spread the seed with a little mulch. No need to remove your existing lawn, or to even till it. We've made some videos to show you how we did it, in six easy steps: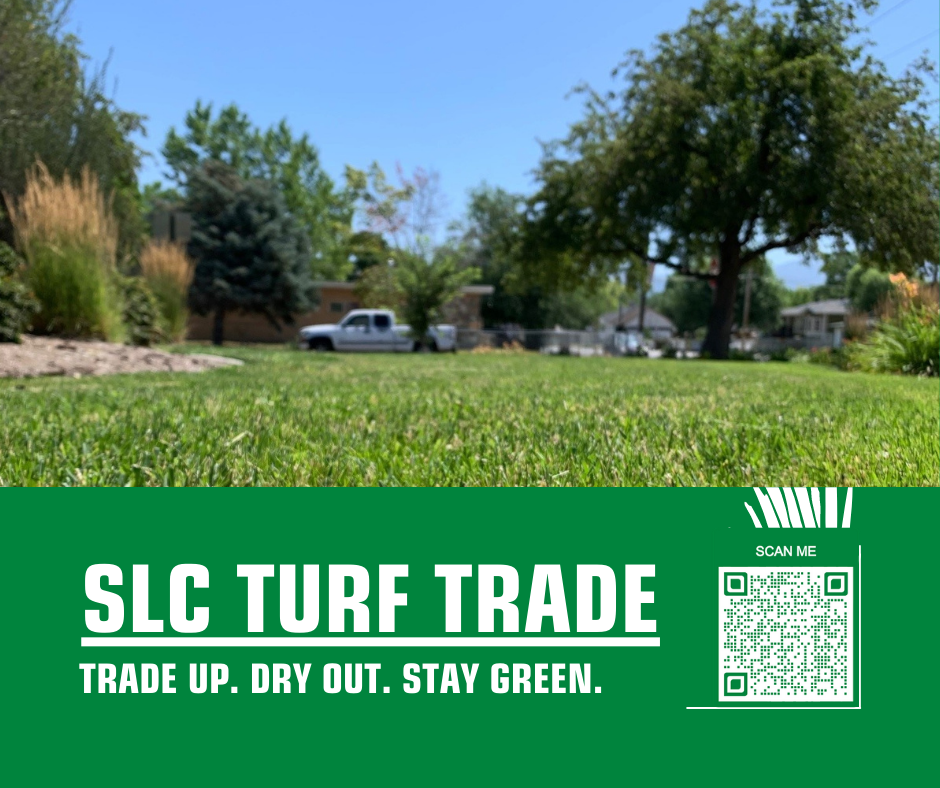 ---
Now, remember, once the grass is established (in about 3 to 4 weeks), you will need to adjust your irrigation controller to water 30% less. The easiest thing to do is schedule 1 watering a week, at a rate of only 1/2 inch per week! Not certain how long to run your sprinklers? That's easy, too! Schedule a FREE Water Check by visiting www.cwel.usu.edu.
When do you plant grass? Anytime from the 1st of April to the first of October. Grass seed is best planted by October first, but regionally, there has been success with planting even later.
It's easy to save water in the landscape, even if you don't want to part with your lawn.
Just Trade Up! Dry out! Stay green. And save water!!!
---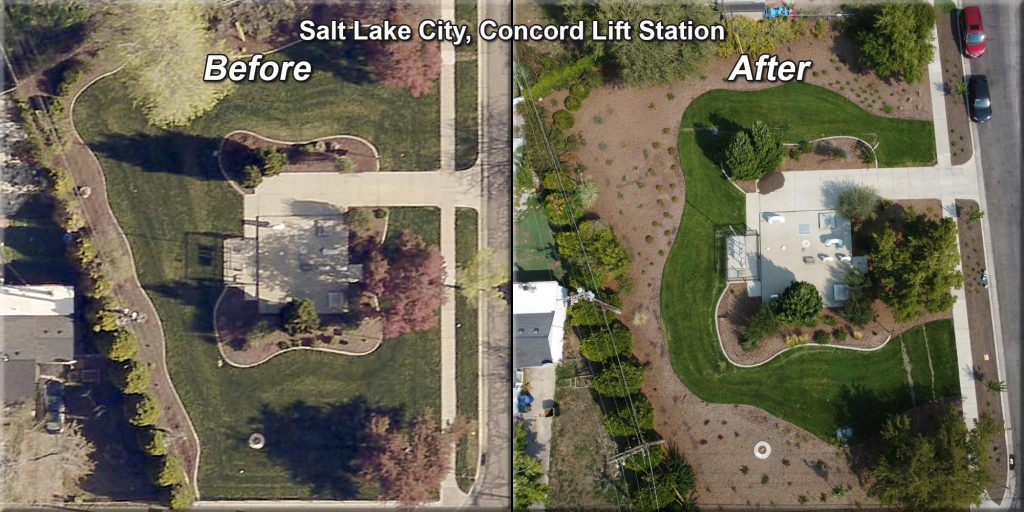 ---
---