East-West Water Line
Salt Lake City Department of Public Utilities (SLCDPU) is constructing a new water line from the water storage reservoir at 3300 South and 3500 East to 300 East.
The East-West Water Line will:
Create Well Source Redundancy: This new aqueduct will provide an additional water supply to replace or augment existing wells in the Sugarhouse area.
Maintain SLC's Standard of Reliability: This new line allows us to more reliably provide service in the event of a supply interruption or water line break as well as expand service delivery for the Sugar House area and the downtown and commercial/industrial core of Salt Lake City.
Meet Future Downtown and Northwest Growth Water Demands: This line will allow for future extensions to provide additional supply to SLC's downtown and northwest quadrant as the city grows.
Project Updates:
Phase I – COMPLETE – 500 East from Coatsville Ave. to Ramona Ave.
Phase 2 – Beginning February 2021
SLCDPU will begin constructing a new large diameter water line from Highland Drive to 900 East.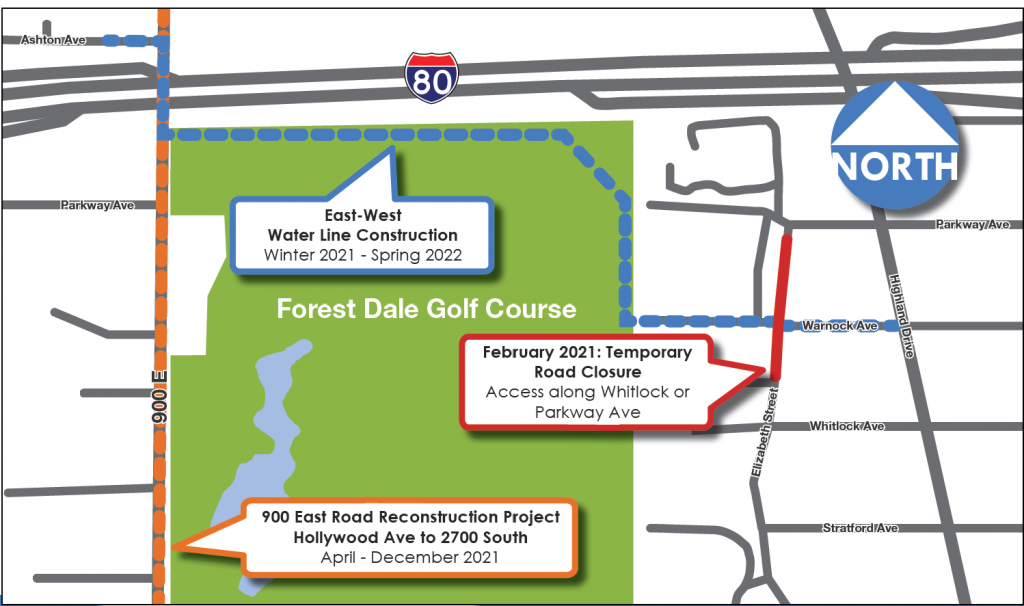 Construction Impacts will include:
Construction activities Monday through Friday between 7 A.M. to 9 P.M.
Temporary on-street parking restrictions.
Increased noise, vibrations and dust.
Temporary road closures on Elizabeth Street, Warnock Ave, Ashton Ave and 900 East. Detours will be posted.
Work will be performed in sections. Residents will be notified prior to construction beginning in their area.
Phase III

Design is anticipated to occur between Summer 2020 and Summer 2021.
Construction is anticipated to occur between Spring 2022 and Fall 2023 pending scheduling and funding.
Anticipated Schedule:

This project is part of SLCDPU's commitment to serving our customers and protecting our environment by delivering high-quality drinking water to standards that exceed EPA regulations.
Additional Project Information:
Downloads:
Contact Information:
Email: Slcwaterprojects@slcgov.com
Phone: 801-210-8433
Join the Contact List by emailing us at Slcwaterprojects@slcgov.com