SLCPU is constructing an urban runoff water quality improvement facility at 1000 N. and Cornell Street. This facility collects a significant amount of urban runoff, east, and west of the river, including Redwood Road to North Temple (and other major roads) and residential areas. This project aims to improve the quality of the urban runoff discharged into the Jordan River at this location. Construction began in May 2019, with anticipated completion in Fall 2020. Phase I will include excavation and piping. Phase II will be landscaping.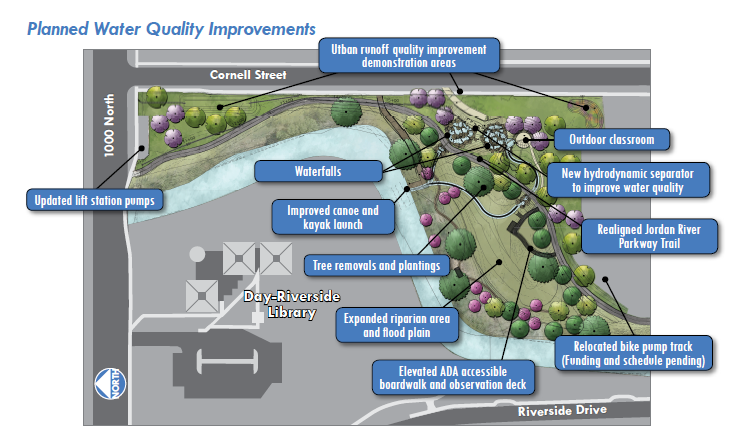 Construction Updates, updated September 9th, 2020
Phase I will continue through fall as crews finish installing grading for landscaping. In order to accommodate project delays related to Covid-19 and supply issues, the work will occur on a 6 day schedule with the option for work on Sundays as needed. The pedestrian detour is anticipated to be in place at 1000 N to mid-September to accommodate installation of the remaining pumps and vault.
Phase II of the project will include realignment and paving of the Jordan River Parkway trail, installation of irrigation and sprinklers, and seeding and planting occurring into 2021.
Substantial project completion has been updated to Spring 2021.
The public will have access to the Rose Park Jordan River Watershed project amenities, including the outdoor classroom, as early as Spring 2021, with tree plantings and weed control ongoing through 2021.
What to Expect During Construction
Construction area will be closed and fenced. Please speak to children about staying a safe distance from construction and observing the area closure.
Construction activities will occur Monday through Saturday from 7 am to 5 pm, as well as some Sundays.
Some increased noise and dust.
Jordan River Parkway Trail area closure. Detour along Cornell Street.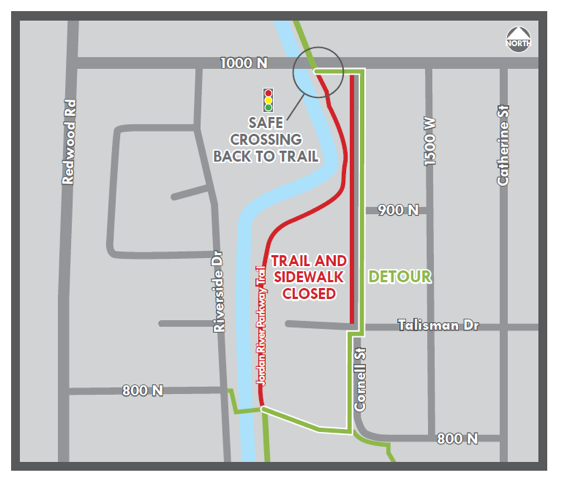 For your safety and the safety of construction crews, please respect all signs and closures.
Comments or questions on the project can be directed to the Rose Park – Jordan River Watershed Project Information Team
Información en español pincha aquí.
Email: slcwaterprojects@slcgov.com| Phone: 801-912-9546
---
Background
The Rose Park – Jordan River Watershed Project will feature many green infrastructure elements designed to restore some of the natural processes required to manage water and create healthier urban environments ultimately to:
Improve urban runoff treatment including:

Updated lift station pumps

New hydrodynamic separator to improve water quality

Waterfall aeration to add much needed oxygen to the water

Expanded natural wetland and riparian area to further improve water before it enters the Jordan River

Enhance existing open space area featuring:

Urban runoff water quality improvement demonstration areas featuring green infrastructure best practices

Outdoor classroom representing Salt Lake City's urban runoff collection system

Expanded flood plain to better accommodate large storm events

Elevated ADA accessible boardwalk and observation deck

Improved canoe and kayak launch accessible from the east side of the river

Realigned Jordan River Parkway trail

Relocated bike pump track (Funding pending. Future phase managed by SLC Parks and Public Lands)

Some tree removals and new tree plantings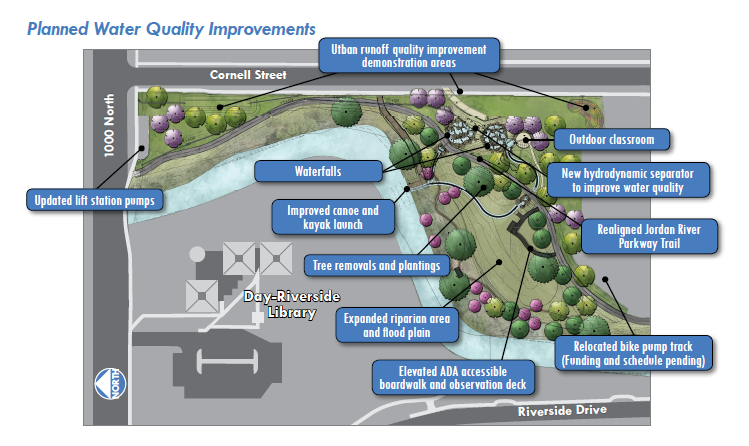 [/accordion]
[accordion title="Frequently Asked Questions"]
What is "urban runoff"?
Urban runoff, or stormwater, occurs when water from rain, snowmelt, or sprinklers flows over the ground. Hard surfaces such as driveways, streets, and sidewalks prevent the water from soaking into the ground. Visit www.stormwatercoalition.org for additional resources.
What are the water quality concerns at this location?
Urban runoff picks up trash, chemicals, dirt, and other materials which are then carried in the gutter into the storm drain system, and then into our streams, rivers, and lakes. This project aims to reduce contaminants in the runoff and add oxygen to the water to improve the quality of the water before it enters the Jordan River.
Will the Jordan River Parkway be closed during construction?
The Jordan River Parkway will be closed in the project area and detoured along Cornell Street and through Riverside Park to allow crews to work safely in the area. The trail detour is expected to be in place for 9-12 months as crews expand the natural wetland and riparian area and re-align the trail to the east.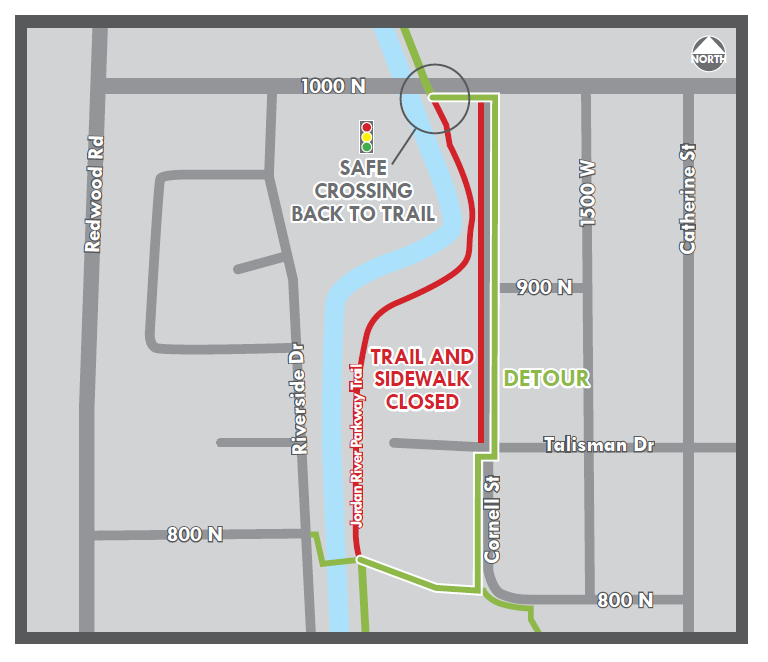 What will happen to the bike pump track?
The bike pump track will need to be relocated just west of the community garden to allow for the expanded riparian area near the river. Salt Lake City Parks and Public Lands has applied for funding to rebuild and make improvements to the bike pump track. The timeline for this aspect of the project has yet to be determined which means this improvement or relocation will be several years away.
What will the vegetation and landscaping look like when the project is completed? Will there be trees removed?
There will be 65 trees planted, 35 which are native species. The trees and variety of plants included in the landscaping are part of the green infrastructure elements that aid in improving water quality.
SLCDPU has consulted with SLC Parks and Public Lands and SLC Urban Forestry on the landscaping plan with the goal of incorporating species that use less water, have a high nutrient removal rate, and provide good wildlife habitat while working to minimize impact to existing trees. The contractor has obtained the necessary permits from SLC Urban Forestry to remove a number of trees and will be implementing a tree protection plan to mitigate construction effects on the remaining trees.
What is "green infrastructure"?
Green infrastructure is a cost-effective, resilient approach to managing wet weather impacts that provides many community benefits. While single-purpose gray stormwater infrastructure—conventional piped drainage and water treatment systems—is designed to move urban stormwater away from the built environment, green infrastructure reduces and treats stormwater at its source while delivering environmental, social, and economic benefits. Green infrastructure uses vegetation, soils, and other elements and practices to restore some of the natural processes required to manage water and create healthier urban environments.
---