Salt Lake City Private Lighting Program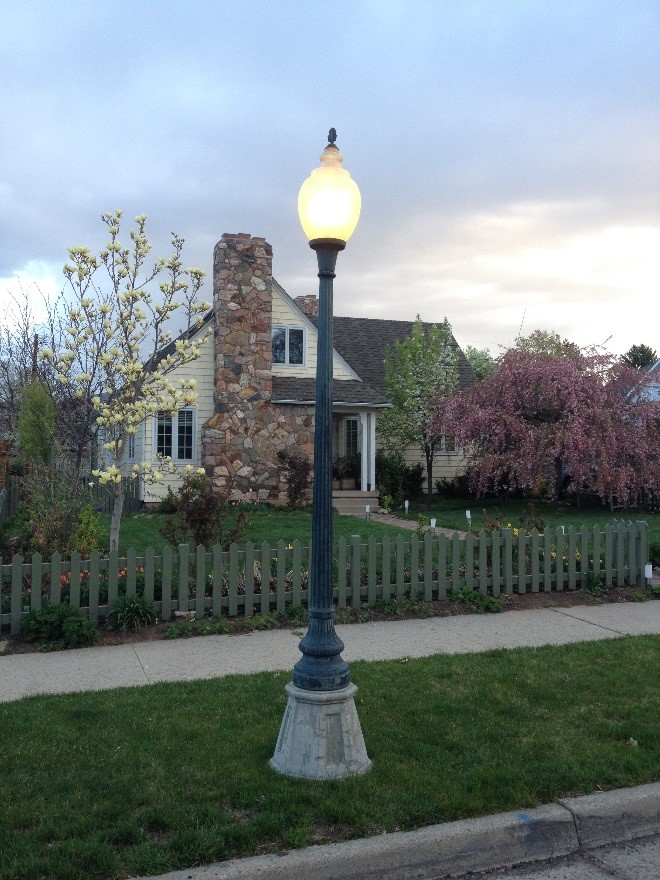 Many residents in Salt Lake City own streetlights in the City right-of-way. These residents purchase, install, operate, and maintain these decorative lights. Each streetlight has underground wiring that is connected to the electrical service in the home of the owner of the streetlight. Each light owner signs a revocable permit issued by the City that is recorded with the property. The permit allows the light to be placed on public property and stipulates that the homeowner is responsible for operating and maintaining the light at the property owner's expense. Each neighborhood works with the Department of Public Utilities on a design plan that provides adequate lighting. Design features include the type of pole, fixture, size and type of light, and the spacing and location of poles. Light fixtures must be equipped with a top shield to meet Illuminating Engineering Society (IES) "semi cut-off" classification. Once a plan is approved, the neighborhood arranges for the installation of the lights.
If you have a light in front of your home that looks like the one in the picture chances are you own this light and are responsible for maintaining this light.  The lights are easily identified by the 8-sided concrete base, green pole, and shorter height. 
---
Maintenance
Below are some of the most common issues and their possible remedies homeowners see with these lights: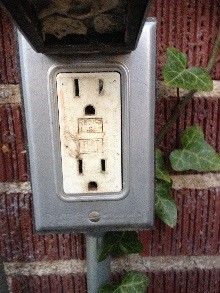 • Tripped or malfunctioning GFCI outlet – On the side of the home closest to the streetlight there should be a GFCI outlet enclosed in an electrical box (see picture).  These GFCI outlets often need to be reset and can even go bad.  If your light is not working try resetting the GFCI by pushing the button between the sockets or replacing it altogether.
• Burnt out bulb – Most of these lights use compact fluorescent (CFL) bulbs that only last about 2 years.  These bulbs can be purchased from major electrical supply companies.  It is also possible to replace these bulbs with other types of bulbs such as LED's or incandescent bulbs.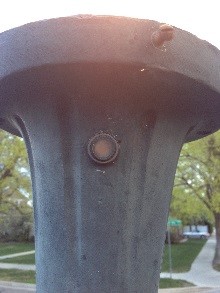 • Malfunctioning photocell – Most private streetlights are operated with a light-sensitive switch.  These photocells turn the lights on at dusk and off at dawn.  If your light is not turning on or off at the correct time your photocell may need to be replaced.  These can be purchased from major electrical supply companies and usually require a licensed electrician to install.
• Broken globes – The plastic globes that surround the bulbs often turn yellow, get brittle, blow off in the wind, or just break due to age.  These can be replaced with glass globes that last longer and resist wind damage. See the suggested repair and part contacts below for replacements.
---
Parts & Service
Felt Lighting
1220 East 3300 South
Salt Lake City, UT 84106
(801) 484-8571
www.feltlighting.com
Power House Electrical
1146 East Pear Drive
Sandy, UT 84094
(801) 809-0908
www.powerhouseutah.com
Beacon Electric
2131 South West Temple
Salt Lake City, UT 84115
(801) 466-3409
Central Electric
PO Box 17897
Salt Lake City, UT 84117
(801) 467-5479
www.central-electric.com
---
Requests
If you or your neighborhood would like private lights below is a simple checklist that will help.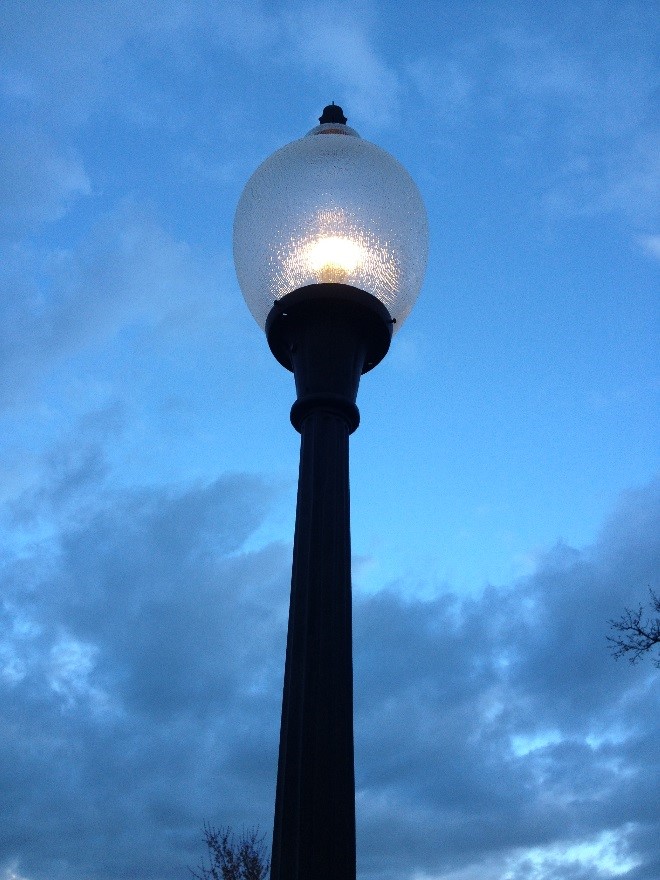 Contact your neighbors and see if there is interest in the private lighting program. See which neighbors, if any, would like to purchase a light to place in front of their home.
Create a map. Draw a simple map of your street and indicate which neighbors are willing to participate in the program. This will help determine distance between lights, number of lights, and neighbors that are willing to help contribute to the program but not have a light in front of their home.
Contact the City Street Lighting Program Manager (801-483-6738) for assistance and design approval. The Department of Public Utilities employs engineers that are able to assist in the design and layout of lights as well as provide suggestions that we have seen from other neighborhoods.
Contact the City's Real Estate Services Division. The Real Estate Services Division manages the real property owned by the City. This includes right-of-way property. A revocable permit will be required for each light being installed. This permit allows the light to be placed on public property and stipulates that the homeowner is responsible for operating and maintaining the light at the property owner's expense.
Purchase the lights. Once approval from Public Utilities and Real Estate Services has been obtained, lights may be purchased.
Install the lights. The homeowners or neighborhood will need to hire a contractor to install the lights. These contractors will need to be licensed, bonded, and insured to perform work in the public right-of-way. Streetlights must be placed in the right-of-way (i.e., in the park strip). Streetlights must be located at least five (5) feet away from fire hydrants, driveway approaches, trees, or other above ground utilities.
Continually maintain and care for the lights.
---