800 West Sewer Line Project
Sewer Pipeline Rehabilitation Begins in Spring of 2021. Salt Lake City Department of Public Utilities (SLCDPU) will be rehabilitating the sewer main line along 1300 South, 800 West, and 700 South in the Poplar Grove and Glendale area. Based on a 2017 inspection, the sewer line is showing advanced signs of deterioration. The sewer line is a critical piece of infrastructure for SLCDPU to collect and convey wastewater to the Water Reclamation Facility. With the improvement of other sewer infrastructure in Salt Lake City and the growing population needs, the rehabilitation of the sewer line will help reliably and safely carry the increasing sewer flows now and into the future.
This project is also in preparation for the 800 West Roadway Improvement Project scheduled to occur summer 2022. By replacing the sewer main line in advance of the roadway improvements, Salt Lake City can minimize disruptions and prolong the life of the roadway.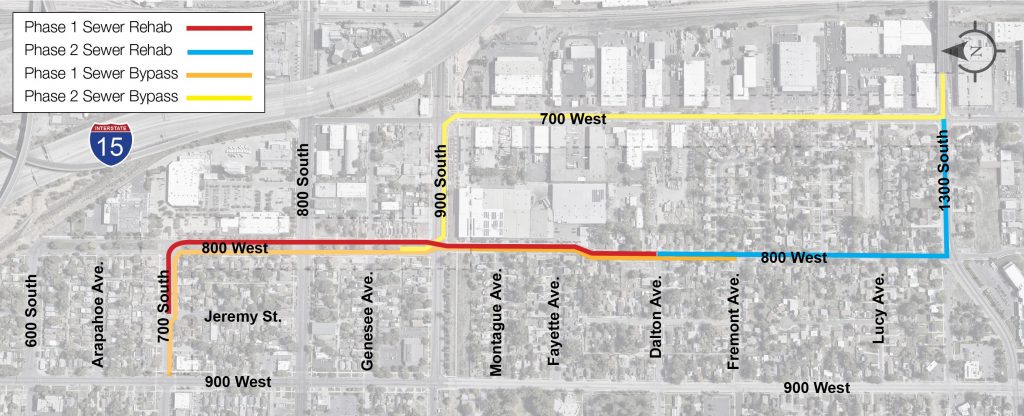 Impacts will be as minimal as possible.
Traffic and on-street parking will be affected when construction is active on your street during different phases of the project. Streets may be restricted to a single lane for local traffic only.
Temporary interruption of localized private sanitary sewer service is also expected. We will provide 48-hours advance notice prior to the interruption. If you are a business or institution with special requirements, we would like to coordinate with you specifically to prevent/minimize impact to your facilities. This may include installing a clean-out and bypassing sanitary sewer flows during the rehabilitation process.
Pedestrian sidewalks and crosswalks are expected to remain open and accessible.
Public transportation (UTA and school) bus routes will require rerouting while construction is active within the zones of their normal routes. When applicable, rerouting information will be posted.
Temporary driveway access limitations or modifications
Possible utility interruptions
Lane shifting, lane closures, and on-street parking limitations
Some noise, dust, and vibration
Contact our team. The 800 West Project team can be reached at 801-669-8331 or SLCwaterprojects@slcgov.com.